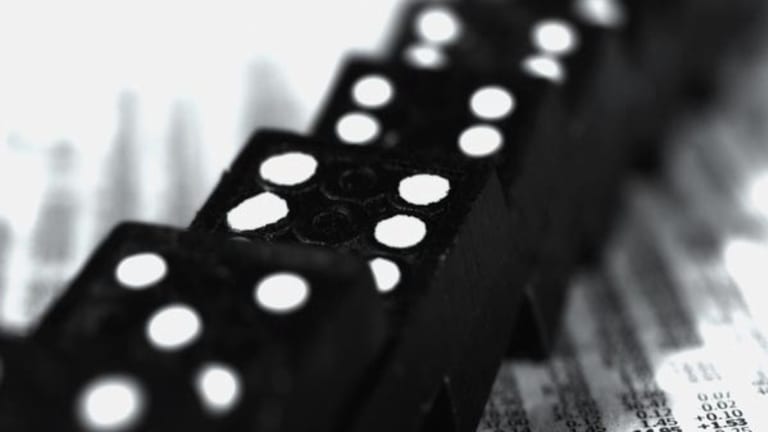 Friday's Early Winners & Losers
Cognos is higher.
Cognos
(COGN)
gained in after-hours trading Thursday when the software company beat Wall Street's second-quarter earnings expectations. Excluding items, the company posted earnings of 33 cents a share, up from 32 cents a year ago. Revenue totaled $229.9 million, compared with $212 million a year ago. Analysts polled by Thomson First Call were looking for Cognos to earn 27 cents a share on revenue of $226.9 million.
The company said it expected third-quarter revenue to range from $237 million to $245 million and earnings of 40 cents to 44 cents a share, excluding items. Wall Street is looking for the company to report earnings of 40 cents a share on $239.6 million in sales. For the full year, revenue is expected to be in the range of $950 million to $970 million. Earnings should be $1.58 to $1.65, before items. The company also plans to buy back about $200 million in stock. Shares were gaining 96 cents, or 3.01%, to $32.80.
Finish Line
(FINL)
stumbled after the Indianapolis-based athletic footwear retailer saw second-quarter income fall 47%. The company posted earnings of $9.9 million, or 21 cents a share, down from $18.9 million, or 38 cents a share, last year. Sales slipped 0.9% to $338.6 million. Analysts expected the company to earn 20 cents a share on sales of $339.9 million. Comparable-store sales decreased 6.6% from a year ago. Shares were trading down 41 cents, or 3.33%, to $11.89.
Synnex
(SNX) - Get TD SYNNEX Corporation Report
gained after the Fremont, Calif.-based information technology products and services company saw a boost in third-quarter profits. The company posted earnings of $13.8 million, or 43 cents a share, compared with $9 million, or 29 cents a share, a year ago. Revenue increased 14.4% to $1.59 billion. Analysts were expecting earnings of 37 cents a share on $1.55 billion in revenue.
For the fourth quarter, the company forecast revenue of $1.67 billion to $1.72 billion and earnings of 44 cents to 46 cents a share. The consensus estimates are for earnings of 43 cents on $1.71 billion in revenue. Shares gained $1.41, or 6.13%, to $24.40.
New York Times
(NYT) - Get New York Times Company (The) Report
fell after the media company said third-quarter earnings will drop by as much as half from a year ago. The company said it expects third-quarter earnings of 8 cents to 10 cents a share, compared with 16 cents last year. The projection includes 1 cent to 2 cents a share from charges related to job cuts, as well as 2 cents to 3 cents a share from the sale of the company's investment in the Discovery Times Channel.
"The print advertising market has been very challenging during July and August and remains so in September," said Janet L. Robinson, president and CEO. Shares fell $1.10, or 4.82%, to $21.73.
3Com
(COMS) - Get ComSovereign Holding Corp. Report
reported a fiscal first-quarter loss of $14 million, or 4 cents a share. The results mark an improvement over the prior-year period, which resulted in a net loss of $42 million, or 11 cents a share. 3Com had revenue of $300.1 million, a 69% increase from last year. Results include a restructuring, amortization and stock-based compensation expense of $15 million, or 4 cents a share. Shares fell 20 cents, or 4.39%, to $4.36.
IHS
(IHS)
gained after the Englewood, Colo.-based company, which supplies tools and information to the energy, defense and aerospace industries, beat third-quarter earnings estimates by a penny. Revenue totaled $139.9 million, up 19% from the year-ago quarter. Analysts were expecting sales of $132.5 million.
IHS revised its full-year revenue growth guidance to a range of 11.5% to 12.5%. The company expects non-GAAP earnings growth of 28% to 31% for the year. Separately, the company said Jerre Stead, currently executive chairman of the board, will also become CEO. He replaces Charles Picasso, who is retiring. Shares were climbing $3.62, or 11.38%, to $35.44.