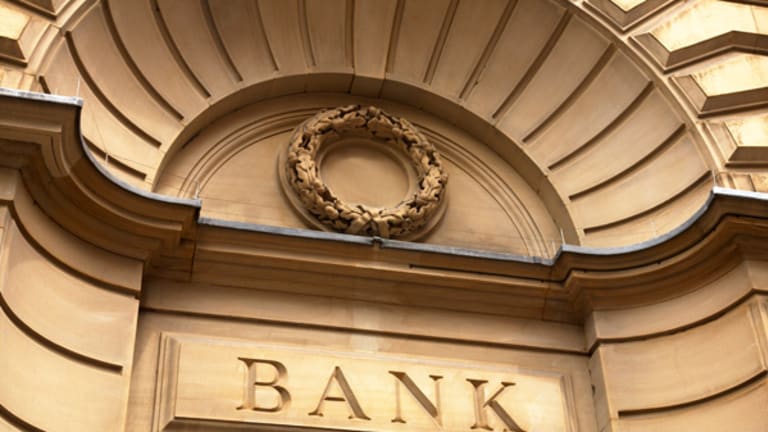 NEW YORK (
) -- French banks fell victim to mounting speculation Wednesday that France's triple-A credit rating may be under threat, causing prices to plunge to two and a half year lows.
Shares of
Societe Generale
(GLE)
had lost 19% of their value by mid-afternoon Wednesday -- the biggest drop since January 2009 -- but recovered slightly to finish down 14% for the day when European markets closed a short time ago.
BNP Paribas
(BNP)
sank 10%, while
Credit Agricole
suffered a 13% drop.
Attention has turned to the remaining triple-A nations following last week's Standard & Poor's downgrade of U.S. sovereign debt. France, with a debt-to-GDP ratio of 84% and a budget deficit of 6%, has come under most scrutiny.
Five-year French credit default swaps were trading at 1.63% Wednesday - double the rate asked to protect German debt, even though both countries are rated triple-A. Meanwhile the spread between French and Germany 10-year bonds widened to 87 basis points Wednesday, even as yields on French 10-years fell slightly to 3.104%.
The French president Nicholas Sarkozy, who returned to Paris from the Cote d'Azur unexpectedly on Tuesday, met with key cabinet ministers and the governor of the Bank of France to consider new measures to cut France's budget deficit, which he described as "imperative," according to published reports.
French government estimates of 2% economic growth this year, on which current deficit-cutting efforts are based, have been rubbished after second quarter growth fell back to 0.3% from 0.9% in the first quarter. France has a 6% deficit-- the highest of any triple-A rated nation.