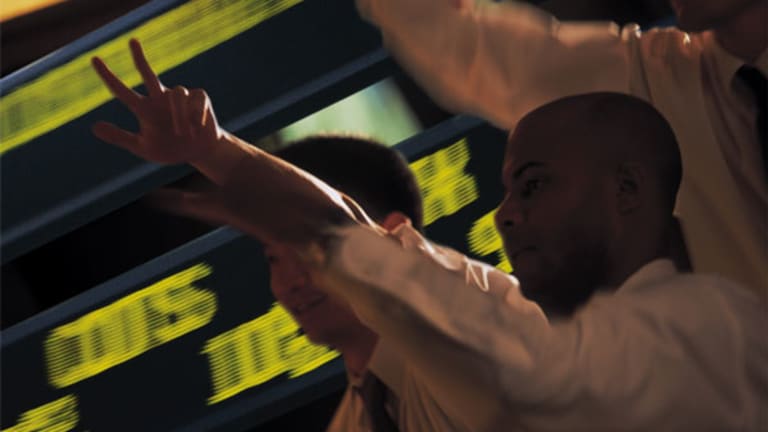 Publish date:
Freeport's Deals Fail the Smell Test: Jim Cramer
We got not one but two astounding deals in the oil patch -- astoundingly bad deals, I should add.
We got not one but two astounding deals in the oil patch -- astoundingly bad deals, I should add.
Editor's Note: This article was originally published on Real Money on Dec. 5. To see Jim Cramer's latest commentary as it's published, sign up for a free trial of Real Money.
We got not one but two astounding deals today in the oil patch -- astoundingly bad deals, I should add.
Freeport-McMoRan Copper & Gold's (FCX) huge bid for McMoRan Exploration (MMR), a related company, and Plains Exploration & Production (PXP) smacks of gigantic overpays for certain Gulf of Mexico assets -- something that the market's verifying today with a tremendous hammering of FCX stock.
Let's go over just how outrageous these deals are.
First, James "Jim Bob" Moffett, the chairman, president and CEO of McMoRan Exploration, is also chairman of Freeport-McMoRan. He's using Freeport money and stock to buy MMR, a wildcatting company that's drilling a gigantic well, the Davy Jones, in the Gulf of Mexico that's been disastrous so far for the company. MMR's been crushed by this 29,000 foot deep well in the Gulf of Mexico, which has had repeated delays and may turn out to be a total bust. If you owned MMR, you just got $14.75 in cash and 1.1 units of a Royalty Trust, giving you an almost $7 move on what had become a free-falling stock of late courtesy the missteps in the Davy Jones project.
The other portion, the buy of Plains Exploration, which has given you more than nine points of gains on a $36 stock, seems better because PXP recently bagged some good Gulf of Mexico properties from BP (BP). Still, Plains owns 31.5% of McMoRan and Plains' CEO, Jim Flores, is on the board of McMoRan.
These hardly seem like arm's-lengths deals, and while I have been recommending PXP because it picked off a prime property from a hobbled BP, I would never have thought that it was a hot idea to buy MMR, which recently plummeted by about 33% from $12 on a negative progress report from the Davy Jones well.
Just doesn't seem right to me -- it doesn't pass the smell test.
I like deals where the acquirer goes up, not down, and the positive acquirer action had been the hallmark of this era. The $50 a share in cash and stock Freeport's paying for Plains, a 39% premium to yesterday's price, is causing arbitrage pressure on FCX.
More important for Freeport shareholders, though, is the instant re-coloration of the stock they own. Freeport was supposed to be the premier copper company in the world. Now it is an oil and copper company, where I worry that maybe something's wrong with the copper side of the equation. Freeport's major overseas copper holdings are in the Democratic Republic of the Congo and Indonesia. Lately, the company's had dire problems with the government of Indonesia and with workers at its gigantic Grasberg mine. Plus, the ore's become harder to pull out lately, and it is of a lesser grade. And could the Congo be less stable than we thought?
This acquisition shows the fallacy of playing the mining stocks instead of the ore. Those who like copper have reached for FCX. Turns out that this hideous acquisition shows the way to play copper is through the iPath DJ-UBS Copper Total Return Sub-Index (JJC), the exchange-traded fund for copper.
You have to be upset if you own FCX, and the anger is justified. It's just a terrible deal for FCX shareholders, but a great deal for MMR and PXP holders.
Action Alerts PLUS, which Cramer co-manages as a charitable trust, has no positions in the stocks mentioned.