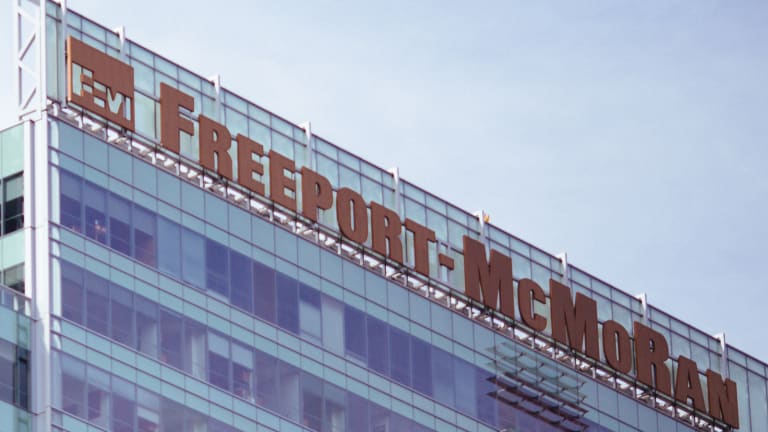 Buy Freeport McMoRan to Profit From Thawing U.S.-China Relations
Once a deal is struck, China's economy will regain its voracious appetite for copper.
If you want to profit from a possible end to the U.S.-China trade war, then buy shares in U.S.-based copper miner Freeport McMoRan (FCX) - Get Free Report  .
"Freeport is a buy because I believe we get a China deal," said Adam Johnson, author of the financial newsletter Bullseye Brief.
He sees the stock going to $15, which would be almost 40% higher than the recent price of $10.91. The shares have underperformed over the last year as trade tensions hit the copper market and dogged Freeport stock. The shares lost 11.6% over the last 12-months, while the S&P 500 gained 12.4% over the same period. Both figures exclude dividends.
But the recent lackluster performance could now be over.
Copper Will Soar on Good Trade News 
Not only does Johnson see a new trade deal getting signed between the world's top two economies, but also that Freeport is one easy way to make money from the likely outcome.
He noted that China is the world's largest consumer of copper, and Freeport is the world's largest producer of the metal. 
When trade tensions dissipate, then China will get on with buying copper, and Freeport will benefit.
"The correlation is extremely tight," he said, noting that the fortunes of China and Freeport should go hand-in-hand.
Copper is an essential material in manufacturing and construction, both key parts of the Chinese economy. For safety reasons, the only thing to use for electrical wiring is copper, and the metal is also used in electrical systems for automobiles.
Prices for the red-colored metal are notably sensitive to economic activity. When the U.S. economy slowed to a near standstill at the end of 2015, the price of the metal dropped below $2 a pound, versus recent prices around $2.69, according to data from the St. Louis Federal Reserve and Bloomberg, respectively. 
Conversely, we can expect prices to jump even further if trade relations normalize between the U.S. and China. 
Longer-term, it wouldn't be too much to expect copper prices to jump back above $3, according to a recent Bullseye Brief report. 
Trade Deal Imminent?
The only question then is whether a new trade deal is in the cards. Apparently so, according to analysts who study the matter.
"China is pushing the U.S. to take December tariffs off the table and also to remove the ones from September, while reports suggest the U.S. is considering doing this," said a recent report from New York-based bank Brown Brothers Harriman.
In other words, the White House is leaning toward slashing U.S. tariffs on Chinese goods.
There are reasons to think it would make sense for President Trump to grab the opportunity for a victory.
"If our thesis is correct and China has the upper hand, Trump should give in to these demands so that he can claim a win," the BBH report stated.
Such a move would make both political and economic sense.
The U.S. economy is still doing remarkably well despite the trade tiff with China, but a new trade agreement could help it do even better, and just in time for the 2020 elections.
"Although the administration is fond of claiming that China wants a deal more than the U.S., Trump has seemed increasingly eager, and some gesture appears likely," said a recent report from currency specialist Bannockburn Global Forex.
In simple terms, something looking like a deal seems likely, and that should boost Freeport's stock.
The author owns none of the securities listed in this story.