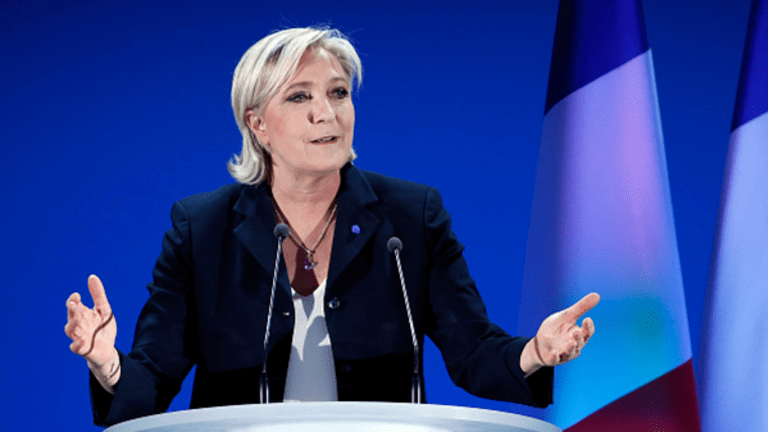 France's Far Right Candidate Le Pen Recasts Herself as a Barely Credible Independent
Le Pen stepped down as head of the far-right Front National as polls suggest she is on course for a heavy defeat by centrist Macron.
Just when you thought the French election couldn't get any weirder, France's far-right candidate Marine Le Pen has stepped down as the head of her own party in a barely credible effort to cast herself as an independent.
Le Pen said late Monday she would step-aside temporarily as head of the Front National, a party founded by her father, to place herself "above Partisan considerations." The move came as polls showed her trailing far behind her centrist, and independent, opponent Emmanuel Macron.
Macron, a pro-European former finance minister, is on course to win between 64% and 60% of the vote in the second round of France's election on May 7, according to three opinion polls conducted in the wake of the first round of voting on Sunday. Abstentions and spoiled ballots are expected to run at about 30%, up from 22% in the first round of voting.
The latest polls continued to cheer the French market.
By mid-day Tuesday in Paris, France's benchmark CAC-40 index was little changed from its Monday close, when stocks neared a 9-year high as investors cheered Macron's success and his promise of support for European trade and a liberalization of French labor laws to make employment more fluid. Macron won the first round of voting, which was contested by 11 candidates, with 24% of the vote, ahead of Le Pen who polled 21.3%
Le Pen wants to pull France out of the European Union and return to a national currency, a move she claims is essential to French sovereignty. She has also promised to tax all imported goods and place a special tax on employers who hire foreign workers.
French voters tore apart the traditional play book on Sunday when they failed to back either of the established Republican or Socialist parties, meaning that neither will contest the final round of voting, the first time that has happened in more than three decades. Both the Republican and Socialist candidates immediately threw their support behind Macron, describing Le Pen as a threat to French prosperity and to the Republic itself.
Le Pen told France 2 television Tuesday that she felt the President should unite French people. "So, I am no longer the president of the National Front," she said. "I am the candidate for the French presidency."
The ploy is unlikely to gain much credence amongst French voters, who have long viewed the Front National and Le Pen as synonymous.