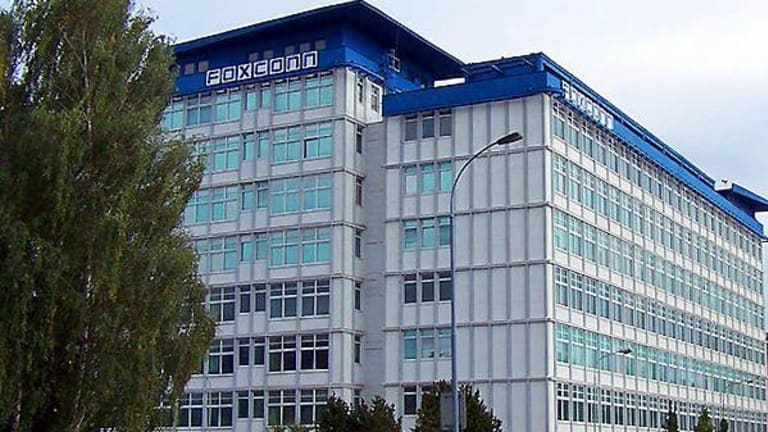 Foxconn Attempts to Manage Wisconsin Investment Expectations
The actual amount of investment will depend on local government, Foxconn says.
Apple (AAPL) - Get Apple Inc. Report iPhone-maker Foxconn Technology Co. (FXCOF) Thursday attempted to manage expectations about its U.S. investment just hours after appearing at the White House with President Donald Trump.
The company, which is also known at Hon Hai Precision, said in a regulatory filing Thursday that while it was reported that that it would invest $1 billion to $3 billion in Wisconsin, "The actual investment amount would depend on local government policies."
Foxxconn added: "The investment plan is subject to the investing entities' board approval and will be conducted in compliance with related regulations."
President Donald Trump announced on Wednesday that Foxconn will build a new $10 billion factory in southeastern Wisconsin.
The new 20 million square-foot facility, which will make flat-screen displays, will be located in the congressional district of House Speaker Paul Ryan, a White House official told the AP, although declined to provide a specific location.
The plant has the potential to employ 13,000 people at an average salary of $53,875, Wisconsin Governor Scott Walker said. Walker added that the facility is slated for a 2020 opening.
"This is a great day for American workers and manufacturers and everyone who believes in the concept and the label 'Made in the USA,' " President Trump exclaimed.
The announcement comes months after Foxconn Chairman Terry Gou said his company would invest at least $7 billion in the U.S. and create between 30,000 and 50,000 jobs. Shortly after the investment was revealed, Trump touted Foxconn's U.S. expansion.
"Foxconn is going to spend a tremendous amount of money on building a massive plant," Trump said last December, "and probably more than one."
Watch More with TheStreet: