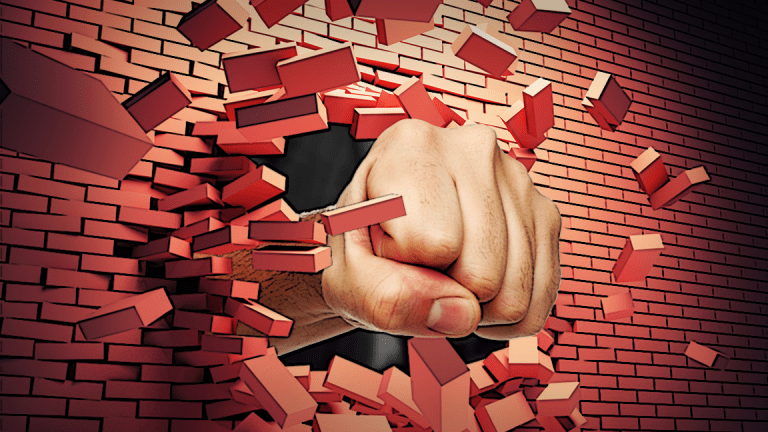 4 Stocks Set to Crush Q1 Earnings
These four stocks are gearing up for a blow-out earnings season. Here is what you need to know before it happens.
We are now rolling into a critical first quarter earnings season.
With the market so volatile, results could make or break the market. This is especially true when expectations are so high for a strong first quarter. In the words of Goldman Sachs (GS) - Get Goldman Sachs Group Inc. (The) Report , "Positive [first-quarter] surprises would confirm investors' existing confidence in corporate fundamentals. However, if first quarter results disappoint, fears about decelerating economic activity will compound mounting concerns around trade, regulation, and stretched positioning."
Luckily the four stocks highlighted below are unlikely to disappoint- in fact, quite the reverse. As you will see, all four of these stocks have significant support from the Street's top analysts. These are the analysts with the highest success rates and average return according to TipRanks. 
Netflix Inc.
Streaming giant Netflix (NFLX) - Get Netflix Inc. Report is gearing up for its earnings results on April 16. It's hard to forget the mind-blowing performance the stock put in with its fourth-quarter earnings reports in January. Subscriber additions blew past the expected growth targets both internationally and in the U.S. Now investors are wondering- is a repeat performance possible?
Luckily, five-star Goldman Sachs analyst Heath Terry is confident that Netflix still has what it takes to beat expectations. Terry is modelling for 1.7 million U.S. net subscriber additions and 5.6 million international net subscribers- easily out-predicting Netflix's own guidance of 1.45 million and 4.9 million, respectively. As far as earnings and revenue are concerned, Terry is looking for 63 cents a share and $3.6 billion in revenue. He believes the stock will continue to outperform consensus in the current quarter for both subscriber additions and profit.
And with these figures in mind, Terry reiterates his Netflix buy rating while significantly ramping up the price target from $315 to $360. Given that the stock is currently trading at $360, this suggests considerable upside potential of over 18% from current levels. Encouragingly, our data shows that Terry has a very strong track record with his Netflix recommendations specifically- with an 83% success rate and huge 74% average return.
Retirement Is Complicated.It's never too early -- or too late -- to plan for and achieve your retirement goals. TheStreet's new premium subscription, Retirement Daily, will help you un-complicate the world of retirement with the latest, news, research and analysis from TheStreet's "Mr. Retirement" Robert Powell and his team of experts. Check out our new retirement offering Retirement Daily and get a free trial subscription.
Zions Bancorp
This Utah-based bank is out with its results on April 23. And ahead of this all-important date, top Vining Sparks analyst Marty Mosby has upgraded Zions (ZION) - Get Zions Bancorporation N.A. Report from 'Buy' to 'Strong Buy.' He writes" "We believe that Zions should be able to generate stronger revenue per share growth than the market currently anticipates, as it should benefit from both rising interest rates and their respective strategic initiatives."
In fact, Mosby is bullish on large cap U.S. banks in general and spies multiple tailwinds for the sector from the recent tax reform and rate hikes to stable credit costs. He believes that first quarter earnings should continue to improve meaningfully year-over-year and outperform market expectations by approximately 2%. Add in recent price weakness and you have a winning combination.
"The 7% pullback over the past two months has pushed our large cap U.S. banks back towards the middle of our expected trading range and allowed us to upgrade Zions to "Strong Buy," cheers Mosby, before concluding that "this correction has provided investors with a better entry point given the upcoming improvement in profitability in 2018." Note that our data ranks Mosby as one of the Top 10 performing analysts out of over 4,700.
Twilio Inc.
You have plenty of time to prepare yourself for Twilio's (TWLO) - Get Twilio Inc. Class A Report earnings report out on May 8. This cloud communications app suffered post-IPO- both on valuation concerns and the loss of key customer Uber. But Twilio now appears to be successfully moving on from this rocky start. The share price is up $10 over the last month and the company makes an increasingly compelling investing opportunity, according to the Street. 
"The strong stock performance year to date suggests that investor sentiment is shifting as investors better appreciate Twilio's growth opportunity and strong competitive position," writes top Oppenheimer analyst Ittai Kidron in his first quarter preview. Kidron is now expecting "another quarter of strong customer additions and robust expansion of existing customers (ex. Uber)." He has accordingly boosted his Twilio price target from $38 to $45 (15.5% upside potential).
Bear in mind that Kidron has a stellar track record- and is ranked as a Top 100 Analyst. Even on Twilio specifically, he demonstrates a 67% success rate and 21.6% average return.
Last, but by no means least, we have e-commerce giant Amazon (AMZN) - Get Amazon.com Inc. Report . The stock has just been singled out by Goldman Sachs as one of its top stock picks for this coming earnings season. "Consensus forecasts double-digit sales growth in energy, information technology, and materials. Strong top-line growth is consistent with solid economic activity in the first quarter," says the firm. And in this respect, Amazon clearly fits the bill. Consensus sales growth estimate for 2018 currently stands at 31%- just behind Netflix's 35%.
Meanwhile, top JP Morgan (JPM) - Get JP Morgan Chase & Co. Report analyst Doug Anmuth has just reiterated his buy rating on Amazon with a $1,650 price target (16% upside potential). Ahead of earnings season, he calls Amazon a top large cap pick. Even at current levels of over $1,450 the stock represents an "attractive buying opportunity" says Anmuth, especially when you factor in management's consistent and unparalleled investment in major growth opportunities.
Overall, our data shows that Amazon is one of the best-rated stocks right now. In the last three months, no less than 38 analyst buy ratings vs. just one hold rating. On average, these analysts see the stock spiking 18.5% in the coming months to hit $1,704.
Before You Go
Get ready for the must-attend investing conference of 2018, hosted by none other than TheStreet's Jim Cramer. From an exclusive interview with PayPal CEO Dan Schulman to expert panels that touch on investing in the stock market to alternative investing, you won't want to miss the event TheStreet is hosting on May 5. Details are below.
How to Diversify Your Portfolio: A Boot Camp for Investors
Date: Saturday, May 5, 2018
Location: 117 West 46th Street, New York City
-Analysis by Harriet Lefton.
This piece is brought to you by TipRanks. TipRanks offers investors the latest insight into eight different sectors by tracking the activity of over 4,750 analysts, 5,000 financial bloggers and even 37,000 corporate insiders.