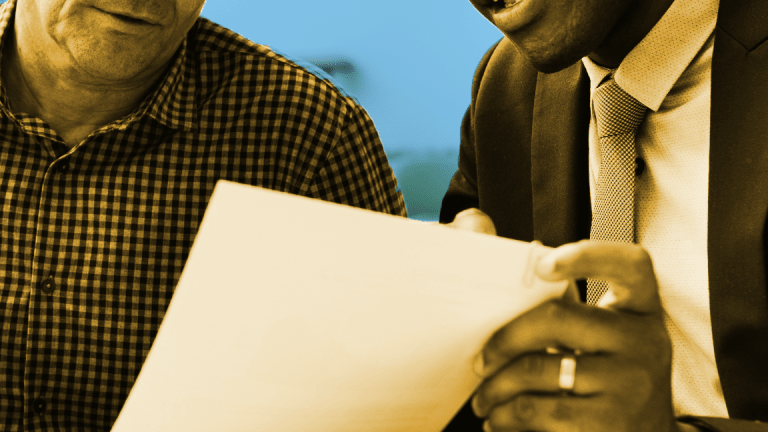 4 Critical Questions to Ask Your Financial Advisor
Financial advisors will probably play a key role in helping to manage your finances. It's best to know as much as possible about them.
Be sure to ask the right questions.
I recently got a flat tire and had to take my car into a shop I wasn't familiar with for the repair. Asking a mechanic for their opinion on your car is one of those situations in life that never gets easier. What if the mechanic said there was something else wrong? How would I know whether he was being truthful? What if he said I needed new brakes? After all, he's the expert on the task at hand, leaving me little room to object to what might not be a legitimate issue.
I was pleasantly surprised, however, when the mechanic found my tire only needed a simple patch, which he didn't even charge me for as it was such a quick fix. He clearly had my best interest in mind, and that understanding made it much easier for me to trust him. Because of that, I'll be a loyal customer moving forward.
The stress from having a lack of control on the diagnosis and legitimacy of relying on a mechanic's opinion for your car repair is similar to the stress that pops up when managing your finances. When working with an outside party such as a financial advisor, you want to be sure you are engaging with someone you trust. This trust is what exists at the heart of being a pure fiduciary, or an advisor who is transparent and has the client's best interests in mind.
The conversation surrounding what it means to be a "pure fiduciary" has become increasingly complex on the regulatory front. While the term has become more mainstream, it can be difficult to cut through the chatter and understand where your advisor falls on the fiduciary scale, as well as how conflicted investment advice stands to impact you and your finances in the long run.
For example, the Department of Labor's regulatory impact analysis suggests that IRA holders receiving conflicted investment advice can expect their investments to underperform by an average of one-half to one percentage point per year over the next 20 years, and that's just the IRA portion of the market. It's time for investors to take back the power when it comes to managing their money and realize the significant role fiduciaries play.
In order to help gain clarity on the issue, here are four questions you should ask your advisor to better understand their fiduciary status.
Are You a Fee-Only Advisor?
Fee-only advisors are compensated only by you, the client, and do not earn commission on the products you are being sold. Generally speaking, this term is the best way to tell whether or not your advisor is acting as a fiduciary 100% of the time. An important distinction here is with advisors who identify as "fee-based." While their investment advice might be conflict free, it's important to understand where your advisor falls on the fiduciary scale. While these individuals can call themselves a fiduciary, they might also be licensed to sell insurance and annuities that they get paid on (a whole other ball game).
How Do You Get Paid?
While it may seem like an awkward question to ask, fundamentally you should always understand how and what your advisor is getting paid as a result of working with you.
For example, your advisor may be earning a commission from the insurer for selling you a specific policy, or you may be subject to load-fees on mutual funds, meaning you aren't investing as much as you think. As an informed investor, it's vital you drill down into such specifics and not accept a blanketed response.
Who Do You Report To?
Knowing who your advisor reports to is another way to understand their role and the role they play with your finances.
If the advisor is registered with the Securities & Exchange Commission and does not have a broker-dealer affiliation, then they are most likely offering investment advice under a fiduciary status. Take the time to ask your advisor for their Form ADV and search FINRA's BrokerCheck and Investment Adviser Public Disclosure system, both which will help you confirm if they are indeed registered with the SEC and indicate whether an entity is a brokerage firm.
Why Are You/Are You Not a Fiduciary?
This simple question should help clear up any doubt you have about how your advisor operates. In an industry that does not test very highly when it comes to being trusted, it's important to know you are working with an advisor who is transparent, shows their value and helps you feel confident in the advice they are offering.
In the End...
Engaging with a fiduciary is the single best way to ensure you are getting the best advice for your financial future. While you're asking these tough questions of your advisor, consider requesting their responses in writing so you can keep a record.
In addition, this is not the only subject you should be asking questions on. It's also important to know your advisor has experience and is backed by a firm that has a deep bench of expertise that can cater to a number of the financial hurdles that may come your way. Knowing what services they offer - and at what cost - is vital to making an informed decision for your advisor partnership.
The financial advice industry is moving toward transparency, and it's time investors use this as an opportunity to take the power back by finding an advisor you can trust.
By: Derek Holman, CFP, AIF
Holman is a managing director and co-founder of EP Wealth Advisors. Formerly, Mr. Holman worked for two separate Wall Street firms and quickly realized the conflicts of interest in the industry. Knowing there was a better way to serve clients, he co-founded Premier Financial Management in 1999. Over the next 10 years, Mr. Holman divided his time between managing operations and advising clients. In 2011, when the company reached over $1 billion of assets under management, Mr. Holman rededicated the majority of his time to what he enjoys most: working with clients.