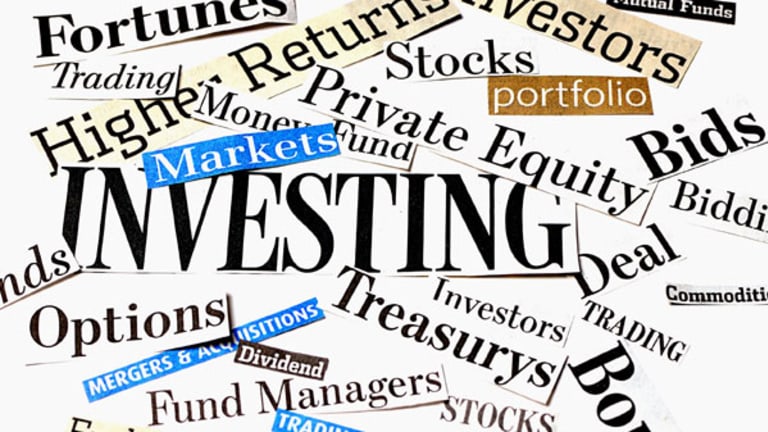 Forget Zynga -- Buy These Stocks Instead
Who needs upstarts, when the proven veterans will suffice?
Who needs upstarts, when the proven veterans will suffice?
NEW YORK (Stockpickr) -- Perhaps the stock market isn't such a mystery. A recent IPO could have created an unusual anomaly whereby a new entrant was wildly overvalued while proven, longstanding operators were seemingly being ignored.
Thankfully, investors came to their senses and quickly unloaded shares of new IPO
Zynga
(ZNGA) - Get Report
. Shares fell roughly 10% in their first five trading sessions.
Leading up to its IPO, Zynga garnered lots of buzz -- and for good reason. People like games, especially on new platforms such as Facebook. And considering we'll be wasting many hours in the future on such distractions, it pays to find the winning investment angle to profit from the ongoing trend. The good news: You can find great investment opportunities among the established video game firms. These firms already learned the secret to industry success: franchises.
>>7 Extreme Stocks to Trade in This Volatile Market
While Zynga had a big score with Farmville and then with Cityville, newer titles haven't been as hot. In contrast, legacy franchises represent a sure-fire chance at repeat success compared to the riskiness of new un-tested concepts.
A quick glance at the top-selling video games tells you just how important franchises are.
Activision Blizzard's
(ATVI) - Get Report
Modern Warfare 3
was the top-selling title in November. Other sequels in the top 10 include
Electronic Arts'
(EA) - Get Report
Battlefield 3
in third place, EA's
Madden NFL 12
in sixth,
Sony's
(SNE) - Get Report
Uncharted 3: Drake's Deception
in seventh and
THQ's
(THQI)
Saints Row: The Third
in eighth.
Some of these popular console-based games develop true cult followings, and each sequel can command ever larger audiences. For example,
Take-Two Interactive's
(TTWO) - Get Report
Grand Theft Auto
, which first launched in 1997, has seen a steadily rising following.
Grand Theft Auto 2
, released in 1999, saw sales double to two million.
Grand Theft Auto III
, released two years later, sold a stunning 15 million copies.
Grand Theft Auto IV
? How about 22 million units sold.
Care to guess why Take-Two is expected to see EPS jump from 18 cents in the current fiscal year that ends in March to a hefty $2.50 a share in fiscal 2013? Because
Grand Theft Auto V
is set for release later this year. (A recently released short video that teases the new title left many tongues wagging.)
Although Take-Two continues to develop new fresh concepts in search of a blockbuster that may form the foundation of the next big franchise, it still devotes consider resources to existing franchises along with Grand Theft Auto. For example, in coming quarters, gamers will get new renditions of popular titles such as
Max Payne 3
, as well as the
Darkness II
,
BioShock: Infinite
and
Borderlands 2
.
Trading at around six times projected fiscal 2013 profits, Take-Two looks like a far better bargain than Zynga, whose long-term profitability prospects remain harder to gauge.
Not Dead Yet
Investors have been told that video gaming is a dying form of entertainment as other time-sucking efforts such as web surfing eat into leisure time. They may point to the fact that video game industry sales were flat in November compared to a year ago. Dig deeper, though, and you'll see that video game console sales fell 9% last month, but software (titles) actually rose a very healthy 16% -- in a lousy economy.
>>5 Beaten-Down Stocks That Could Rebound in 2012
Whether the industry grows at a moderate pace -- or a robust pace -- in the years ahead remains to be seen, but continued growth surely seems to be in the cards. After all, social media sites are using games to keep users logged on and coming back, wireless service providers are using games as a lure to keep smart phones fire up and even school teachers are increasingly using interactive games to enhance lesson plans. Taken together, the user base of video gamers has expanded from 250 million five years ago to 1 billion today, according to a study done by Sterne Agee.
The challenge for investors has been identifying the hottest gaming company in hopes of riding its stock to a big gain. Trouble is, industry leadership can be inconsistent with last year's winner being this year's laggard. That's why some gaming-focused investors stick with the most dependable name in the business: Electronic Arts. EA is the industry's largest player, with a broad stable of established titles that ensure -- at a minimum -- that annual results will at least be decent.
Worried that EA will miss out on the shift to mobile and social-media-based gaming via Facebook and apps? So was the company. As a result, EA bought PopCap Games this past summer, which is one of the hottest game developers for these new formats. The $750 million purchase (along with potential future bonus payments) looks pretty steep but quickly accelerated EA's plans to generate $1 billion in digital download sales by fiscal 2013. EA has made four other purchases in the digital/social media space in the last year as well.
Right now, several factors make EA especially timely. First, the company has largely completed a multi-year restructuring plan that has taken operating expenses from $5 billion in fiscal (March) 2009 to $3.9 billion in fiscal 2011. That's yielding impressive projected profit growth, EPS are expected to grow more than 25% in fiscal (March) 2012 to around 90 cents a share and nearly 40% in fiscal 2013 to around $1.25 a share. Secondly, shares have fallen roughly 20% in the last month and trade at the same price they fetched back in 1999.
Yet it's the final catalyst that should get your attention. A just-released new title called
Star Wars: The Old Republic
is arguably one of the most important launches in the company's history as it took five years and several hundred million dollars to develop. The MMO (massively multi-player) game is played on line, costs $60 upfront and then generates online monthly subscription fees for active players. Game-maker Activision made a similarly large bet on its MMO,
World of Warcraft
, and has been reaping huge profits ever since thanks to a user base approaching 10 million.
EA has noted the need for at least 500,000 users to recoup the money poured into the game's development. If the user base can reach 5 million --- just half of
World of Warcraft
-- then profit forecasts are likely to be boosted by analysts. (Conversely, if the game is a total dud (which seems unlikely) then estimates would need to come down).
For a technical take on Electronic Arts, which recently changed its ticker symbol from ERTS to EA, check out "
5 Stocks to Trade for Gains in the Tech Sector
."
There are two appealing plays in the sector. Take-Two's 2012 release of
Grand Theft Auto
could be a home run, powering higher profits and a higher stock price. Or you could choose the lower risk path with the more diversified Electronic Arts. Either way, investors should brace for another solid year for the video gaming industry in 2012.
RELATED LINKS:
>>7 Relative Strength Trades to Beat the Market in 2012
>>5 Stocks Setting Up to Break Out
>>5 Stocks to Buy for a Santa Claus Rally
Follow Stockpickr on
and become a fan on
Facebook.
Stockpickr is a wholly owned subsidiary of TheStreet.com.
At the time of publication, author had no positions in stocks mentioned.