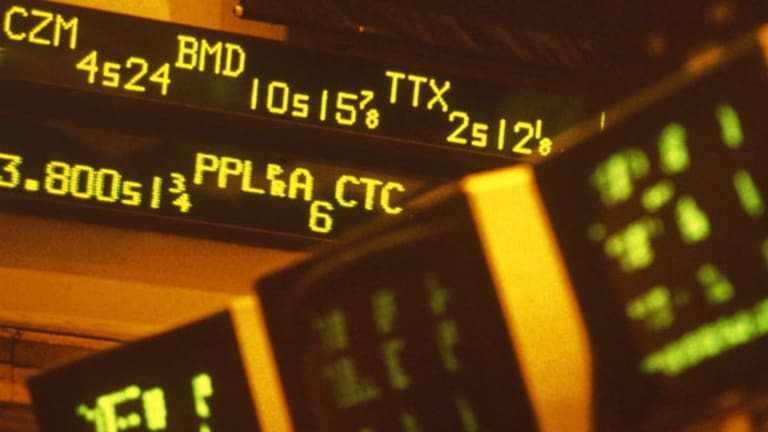 Forget the Top Talk -- QE5 Is Coming, and Here's How to Profit
The Fed is ready to step in and dump cash into the system again. Here's why -- and how to take advantage with your portfolio.
BALTIMORE (Stockpickr) -- Selloff. Correction. Car crash. Whatever you want to call it, last week's 1.4% drop in the S&P 500 was ugly -- especially in the context of the selling the week before. Five of the last seven trading sessions have ended lower, and Thursday's decline rang the bell as the biggest single-day drop in two months (and one of just a handful of declines that nasty all year long).
Once again, the big indices didn't show the full force of the damage. For example, only twoNasdaq 100 components ended higher than they started on Thursday, while one in three stocks in the tech-heavy large-cap index ended the session 2% lower or worse.
But have no fear, the Fed is here.
America's central bankers are ready to step in and dump cash into the system again -- they're just not ready to admit it yet. In a moment, I'll show you why Janet Yellen's Fed is in make-or-break mode -- and three ways you can take advantage with your portfolio right now.
Whether you hate the Fed's quantitative easing programs or you love them, it's hard to argue with the fact that the mountains of cash that the Fed has spread around in the last several years has been a direct driver of stock prices coming out of the Great Recession.
The chart below tells the whole story:
The S&P 500 has moved in lockstep with the Fed's growing asset base, so it's not surprising that investors have been concerned about the prospect of an end to QE. The thing is, that's not happening.
Sure, Fed Chair Janet Yellen has said that QE is coming to an end, but then again, the Fed says a lot of things. Luckily, the public has a short memory. For instance, as Jim Bianco, of Bianco Research, has pointed out out:
"A lot of people forgot this -- [the Fed] actually tapered QE1. We've been through this exact exercise before. They stopped. They told us they were done. Then four months later, they gave us QE2. They abruptly stopped QE2 in June 2011. Again, they said they were done. ... Then they gave us Operation Twist. Then they promised us that they were going to end Operation Twist in September 2012, but as that date drew closer, they said, 'No, we're going to extend it." ... This is, depending on how you measure it, either the fourth or sixth attempt by the Fed to stop QE.'"
Why the wishy-washiness? A big part of it has to do with the fact that, since the summer of 2013, the Fed has begun using its PR machine as a new tool in the fight to keep markets afloat. After all, talk is cheap and QE is expensive, so it's not surprising that Ben Bernanke and company started experimenting with using statements to try to achieve their objectives.
Taking a Look at the "QE Gauge"
But when words fail to get things done, there's always more quantitative easing.
And the there's one chart that's been a spectacular indicator of the Fed's stimulus plans. No, it's not stock prices, jobs numbers or any of the other economic stats that most investors are fixated on right now. I'm talking about inflation. Have a look:
More specifically, the Fed is targeting a pretty narrow definition of inflation: a 2.2% minimum in a metric the Fed calls its five-year forward inflation rate. Put a different way, the chart above has never crossed the 2.2% mark without the Fed immediately announcing a far-reaching QE initiative.
In my view, that makes the chart above pretty important to investors.
You can see how the most recent two swing lows on the chart came from surprise Fed statements on tapering and rate hikes -- that's the shift to a PR-focused policy I was talking about. But neither of those surprises had the type of effect that stimulus programs have had, and we're getting closer to make-or-break mode as I write.
Right now, forward inflation is showing the lowest reading we've seen in since Janet Yellen took over at the Fed -- and it's dropping. In fact, that QE meter is closer to that critical 2.2% level than it's been any time since Operation Twist in 2011. Post-2008, our "QE gauge" has never gotten that low without some kind of Fed intervention.
Why the focus on the forward inflation rate? Put simply, inflation is the Holy Grail for central bankers because deflation is a terrifying prospect for a heavily indebted economy. No economist wants to be at the helm when the U.S. slips into deflation -- that's why Ben Bernanke fought to aggressively to keep five-year forward inflation above 2.2%, and it's why you can count on Janet Yellen to do the same.
Will they call it "QE5"? Who knows? But whatever they call it, you can expect it to drive stock prices to more new highs in 2015.
Why You Should Buy Stocks Before the Next Stimulus Round
Despite growing investor anxiety over the new all-time highs the stock market has been hitting in recent months, there's an important takeaway about stocks right now: nothing has changed.
Here's a technical look at what S&P 500 has been up to lately:
The big U.S. stock indices have been bouncing their way higher in a well-defined price channel for nearly two years. Put a different way, we've been experiencing a "buy the dips market" for a while now -- and with QE5 likely to get squirted into the system, it makes sense to buy the next dip.
Don't confuse what I'm telling you with some kind of political or moral statement. I'm not championing the Fed here.
Too many investors worry about what the Fed should do, when the only way to make money is to focus on what it will do. We're on a collision course with the exact same signal that's brought us big QE programs every other time it's triggered, and that makes QE5 look forthcoming.
Even if you have a problem with what's going on in Washington right now, don't fight the Fed's moves unless you don't mind getting your portfolio steamrolled.
3 Ways to Profit From QE5
Stocks are the best way to play the next round of Fed stimulus by virtue of the fact that investors really have no other choice. That's not the most exciting driver of a rally, but it's reality. And it doesn't take a complex strategy to take advantage.
So how do you position yourself for QE5? Simple: buy SPY.
Buying the next dip in the S&P 500 SPDR ETF (SPY) - Get SPDR S&P 500 ETF Trust Report is a straightforward way to play the trend with instant diversification and extremely low costs. There's a reason why SPY is the biggest exchange traded fund on the face of the planet: It's the best way to get exposure to "stocks" as a group.
More important, SPY mirrors the index that's been showing the most technical strength in recent months.
Income investors, pay attention. Another way to play the Fed's next move is through the other side of its toolbox: interest rates. We've been in an environment where everyone has been betting on a rate hike -- after all, interest rates have nowhere to go but up -- but five years later, rates are basically unchanged.
In fact, fixed income has been one of the best-performing asset classes in 2014.
That's why interest-sensitive stocks such as REITs, MLPs and utilities are a good way to play this trend. A couple of my favorite names in the space are Realty Income (O) - Get Realty Income Corporation Report , with a 5.37% dividend yield, and Digital Realty Trust (DLR) - Get Digital Realty Trust, Inc. Report , with a nearly identical 5.38% yield. Both of those REITs provide high yields, which means that their share prices are sensitive to changes in interest rates.
They also have dividend protection built into their models – they're basically landlords, but they pass through most of the costs of running properties onto their tenants in the form of long-term triple-net leases. That makes Realty Income and Digital Realty more like pure-play income stocks than real estate stocks.
Finally, both names also have big tailwinds in their niches. For Realty Income's big retail exposure, consumer spending numbers continue to propel its share price. And at DLR, growing demand for computer data centers is helping the firm capture bigger ROI from its properties.
Any of those three trades (SPY, O or DLR) offer a way to take advantage of an upcoming Fed action -- but the REITs provide an amplified way to play it.
At the time of publication, author had no positions in the stocks mentioned. Jonas Elmerraji, CMT, is a senior market analyst at Agora Financial in Baltimore and a contributor to TheStreet. Before that, he managed a portfolio of stocks for an investment advisory returned 15% in 2008. He has been featured in Forbes , Investor's Business Daily, and on CNBC.com. Jonas holds a degree in financial economics from UMBC and the Chartered Market Technician designation. Follow Jonas on Twitter @JonasElmerraji