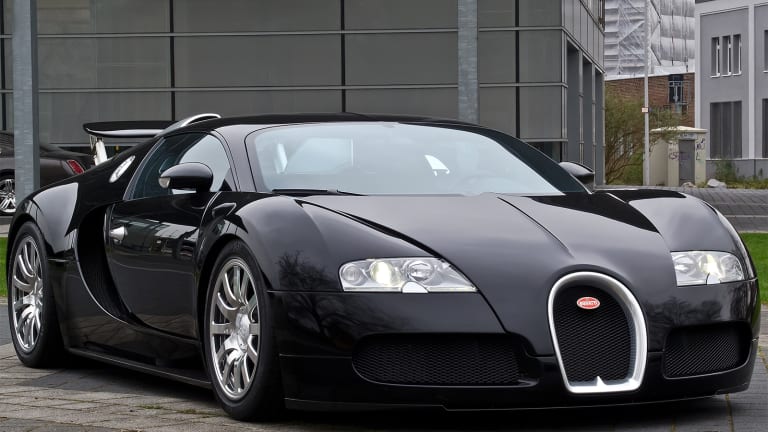 Forget Tesla, Volkswagen Is the Automaker Stock I Love
The company owns Bentley, Bugatti and other hot super-luxury auto brands.
It's time to look at auto stocks now that the Detroit Auto Show is over.
The Detroit auto show's Car of the Year winners for 2018 are the Honda Accord, the Volvo XC90 and Ford's (F) - Get Ford Motor Company Report Lincoln Navigator, but I just can't get excited about any such old-fashioned nameplates. That's the problem facing car companies (and their stockholders) right now. The current products seem like just placeholders until autonomous vehicles hit the market, and auto stocks' chronically low price-to-earnings ratios reflect the lack of enthusiasm toward today's models.
In an interview in conjunction with NAIAS, CEO Mary Barra of General Motors (GM) - Get General Motors Company Report forecast flat earnings for 2018 vs. previous guidance calling for $6.50 a share in 2017 profits. With zero earnings growth, maybe GM's 6.75x forward P/E ratio isn't really that low.
If you're going to buy GM now, you basically have to ignore the company's current production -- and ignore the fact that the Chevy Bolt is failing in the marketplace, with only 23,297 units delivered in 2017. Instead, you have to hope for the company's future deliverance -- if it comes -- via upcoming autonomous vehicles with electrified powertrains. Of course, that's a lot of "ifs," and I can see why investors might choose the rapid earnings growth of Amazon (AMZN) - Get Amazon.com, Inc. Report or the growth in installed base of Netflix (NFLX) - Get Netflix, Inc. Report instead.
But before you decide to either ignore auto stocks completely or invest in the consistently unfulfilled promises and massive cash burn that is Tesla (TSLA) - Get Tesla Inc Report , there's one area that I believe is eminently investable in now: ultra-luxury cars.
The ultra-luxury auto market is red hot, and I believe it will only get hotter. After all, there's lots of wealth being created in the world right now, what with the Nasdaq nearing 7,300 and China's economy minting new millionaires at a rapid pace.
Shows like the NAIAS are crowded with folks trying to gaze at aspirational models from brands like Bugatti. Ferrari (RACE) - Get Ferrari NV Report , Lamborghini and Porsche. You might not need an SUV that produces 650 horsepower and goes from 0 to 60 mph in 3.6 seconds, but the Lamborghini Urus is there for those who do.
How should investors play this trend? Well, GM and Ford have virtually zero representation among super-elite buyers. And while BMW (BMWYY) owns Rolls-Royce, I believe the best-positioned public company to attack the high-end market is Volkswagen (VLKAY) .
After all, VW owns lots of luxury brands, from Bentley and Bugatti to Lamborghini and Porsche. Even the high-end models from Volkswagen's Audi subsidiary can reasonably be called luxury cars. Volswagen also has the most exposure of any Western automaker to the hot market of China, which accounted for 39.1% of the company's total 2017 deliveries.
Not surprisingly, VW's U.S.-listed shares have risen some 45% over the past year. But they're still well below where they were before 2015, when some mind-boggling, stupid management decisions that led to the company's emissions-cheating scandal came to light.
Fortunately, the managers responsible for that fiasco are long gone, but the company's strong presence in the luxury market -- especially in Asia -- remains. To me, that makes VW the most-investable car company in the world right now.
(This column originally appeared Jan. 18 on Real Money, our premium site for active traders. Click here to get great columns like this from Jim Cramer and other writers every trading day.)
More of What's Trending on TheStreet:
At the time of publication, Collins had no positions in the stocks mentioned.