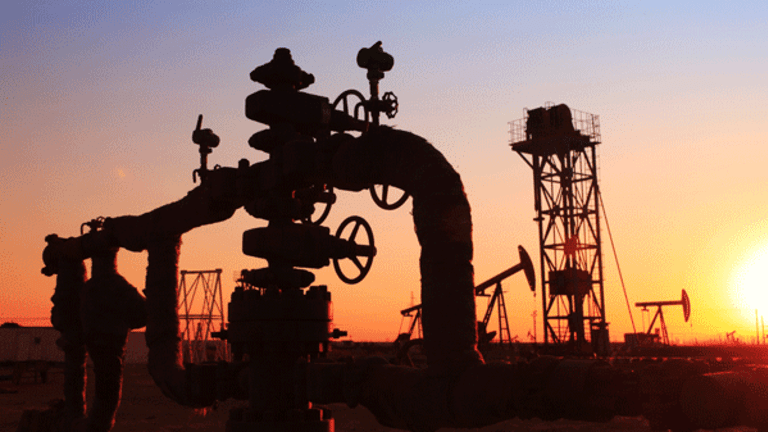 Forget Kinder Morgan -- This MLP Is a Much Better Play
Master limited partnership Phillips 66 Partners offers steady dividend payouts thanks to quarters of impressive growth.
Energy infrastructure companies may be attractive to investors, but not all firms make for good investments.
Take, for example, Kinder Morgan (KMI) - Get Kinder Morgan Inc (KMI) Report . This problematic energy stock recently posted its ninth straight drop in quarterly revenue.
Midstream master limited partnership Phillips 66 Partners (PSXP) - Get Phillips 66 Partners LP Report is a better investment for its steady cash flow, strong balance sheet, and meaty 4% dividend yield. This company is powered by its strong earnings momentum.
Phillips 66 (PSX) - Get Phillips 66 Report formed the MLP back in 2013. It deals in fee-based crude oil, natural gas liquids pipelines, terminals, and refined petroleum products. It has shown strong revenue growth in the past three quarters -- up 121.8% year over year in the fourth quarter, up 57.9% in the third, and 65.6% in the second.
Analysts expect Phillips 66 Partners to clock impressive 71% revenue growth in fiscal 2017, way more than peers Magellan Midstream Partners (MMP) - Get Magellan Midstream Partners, L.P. Report (8.7%), Enbridge (ENB) - Get Enbridge Inc. Report (26.70%), and Columbia Pipeline Partners (CPPL) (13.6%).
Kinder Morgan, a $50-billion Houston-based company with a massive pipeline network, is likely to grow revenue by just 4.3% in 2017. Kinder Morgan highlights the problems with pipeline companies, which investors once mistook to be hedges against commodity price swings, as oil and gas clients hit by the cash crunch renegotiate contracts.
Phillips 66 Partners has a dependable yield. With a safe 67% payout, an enormous dropdown pipeline thanks to its sponsor, Phillips 66, and low-cost access to growth capital, the MLP is a better dividend payer than Kinder Morgan.
In 2017, Kinder Morgan expects to be able to declare dividends of 50 cents a share. This translates to a dividend yield of 2.2% on a slightly riskier payout ratio of 73.5%.
Kinder Morgan was recently compelled to reduce its dividend by 75% after it lost access to most of its funding sources. Its $40 billion debt load is too burdensome.
On the contrary, Phillips 66 Partners' future prospects are heavily reliant on Phillips 66's huge basket of midstream assets. This will help the MLP obtain highly profitable acquisitions from its sponsor's dropdowns to power its growth.
Kinder Morgan is saddled by debt problems. And the Federal Energy Regulatory Commission, the energy sector watchdog, announced it will investigate the company's Natural Gas Pipeline Co. of America and Wyoming Interstate units to determine if they were substantially over-recovering their costs.
The bottom line: Phillips 66 Partners is a much better stock compared with Kinder Morgan because of stronger fundamentals, earnings momentum, and safer dividends. Investors looking for reliable energy income should buy this stock on any price dips.
But there's also another way you could start receiving a steady stream of income checks right now. I'm talking about making practically guaranteed gains -- to the tune of $67,548 per year -- just by following a simple step-by-step process. Click here to see the story behind the trader who has turned a mere $5,000 into more than $5 million for himself... and how you too can collect thousands of dollars in "Free Money" every month.
The author is an independent contributor who at the time of publication owned none of the stocks mentioned.