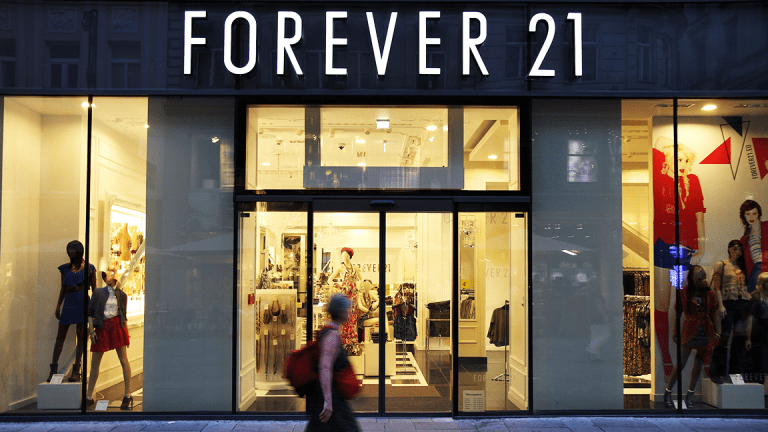 Forever 21 Calls Report of Imminent Bankruptcy Filing 'Inaccurate'
The Wall Street Journal reports the fast-fashion retailer is planning to file for bankruptcy
Forever 21 says a report the retailer is set to file for bankruptcy is "inaccurate" and that it intends to continue operating the "vast majority" of its U.S. stores and a "smaller amount of international stores."
The Wall Street Journal, citing people familiar with the matter, reported on Wednesday that Forever 21 is planning to file for bankruptcy as early as Sunday. The paper also said Forever 21 is "planning to shut down some of its more than 700 stores in bankruptcy," citing one of the people familiar with the matter.
A Forever 21 spokeswoman called the report "inaccurate."
"Forever 21 is not planning to file for bankruptcy on Sunday," the spokeswoman said in an email to TheStreet in response to a request for comment. "Our stores are open and it is our intention to continue to operate the vast majority of U.S. stores, as well as a smaller amount of international stores, providing customers with great service and the curated assortment of merchandise that they love and expect from Forever 21."
BDO released a report on Wednesday showing the pace of retail bankruptcies and closures has increased across the U.S. this year. BDO says 7,282 stores closed in the first half of 2019, which is already beyond the just under 6,000 in all of 2018.
BDO also cited Coresight Research that forecasts more than 12,000 stores are expected to be closed this year due to a combination of retailers going out of business or reducing their physical footprints.
Forever 21, founded in 1984 in Los Angeles by husband and wife Do Won Chang and Jin Sook Chang, describes itself as the fifth-largest specialty retailer in the U.S. It says its average store size is 38,000 square feet, with the largest about 162,000 square feet.