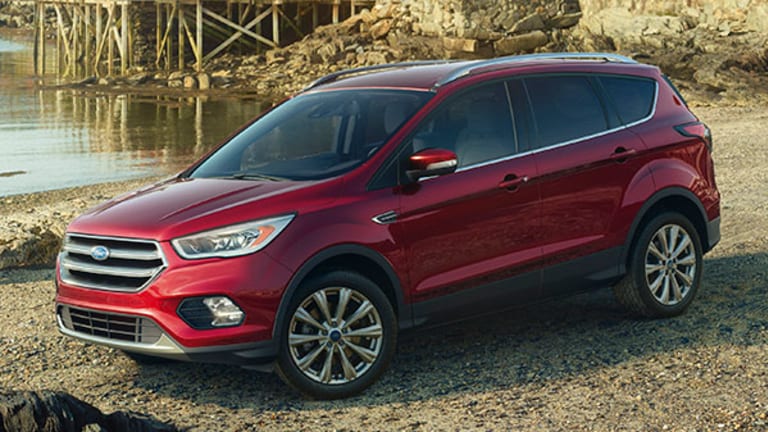 Ford Uses FordPass to Develop as a Tech Company, Not Just an Automaker
Automotive companies like Ford can no longer idle as simple car manufacturers; they also have to be technology-focused, full-service mobility providers. Enter FordPass.
Automotive companies like Ford (F) can no longer idle as simple car manufacturers; they also have to be technology-focused, full-service mobility providers that can deliver on services like entertainment, smart parking and commercial partnerships.
Enter FordPass. As potential consumers increasingly move to urban centers and eschew car ownership, Ford is anxious to provide this platform to serve two purposes: to provide a comprehensively connected consumer experience for owners and also to lure future buyers to the brand by meeting their temporary transportation needs.
Last year Ford had its best year for sales since 2006, selling 2.6 million vehicles -- up 5.3% from the previous year with boosts due in part to cheap gas prices. But the company is beset by some peculiar challenges facing the entire industry, namely that the rise of car-sharing and peer-to-peer programs threaten long-term sales growth. About a third of all American licensed drivers were under 30 in 1983, a figure that's dropped to 22% now despite the 80 million strong Millennial population, according to University of Michigan's Transportation Research Institute. Ford is aware of this challenge and has addressed it in panel discussions such as 2013's "Hipsters Hate Cars." The company's stock price is down 1.62% year over year.
FordPass has been developed over the last 18 months and builds off Ford's desire to create an integrated experience for consumers who can bring the customization they experience with technology at home or on their smartphones into the vehicle. That's a way to facilitate consumers' transition into cars, despite their changing behaviors.
"We're seeing the trends of people moving into urban centers, we're seeing customers' attitudes about vehicle ownership and use models change and evolve," said Ken Washington, Ford vice president of research and advanced engineering. "The digital eco-systems that we all have in our lives, from smartphones to connected homes to digital consumer devices -- it changes our expectations of transportation, of mobility."
This is all part of a larger strategy the company calls Ford Smart Mobility.
"For us, Smart Mobility is about making people's lives better," said Washington. "As more people move into urban environments and congestion is increasing, we know that there are pain points associated with mobility, and so we're expanding our business to be both an automaker and a mobility company. And that means bringing innovation to the next level in connectivity, new modes of mobility, the autonomous vehicles, data and analytics -- all delivered into a great customer experience through FordPass."
With consumers' expectations raised, Ford felt it had to deliver a one-stop-shop for a person's digital life to be integrated into his transportation.
"We're talking a lot about how FordPass is going to stitch all that together to make a single point of entry into these new mobility services," Washington said.
A large part of that goal hinges on entertainment, which Ford strengthened with its recently announced integration of Spotify into Fordpass. The choice arose given Spotify's popularity in Ford SYNC AppLink, which allows users to connect their vehicle and smartphone seamlessly while on the go.
"Journey experiences are very important to FordPass, and Spotify is our No. 1 app in AppLink and in Sync in our vehicle right now," said Elena Ford, Ford's vice president of global dealer and consumer experience. "So we're building on our partnership that we already have with Spotify, and we want to integrate them into FordPass as part of our entertainment category. So building on journeying experiences and building on music for a FordPass customer is a very important for us, and how we do that going forward will be driven on how customers feel when they come into Ford pass."
FordPass will also plan with partners to provide news, sports, audiobooks and children's programming content.
What's more, FordPass is also integrating partnerships with ParkWhiz and Parkopedia to allow users to fill their meters remotely. FordPass also has a deal with FlightCar to help folks borrow and share vehicles when traveling. Ford has long had a partnership with Zipcar to introduce those who don't have cars to the products over a gradual period. General Motors (GM) recently teamed up with Lyft to tap into the increasing sharing economy and car-summoning apps that have become de rigeur in cities for transportation needs. Ford anticipates that it will integrate ride sharing and car sharing options in the future.

"The idea of FordPass is really to build a digital-physical ecosystem to offer people both core features in the marketplace and emerging like smart parking and car sharing so that they come and be part of Ford," said Elana Ford. "So it's for people who own vehicles and for people who don't own vehicles, because anybody can be a member of FordPass."
This is all part of the company's quest to expand its identity -- not as a just an automaker but something loftier.
"Well, the way I see it is that we're trying to deliver a best-in-class consumer experience," Ford said. "So we have our great vehicles of our core, building cars, trucks, utilities and electric vehicles, and then we have our emerging opportunities we're building together in an infinity."
That path takes hold with SYNC Connect debuting in the U.S. and Canada in the 2017 Ford Escape this spring. Users will be able to lock or unlock their vehicles using FordPass or schedule remote starts. Ford will expand this offering to the U.K., Germany and France a few months later, followed by China at the end of the year and Brazil early next year.
"When we say we're expanding our business to be an automaker and a mobility company, we really mean that -- that the two are important and they work together," Washington said.
Of course, FordPass isn't the panacea to all the ills auto companies face.
"There are some promising features to FordPass -- remote start and unlocking, vehicle diagnostics, personal concierge -- but I don't think this is the silver bullet that solves the issue of declining car ownership," said Ron Montoya, senior consumer advice editor at Edmunds.com. "This app seems to be directed at Ford vehicle owners and looks to provide additional benefits to owning a Ford."
Montoya said someone choosing not to own a car is most concerned with ride-sharing services and short-term car usage. But there's something auto companies need to prioritize.
"In the immediate future, car companies should focus more on effectively integrating the smartphone to reduce driver distraction," Montoya said.