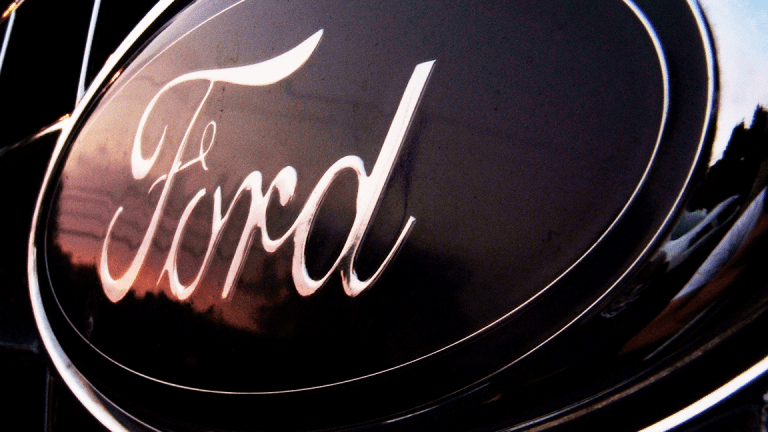 Publish date:
Ford Touts Autonomous Vehicle Program Even as Doubts Remain About Cost-Cutting
Piper Jaffray downgraded Ford to Neutral and cut its price target to $12, citing a lack of bullish catalysts.
Piper Jaffray downgraded Ford to Neutral and cut its price target to $12, citing a lack of bullish catalysts.
Don't expect Ford stock to drive higher, some analysts say. 
Ford Motor Co. (F) - Get Ford Motor Company Report is preparing for a scaled deployment of its Autonomous Vehicle program in 2021 but as the business is not making money currently, the Dearborn, Mich.-based automaker's current cost-cutting plans may not be enough to earn Ford a higher earnings multiple, according to Piper Jaffray & Co.
Ford has been trimming its product portfolio and doubling down on its most profitable segments. The company is also committed to delivering improvements in China and other underperforming global markets, Piper Jaffray analysts noted.
"We appreciate the focus on 'fitness,' as well as Ford's newfound willingness to cull less profitable platform," Piper Jaffray analysts Alexander Potter and Winnie Dong wrote in a May 15 research note.
"But with U.S. vehicle sales slowly eroding, we think investors are looking for more fundamental changes from Ford - and from automotive companies in general," Potter and Dong wrote. "Ford may yet capture its share of the $1 trillion market for autonomous rides, but in our view, the company isn't a leader in this market -- at least not yet."
Given the lack of bullish catalysts, the firm downgraded Ford to Neutral and cut its price target to $12. Shares of Ford rose 0.8% to $11.31 at 12 p.m. New York time.
The U.S. automaker with a market capitalization of $44.9 billion plans to deploy its autonomous vehicles on a city-by-city basis in three years. While the company's intimate understanding and experience in fleet production provides advantages in the autonomous vehicle segment, Ford's other priorities, such as building up its pipeline of trucks and SUVs, may slow its AV efforts.
"Ford's pragmatism might pay off -- but only if auto market disruption advances slowly," Potter and Dong wrote.
Ford is in a race with General Motors Co. (GM) - Get General Motors Company (GM) Report , Alphabet Inc.'s (GOOGL) - Get Alphabet Inc. Class A Report Waymo, Tesla Inc. (TSLA) - Get Tesla Inc Report , Toyota Motor Corp. (TM) - Get Toyota Motor Corp. Sponsored ADR Report and others to produce autonomous vehicles, but it's proving to be a costly venture.
"I think we showed in our financial results in the first quarter, we lost $102 million for a recall for [the mobility] segment, and that's where we are now," Chris Brewer, chief program engineer for Ford's autonomous vehicle development, said on Tuesday at the Evercore ISI Global Auto Conference. "As we move forward and closer to 2021, we'll expect to continue to spend at that rate or more so. But the goal is to start to show return as soon as we can, ideally the '21 timeframe."
One of the challenges is with the battery technology, Brewer said, as current battery packs aren't big enough to run a car all day. Ford is engineering its autonomous vehicles to last hundreds of thousands of miles, hence the need for an long-lasting battery.
"For us to recover the investment we put into it, including the variable cost of the vehicle, we want to have it run as many miles as possible so that us and our partners benefit from it," Brewer explained.
Separately, activist Paul Singer's Elliott Management on Tuesday reported acquiring new significant positions in Ford, Exxon Mobil Corp. (XOM) - Get Exxon Mobil Corporation Report and other companies.
According to the firm's first-quarter 2018 13F securities filing, which is based on positions the fund held as of March 30, Elliott bought $17 million in Ford, or 1.5 million shares. The new positions suggest that some of these companies could become targets for the activist fund down the road, according to TheStreet's Ron Orol.
TheStreet presents on May 22: "How to Stomach Market Volatility." Hosted by Fisher Investments, the exclusive live webinar will give you the tools to successfully navigate market volatility and discuss why having a wealth manager is more critical than ever before. Quickly register for the event here.