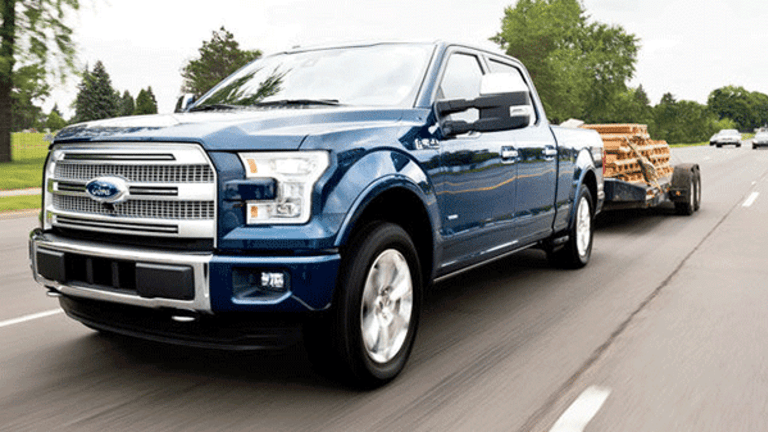 Ford to Idle Truck Plant for a Week: Another Sign of a Softening U.S. Vehicle Market?
Ford's move comes on the heels of General Motors' production cutbacks at sedan plants.
Ford (F) - Get Report  , the No. 2 U.S. vehicle producer, said it will idle its Kansas City, Mp., truck plant that builds Ford Transit vans and F-Series full-size pickups for one week in early January to trim inventories of unsold vehicles on dealer lots.
The move comes on the heels of announcements from No. 1 U.S. carmaker General Motors (GM) - Get Reportthat it is idling five U.S. sedan plants and reducing work shifts to one from two at the automaker's Detroit Hamtramck sedan assembly plant.
The slowdowns by the two top U.S. automakers come at a time when analysts have been watching carefully for signs that consumer demand for vehicles is softening, following seven years of expansion. But adjustments in output by Ford and GM also reflect a longstanding hometown rivalry marked by bids to gain market share.
John Mendel, a former Ford executive now in charge of Honda's (HMC) - Get Report North American operations, said on Tuesday night that the Japanese automaker is "just fine" with the state of consumer demand for cars in the U.S. Mendel was in Detroit to host a preview of Honda's new Odyssey minivan, which will debut in early January in Detroit.
"Everyone is saying demand has stalled," Mendel said. "If that means we're staying in a market of more than 17 million vehicles sold, I'll take it."
Ford and GM strive to maintain reasonably tight inventories so they won't be forced to cut prices -- tactics that could boomerang against their share prices and hurt the resale value of vehicles. Ford and GM also are trying to wean themselves away from too many sales of discounted vehicles to daily-rental fleets, another short-term tactic for maintaining market share that Wall Street analysts counsel against.
GM currently leads the U.S. automotive market with a 17.2% share, compared with Ford's 14.9% share. Toyota (TM) - Get Report follows at 13.9% and Fiat Chrysler Automobiles (FCAU) - Get Report with 13% through the end of November.
Honda, with 9.3% of the U.S. market, tends to discount its vehicles less than GM and Ford and avoids sales to daily-rental and other fleets, mostly to keep resale values high, a tenet of the automaker's value proposition to consumers. "We know that a strong resale value is something Honda customers have come to expect," Mendel said.
Honda, which also builds motorcycles, remains the only global automaker that has never posted an annual loss.
Ford and GM sorely wish to prove to investors that the huge losses both suffered in the global financial crisis -- resulting in GM's chapter 11 filing in 2009 -- won't be repeated the next time the U.S. vehicle market goes south. That's why every telltale sign that the market could be turning down - such as a week's shutdown at a Ford plant in Kansas City -- commands so much attention.
Doron Levin is the host of "In the Driver Seat," broadcast on SiriusXM Insight 121, Saturday at noon, encore Sunday at 9 a.m.
This article is commentary by an independent contributor. At the time of publication, the author held no positions in the stocks mentioned.