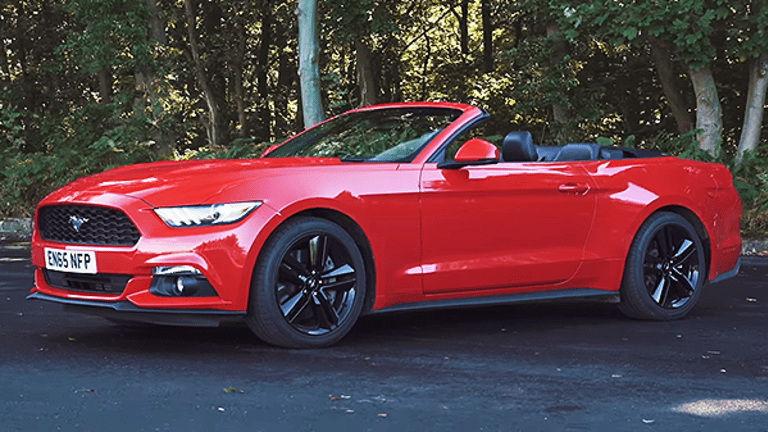 Ford's New CEO Must Pull Off This One Important Thing
Inside Ford's plan.
Start a frank, candid conversation with anyone at the Ford Motor Co.  (F) - Get Ford Motor Company Report and it's not long before you hear about layers of bureaucracy, internal competition for promotions and the counter-productive, sometime vicious maneuvering among co-workers for scarce resources and favor from bosses.
All of these are workplace and corporate behaviors that Alan Mulally identified, criticized and tried to assuage after Bill Ford Jr. recruited him from Boeing Co. (BA) - Get Boeing Company Report in 2006 to take over as the automaker's CEO. Under the "One Ford" banner, Mulally did make a difference at Ford during seven years, especially among top corporate officers. But did he achieve anything more than a temporary and limited culture change?
Evidently not, which is part of what cost Mulally's successor, Mark Fields, his job. Fields either couldn't or didn't prioritize Mulally's holy mission to drag the old-line automaker into the modern age. Ford's ability to deliver advanced mobility solutions such as driverless cars remains unproven as smaller, quicker upstarts in and out of the automotive business, such as Tesla Inc. (TSLA) - Get Tesla Inc Report , attempt to steal a march on the incumbents.
Thus, the tricky task of cultural reform at Ford now falls to Jim Hackett, 62, appointed last month as Ford's new CEO. Hackett has distinguished himself as an effective corporate leader with a deep, creative streak when it comes to "design thinking" and innovation. Kudos to the Detroit Free Press for an extensive interview with Hackett, published this week, concerning the new CEO's plans for his first 100 days in office.
Hackett's initial four goals are: (1) to re-evaluate revenue opportunities for Ford in light of likely flat or falling sales as the U.S. automotive market softens, plus reviewing lines of business that are unprofitable; (2) to assess Ford's "fitness" in terms of the efficiency of operations and product creations; (3) to figure out if the company's capital is deployed optimally; and (4) to verify whether the automaker is doing all it can to become a leader in autonomous vehicle technology and mobility services, such as vehicle sharing.
"The good news is, we have plenty of capital. The sources of capital are not the problem. It's the uses," Hackett told the Free Press. "You can exit things -- it's well-known, competitors have been doing that -- and Ford has been on that already." So has General Motors Co. (GM) - Get General Motors Company (GM) Report , which faces many of the same organizational difficulties of incumbency.
While he didn't state the reduction of bureaucracy as a goal, Hackett narrowed the number of executives reporting to the CEO to eight from the 18 that reported to Fields. In that way, fewer important decisions must wait for approval from above, allowing a flatter organization to move more quickly. He also mentioned Ford management's reputation of holding frequent, long and indecisive meetings. (Here's an idea for him: A former boss Mike Bloomberg, used to hold meetings standing up. Not surprisingly, meetings tended to finish as quickly as possible).
Hackett elevated the status of Ken Washington, vice president of research and development, to a direct report, perhaps signaling a heightened emphasis on advanced mobility. Likewise, he carried the hiring and return to Ford of Sherif Marakby, a key mobility executive who defected to Uber Inc. in 2016 to become a corporate vice president.
Mulally did conduct frequent meetings of top executives, watching which displayed collaborative tendencies and which were bent on eliminating corporate rivals. He thinned the ranks of the latter group - it wouldn't be surprising if Hackett decides to do the same. But one innovation he may invoke in the meantime is his preference for so-called "two pizza" meetings, held with a small number of people that can be fed by two pizzas.
Ford's shares fell 1.1% to $11.12 by Tuesday's close.
Read More Trending Articles:
Intel Just Got Smoked By AMD In the Race to Unleash a Super Chip
It's Worrying That These Sectors Have Just Taken a Crowbar to the Knee-Cap: Market Recon
Costco Sees an Extremely Damaging Flush In Aftermath of Amazon's Big Whole Foods Deal
'Walmart Rx' Takes Center Stage as Walgreens Rite Aid Saga Nears Homestretch
Doron Levin is the host of "In the Driver Seat," broadcast on SiriusXM Insight 121, Saturday at noon, encore Sunday at 9 a.m.
This article is commentary by an independent contributor. At the time of publication, the author held no positions in the stocks mentioned.