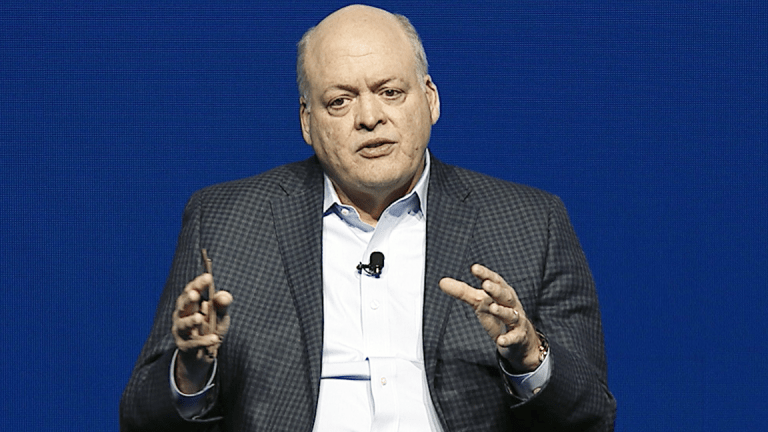 Ford CEO Jim Hackett's Restructuring Plans Provoke Skepticism as Shares Slide
Shares of Ford fell after reporting disappointing second-quarter earnings and announcing $11 billion in restructuring costs.
Ford needs to "go further" to prove to investors it's still driving along the right path.
Ford Motor Co. (F) - Get Ford Motor Company Report tumbled on Thursday, July 26, as investors fled the stock following abysmal second-quarter results and full-year guidance. Management also outlined plans for $11 billion in restructuring costs, which will occur over the next three to five years, but did not specify how the money would be spent, leading to questions about whether CEO Jim Hackett is on track to turn around the Dearborn, Mich.-based automaker. Analysts are mixed.
Ford shares fell 6% to $9.89.
Some analysts, such as J.P. Morgan's Ryan Brinkman, suggest the big restructuring charges are an encouraging sign.
"Investors we spoke to reacted negatively to Ford's earnings reported after the close Wednesday, but we would treat an expected pullback in the shares Thursday as a buying opportunity," said Brinkman. "The potential for large charges is in our view actually a positive sign, as it suggests the firm is readying radical changes to its business to drastically improve profitability."
Car research firm Edmunds' manager of industry analyst Jeremy Acevedo agrees, telling TheStreet on Thursday the car company's moves over the past year have already shown promise for the future of the brand. 
"A lot of what the conference call focused on is the future," he said. "Yes, Ford is swallowing a bitter pill on restructuring their brand, but Hackett took the helm a year ago and quickly made the decision to move away from passenger cars in North America."
That decision shows Ford is taking initiative on eliminating slow-moving brands and gives company followers confidence in their ability to move the brand ahead, Acevedo suggested. 
Still, with scant details about the restructuring costs, RBC Capital Markets analyst Joseph Spak is more skeptical about Ford's plan.
"Management said they will be in front of investors, but a more cohesive message/story would help," said Spak. "Canceling the analyst day probably doesn't."
Ford said it was postponing its investor meeting, previously scheduled for September, and will reschedule when more specifics can be shared on global redesign and restructuring.
"Without visibility [regarding] how/when the restructuring actions will be taken, we have a difficult time defending our forecast," said Piper Jaffray analyst Alexander Potter. He lowered his earnings estimates for 2018 and 2019 to $1.32 per share and $1.69 per share, respectively. The firm also slashed its price target from $12 to $10.
Some industry followers think trusting Hackett a little longer as he fleshes out his plans for the future of Ford is a good idea. 
"I think we can give him a pass for where the product cycle is right now," Edmunds' Acevedo said. "The auto industry so much more than any other industry is really dependent on those long-term plans hitting the market."
Hackett has yet to have the chance to market any major new products, making it difficult to determine how he's going to execute on the future, Acevedo said. Ford plans to produce a new version of the Bronco, its popular SUV from the mid-1990s, starting in 2020.
Trusting Ford's brand will improve in the future and investing in its stock today are two different stories, however.
Doug Kass, president of Seabreeze Partners Management Inc. and a Real Money contributor, noted Ford shares fell below $10 for the first time since 2012 and rival General Motors Co. (GM) - Get General Motors Company Report continues to make new lows.
"My view is that F and GM represent 'value traps,'" Kass wrote in a column for Real Money Pro. "I would not be tempted by the low valuations — which historically occur at sector cycle peaks."
Morgan Stanley's Adam Jonas said investors should prepare for more misses than beats. However, he said it might not be the end of the cycle.
"We recommend GM, Ford and [Fiat Chrysler Automobiles NV] (FCAU) - Get Stellantis N.V. Report despite our view that earnings for all 3 have already peaked because we believe the market may be underestimating their role in Auto 2.0 (i.e., data collection and monetization from the miles ecosystem) and their ability to execute plans to eliminate loss-making businesses and shrink the size of their footprint in a way that can improve the long-term risk and capital consumption profile of the global business," Jonas said.