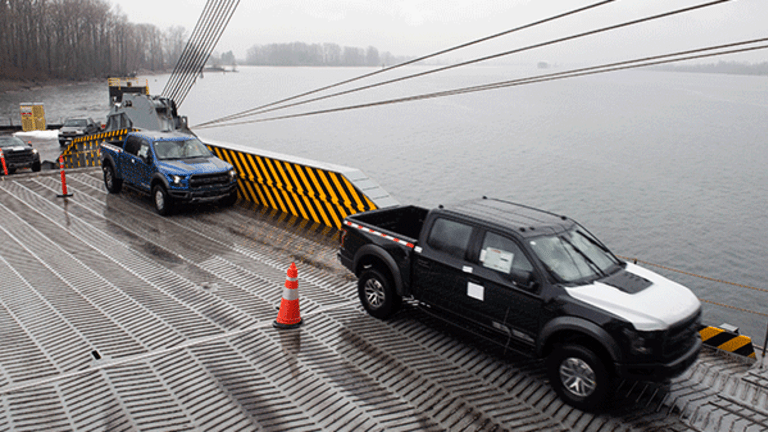 Ford Could Send 20,000 People Packing, and the Reasons Why Are Pretty Obvious
Wake-up call to the auto industry.
Auto industry executives are never short of smiles and upbeat things to say about the space and what their chosen employer is working on. From autonomous driving advances to new ride-sharing partnerships to the renewed horsepower wars, the past year has been an exciting time period for the industry. But now it's time for a wake-up call for the cheery industry, and Ford (F) - Get Free Report is likely to be the one that will serve this harsh medicine up.
Ford's stock price is stuck in neutral, and CEO Mark Fields is probably under pressure to boost profits at the same time he invests in new technologies. The Wall Street Journalreports Ford will soon announce a 10% cut to its global workforce. The company employs about 200,000 people worldwide, so a 10% reduction is no drop in the bucket. 
Shares fell slightly on Tuesday on the news. 
It's a realistic figure, given the current state of the U.S. auto industry. While not falling over a cliff, the industry's slowdown is underway and deserving of more scrutiny on expenses from Ford, General Motors (GM) - Get Free Report , Toyota (TM) - Get Free Report and others. Kelley Blue Book thinks 2017 U.S. auto sales will fall short of last year's record 17.5 million, and notch a drop for the first time since 2009.
Moreover, there is a glut of used cars about to come into auto land that could depress demand for new cars, and prices. By the end of 2019, an estimated 12 million low-mileage vehicles are coming off leases signed during a 2014-2016 surge in new auto sales, according to auto auction firm Manheim. There are already indications more available used cars and slowing auto sales are hurting prices for new cars. Incentive spending increased 11% on cars in April, to $3,903 per vehicle. The average price paid for a car was $25,516 -- relatively unchanged vs. a year ago. 
About that Tesla (TSLA) - Get Free Reportdowngrade on Monday...
This article originally appeared at 07:42 ET on Real Money, our premium site for active traders. Click here to get great columns like this from Jim Cramer and other writers even earlier in the trading day.
Read This Or Lose Out
Stolen Disney movie, ah man:Walt Disney (DIS) - Get Free Report CEO Bob Iger said Monday evening that hackers claiming to have access to an unreleased Disney movie threatened to share it with the world unless the studio paid a ransom, reports The Hollywood Reporter. Iger hasn't yet ponied up for the ransom, instead choosing to work with authorities. These hackers are particularly cruel: they are planning to release five minutes of the film at first, and then in 20-minute blocks until their financial demands are met.
Next up for the hackers -- reveal who is currently playing Mickey Mouse at all Disney parks globally. 
The FTSE is crushing it: Step aside Nasdaq Composite, there is a new hot kid in town. Britain's benchmark stock index, the FTSE 100, passed a record high on Tuesday for the second consecutive day. The index has notched more than a dozen all-time peaks since Christmas 2016, points outBusiness Insider.
Home Depot blows it out of the water: While people aren't buying jeans and watches, they continue to invest in their home, which is rising in value. Hence, it's not a shocker Home Depot (HD) - Get Free Reportonce again blew past Wall Street's earnings estimates on Tuesday. Another rock solid quarter from the company against the challenging retail backdrop. 
So much for higher interest rates derailing the company's sales (maybe later this year...). 
Here's one benefit of Trump possibly sharing classified info: The dollar fell for a fifth day on Monday as news broke that President Trump may have shared classified intelligence with a Russian diplomat. Couple that with the dollar reaction to the Comey firing, and one gets the sense investors may be starting to get concerned in the U.S. economic outlook for this year.
One benefit is that a weak dollar, if it persists, could provide a nice profit bump to multinationals such as Apple (AAPL) - Get Free Report and PepsiCo (PEP) - Get Free Report . Keep talking to the Russians, Mr. President.
Cool, streetcars in Detroit: The privately run QLINE began service in comeback kid Detroit on Monday evening. It's the first streetcar service in Detroit since the 1950s, reportsThe Christian Science Monitor. The rail service is the byproduct of $180 million in philanthropic efforts.
Here's to hoping a group of private investors takes over the failing MTA in New York City. Calling Carl Icahn to fix this horribly, HORRIBLY run government institution. 
Chill out Staples: I am all for enthusiasm, but execs at Staples (SPLS) may want to chill out just a touch. The company came out with a rather optimistic statement in response to borderline poor first quarter results on Tuesday. But in reality, Staples should be freaked out by the long-term trend in its sales, TheStreetreports.
Jim Cramer and the AAP team hold positions in Apple and PepsiCo for their Action Alerts PLUS Charitable Trust Portfolio. Want to be alerted before Cramer buys or sells AAPL and PEP? Learn more now.
Employees of TheStreet are restricted from trading individual securities.