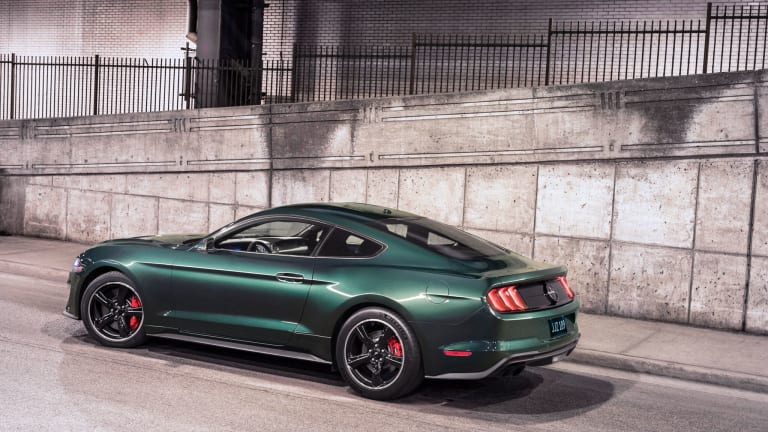 What Bullitt Mustang? Ford Will Pump $11 Billion Into Clean Energy Cars
Ford Motor Co. will invest $11 billion over the next five years in a sea-changes shift towards electric and hybrid vehicles.
Ford Motor Co. (F) - Get Report will double its planned investment in clean energy cars, the company said Sunday at the Detroit Motor Show, as it scrambles to keep pace with rivals, stay one step ahead of regulators and keep upstart Tesla (TSLA) - Get Report from dominating the U.S. market for performance electric vehicles.
The iconic American carmaker will pump more than $11 billion into hybrid and electric investments over the next five years, chairman Bill Ford revealed to reporters at the industry's benchmark event Sunday, more than double its previous target, with the aim of having 40 models on the road by 2022. Ford also said this will include at least one high-performance SUV -- which it will call the Mach 1 -- alongside at least sixteen cars that will fully battery powered. 
"This $11 billion you're seeing, that means we're all in now," Ford told reporters in Detroit. "We're taking our mainstream vehicles, our most iconic vehicles, and we're electrifying them. The only question is will the customers be there with us and we think they will."
The automaker will also put a new gas guzzler on the market in the special edition Bullitt Mustang. Unveiled Sunday evening, the Bullitt Mustang pays homage to the legendary ride driven by Steve McQueen in the move Bullitt. TheStreet's Bret Kenwell is at the auto show, and says the new 'Stang is a forced to be reckoned with. 
As for the green car push, which will also include a hybird version of its flagship F-150 truck by 2020, marks a sea-change in direction for the century-old carmaker, which dumped former CEO Mark Fields last year in favor of outside Jim Hackett in hopes that a new vision would help it challenge domestic rivals such as General Motors (GM) - Get Report and Tesla and match the deepening investments in clean energy and autonomous vehicle production promised by global giants Toyota Motor Co. (T) - Get Report and Volkswagen AG (VLKAY) .
That said, Ford's new $11 billion commitment falls well shy of the $40 billion recently earmarked by VW in November, although it approaches the $13 billion announced last month by Toyota as it set an annual sales target of 1 million zero-emissions vehicle sales by 2030.
Ford shares closed at $13.23 each Friday, after rising 0.53% on the session, extending their three-month gain to 9.8%. That's firmly ahead of the 3.9% decline for rival GM and a 5.44% retreat for Tesla over the same period and also outpaces the 6.46% gain for the Nasdaq OMX Global Automobile index, the sector benchmark.
More of What's Trending on TheStreet:
Ford's move, as well as the recent investment goals from rivals, come amid perhaps the biggest changes in the carmaking industry in more than a generation, as governments around the world seek to clamp-down on man-made CO2 emissions by limiting or banning the sale of diesel and fossil-fuelled powered cars.
Britain will outlaw the sale of new cars with diesel engines from 2040, the government said late last year, shortly after France's Emmanuel Macron announced a similar ban in France. 
China will begin to phase-out the sale of fossil fuel-powered cars in 2019, officials detailed in September, with the introduction of production quotas for "new energy vehicles" in the world's biggest car market.
Producers and importers will need to get a clean energy score, the Ministry of Industry and Information Technology said, and prove that at least 10% of the cars they sell are "new energy vehicles", or NEVs, in order to avoid buying credits from the government or paying steep fines. Companies can also compile credits that can be sold to competitors if they sales and production rates top the minimum threshold.