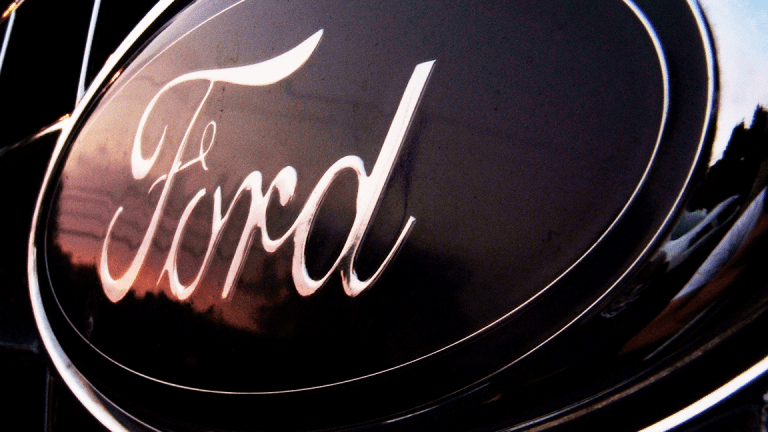 Ford Motor Co.'s (F) - Get Ford Motor Company Report quarterly dividend may not drive much farther.
The Dearborn, Mich.-based automaker's 15-cent quarterly dividend is looking "increasingly fragile" given Ford's deteriorating cash flow, according to Berenberg analyst Alexander Haissl.
Ford's core cash flow during the first half of the year was about 26% short of its dividend payment, Haissl wrote in an Aug. 6 research note. With the view that underlying cash flow can no longer cover the quarterly dividend, together with the decline of the company's China dividend and a potential restructuring cash outflow, "the risk of a significant dividend cut has increased," Haissl said.
Haissl focused on Ford's China dividend, noting that the dividend income is fading to nearly zero.
"The $1.4 billion income that Ford received from its Chinese [joint venture] in 2017 appears to be all but disappearing this year, with only $228 million (total from affiliated companies) received so far and the JV's profits deteriorating sharply to just break even in [the second quarter]," Haissl wrote. "In 2017, that income allowed Ford to cover 60% of its quarterly dividend, and the lack of this support in future will expose the weakness in the company's core cash generation."
Berenberg cut its 2019 quarterly dividend expectations by a third to 10 cents a share. The firm also trimmed its 2018 adjusted earnings estimate by 8% to $1.22 a share, which is 13% below the mid-point of the company's guidance of $1.30 to $1.50 a share. Berenberg has a Sell rating on the stock with a $7 price target.
Ford lowered its full-year earnings guidance during the second quarter and management outlined plans for $11 billion in restructuring costs over the next three to five years, but did not specify how the money would be spent. The restructuring charges encouraged some analysts who believe the costs suggest the firm is readying for radical change to improve profitability but left other analysts discouraged given the lack of details.
"Management said they will be in front of investors, but a more cohesive message/story would help," RBC Capital Markets analyst Joseph Spak said in late July. "Canceling the analyst day probably doesn't."
Ford said it was postponing its investor meeting, previously scheduled for September, and will reschedule it when more specifics can be shared on global redesign and restructuring.
Shares of Ford fell 0.1% to $10.03 at 9:30 a.m. New York time.