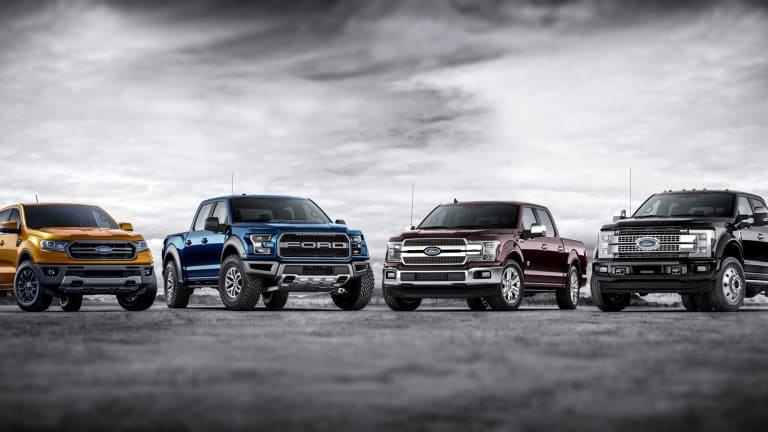 Ford Betting Big on Trucks, SUVs and Hybrids
The U.S. automaker is replacing more than three-quarters of its current lineup.
The U.S. automaker is replacing more than three-quarters of its current lineup.
Ford Motor Co. (F) - Get Report is building up its pipeline of trucks, sport utility vehicles, hybrids and electric vehicles over the next 24 months, the latter of which will be a "key part of the future," according to Chief Executive Jim Hackett.
At its Dearborn, Mich.-based production center in a white circular room with nine vehicles covered in sheets, all pointing toward the stage, Hackett and other Ford executives outlined the ways in which the 115-year old company is revamping its lineup over the next two years, introducing five new SUVs.
"By 2020, we are replacing more than three-quarters of our current lineup," said Joe Hinrichs, president of Ford Global Operations, said.
The U.S. automaker with a market capitalization of $43.6 billion plans to reduce the average age of its portfolio of vehicles to 3.3 years by 2020, compared with the current average age of 5.7 years in 2018. It would also make Ford's portfolio the youngest among other full-line carmakers, the company said, without specifying who those competitors are.
Trucks and SUVs are going to fuel Ford's growth and profitability, said Jim Farley, Ford's president of global markets. Ford's F-Series are the best-selling trucks in America. Last year, the business earned $41 billion, the company said in its presentation.
Farley hinted at "great updates ... coming to the Super Duty [truck] next year," but he did not elaborate.
New versions of the Ford Escape and Explorer, which Farley call "two of the biggest bets," will be introduced in the coming months, and will join the Ecosport and Expedition in Ford's SUV portfolio.
Ford is adding to its lineup of off-road SUVs, which will include the already-introduced Raptor, a new version of the Ford Bronco, and a yet-to-be-named smaller off-road SUV. Ford last sold the Bronco in 1996. 
Ford also provided a clearer picture for its plan on hybrids and electric vehicles. In October, Hackett announced plans to spend $4.5 billion to introduce 13 new electric or hybrid vehicles within the next five years, including a Mustang hybrid F-150 hybrid and an all-new fully electric small vehicle.
"We're also going big on hybrids," Farley said. "They will bring new capability and emotion to our highest volume and most profitable vehicles. They will also protect our customers against higher gas prices."
The company plans to have a hybrid for every model of car or truck sold in North America.
"Today, Ford Motor Company is the number-two seller of hybrids in the U.S., and in 2021 we expect to surpass Toyota Motor Corp. (TM) - Get Report to be number one," said Farley. "We're going to do this by making hybrids mainstream with our highest-volume, most profitable vehicles."
Shares of Ford fell 0.4% to $10.98 at 2 p.m. during the trading session in New York.
As for those sheet-covered vehicles, we can't share any information just yet, but consumer and investors should keep an eye on new product developments.