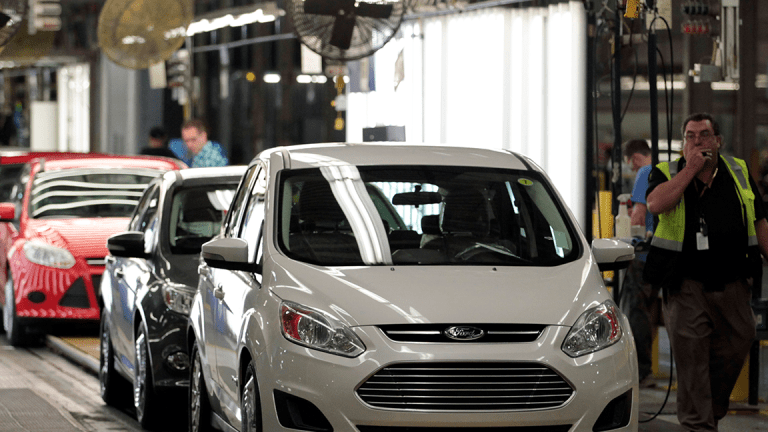 Ford Beats Earnings Estimates by 1 Cent as Auto Industry Suffers
The company earned 29 cents per share versus expectations of 28 cents for the third quarter, but warned of turbulent times ahead in the automotive space with the future of its Chinese and European business in jeopardy.
Ford Motor Co. (F) - Get Ford Motor Company Report announced third quarter earnings of 29 cents a share Wednesday, Oct. 24, after the closing bell, beating analysts' expectations by a penny. 
Analysts surveyed by FactSet estimated the second largest U.S. automaker would report earnings of 28 cents per share for the third quarter. The company also beat analysts' estimates on revenue, reporting $37.6 billion in revenue versus expectations of $36.98 billion. 
Ford shares rose 6.8% in after market trading to $8.75. During the trading session, it lost 4.8% to $8.18.
The report comes at a critical time for Ford, which, along with other automakers, faces a looming global trade war, drooping U.S. car sales, rising interest rates and a slowdown among Chinese consumers. 
Ford in particular has been in the hot seat in 2018, with analysts and investors looking for greater clarity on the company's restructuring plans, which the company  said last September will include about $10 billion of material cost reductions and $4 billion of engineering cost reductions. 
Prior to Ford's third quarter earnings announcement Wednesday, car research firm Edmunds pointed out the company's sales have declined year-over-year each quarter this year, with the third quarter making Ford's steepest decline yet of 3.7%. 
Edmunds argued that Ford's aging products have hindered sales, leading the automaker to turn to drastic increases in incentive spending to sustain sales, even for some of its best-selling models — incentive spending increased by 21% for Ford in the third quarter. 
"Ford's woes continued through the third quarter," Edmunds analyst Jeremy Acevedo said. "The company's downward trajectory in sales is a reflection of an aging product lineup with fading appeal for shoppers, and Ford has turned to increased incentives to prop up demand. An infusion of fresh product seems to be the only solution Ford has to resolve these issues. Until their product pipeline starts flowing, Ford is going to continue struggling to improve its circumstances."
Ford said in its Wednesday release that revenue was up 3% year over year, but net income and adjusted Ebit were both down over the past year, primarily driven by continued challenges in China. 
Ford CEO Jim Hackett did not provide more clarity on the restructuring program, but said the quarter shows Ford's business remains strong in key areas, the company continues to make progress on its efforts to redesign the business to be far more "competitively fit," disciplined in capital allocations and nimble enough for a fast-changing world. 
"With products like the Edge ST and Ranger launching in the United States and the Territory SUV in China, we are also building momentum shifting our product portfolio to build on our strengths and meet shifting consumer demand," Hackett said. 
Ford also reiterated its full-year guidance Wednesday, which calls for adjusted earnings between $1.30 to $1.50 per share and positive cash flow that will be lower than in 2017. 
The Detroit-based automaker will not meet its previously announced 2020 targets of 8% Ebit margin and high teens return on invested capital due to higher costs and uncertainty affecting the entire sector, coupled with unexpected deterioration this year in the Europe and China businesses.