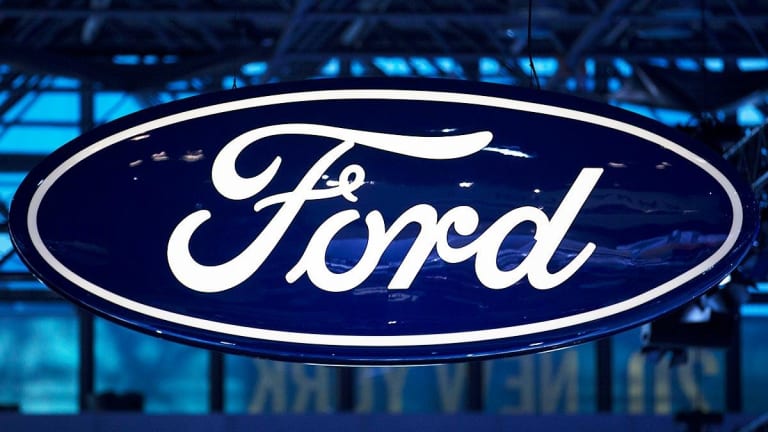 Ford and GM Among Stocks Driving Toward Profits With Autonomous Vehicles
International car manufacturers and tech companies are making a multi-billion bet that autonomous vehicles are the true future of the automobile industry.
In Dubai earlier this year, Tesla  (TSLA) - Get Tesla Inc. Report  CEO Elon Musk made another of his infamous predictions: "I think we will see autonomy and artificial intelligence advance tremendously. My guess is that in probably 10 years it will be very unusual for cars to be built that are not fully autonomous."
The tech world - notably Alphabet  (GOOGL) - Get Alphabet Inc. Report  and Baidu (BIDU) - Get Baidu Inc. Report have taken a lead in this development process, building on their combined expertise in data collection and real-time computing. They haven't got the manufacturing muscle, however, and that leaves an opening for traditional carmakers to elbow their way into the coming autonomous vehicle industry.
All of this makes for an interesting investment landscape. We'll use TipRanks' data to unpack a few of the companies learning to navigate it.
From Russia, With Love
Yandex (YNDX) - Get Yandex N.V. Report  is Russia's largest search engine and tech company, and the fifth-largest search engine in the world. And like the first- and second-largest search engines (Google and Baidu), Yandex is investing heavily in autonomous driving technology. The company started its initiative back in 2016.
Working in Moscow, Yandex has given itself an important advantage: One major hurdle for autonomous car tech is finding lane markers on snow roads. Yandex gets to meet that one head on, right out of the gate. And since introducing its prototype system - installed on a Toyota Prius - Yandex has progressed to a limited-area taxi service in the Russian capital. Earlier this year, the company also signed an agreement to begin testing its system in Tel Aviv.
The bigger news for Yandex, however, is its agreement with Korea's Hyundai on a partnership to develop a self-driving car. Yandex has the sensor and data-processing systems; Hyundai can provide a steady supply of vehicles to integrate with Yandex's systems for testing, and to purpose-build when ready. The agreement was announced in March.
Turning to the TipRanks data, we find that YNDX holds a Smart Score of 10. The Smart Score integrates all of TipRanks' data on a stock, using eight factors known to predict market performance. A score of 10 indicates the stock is likely to outperform the market in the near-term.
Yandex's score is based on its strong buy analyst consensus, and 100% bullish sentiment by both the top financial bloggers and the news media. In addition, this stock shows positive trends in both the technical and fundamental analysis factors: the 20- and 200-day moving averages are trending upward, and the 12-month return on equity is nearly 30%. Hedge funds and individual investors also are showing purchasing activity on YNDX.
Have You Driven a Ford Lately?
As noted, the tech companies haven't got the autonomous vehicle landscape to themselves anymore. Major auto manufacturers worldwide are getting into the field, and while they may have to play catch-up on the software, sensor, and data technologies, they do bring an important advantage to this growing niche: manufacturing savvy, muscle, and infrastructure. This helps explain the Yandex agreement with Hyundai.
Detroit's Big Three are aiming to lock in their market share on the emerging automotive technologies. Ford (F) - Get Ford Motor Company Report  has developed a $4 billion plan to create an autonomous vehicle division, a plan that includes its 2017 investment of $1 billion in Argo AI to develop the automation and software technology needed to drive a car and a $900 million push to improve and expand manufacturing facilities in the company's home state of Michigan. The new factory for autonomous vehicles is scheduled to go on-line in 2021, the same year that Ford aims to have a self-driving vehicle ready for testing as a taxi service.
Ford's approach to the field is typical of the "traditional" car companies: It's leveraging its manufacturing plant as an incentive for the tech companies needing test beds for the automation systems.
Turning to the analysts, Philippe Houchois from Jefferies reiterated his buy rating and raised the price target to $12.50. In his comments, he described the company's product line as "strong," and says, "... broad-based improvements, guidance upgrade, dividend confirmation and reduced credit risk should go a long way towards convincing investors to re-visit Ford's investment case." Houchois' price target suggests an upside of 20% for Ford stock.
A New Road for an American Classic
Also from Detroit, General Motors (GM) - Get General Motors Company Report  is putting $4 billion down on its autonomous vehicle ventures. Plans include hiring 1,000 new workers (both white and blue collar) in the Cruise division, which is developing autonomous vehicle technology on the Chevy Bolt electric car.
Cruise, for its part, is gearing up to launch a pilot program this year with DoorDash, a San Francisco food delivery service. Cruise has been testing its autonomous vehicles in a section of the city, and will introduce the DoorDash partnership in that area. While limited in geographic scope, and not yet licensed to carry passengers, the program will allow Cruise to test autonomous vehicles in a real-life business situation before attempting to launch an autonomous taxi service.
Like Ford and Yandex, GM is expected to outperform the market in coming months. GM's Smart Score is 9, based mainly on highly bullish blogger and news sentiment, plus positive technical trends. The fundamental analysis shows a 24% return on equity in the past 123 months, along with 6.6% asset growth.
Looking at the analyst reviews, Morgan Stanley's Adam Jonas gives GM a buy rating with a $44 price target and a 14% upside. In his comments, he says, "Q1 results were broadly in line after stripping away the mark-to-market "noise ..." I do not see the report materially changing the GM story."
Alphabet is a holding in Jim Cramer'sAction Alerts PLUS Charitable Trust Portfolio. Want to be alerted before Cramer buys or sells GOOGL? Learn more now.
offers exclusive insights for investors by focusing on the moves of experts: Analysts, Insiders, Bloggers, Hedge Fund Managers and more. See what the experts are saying about your stocks now at
. Author: Michael Marcus.