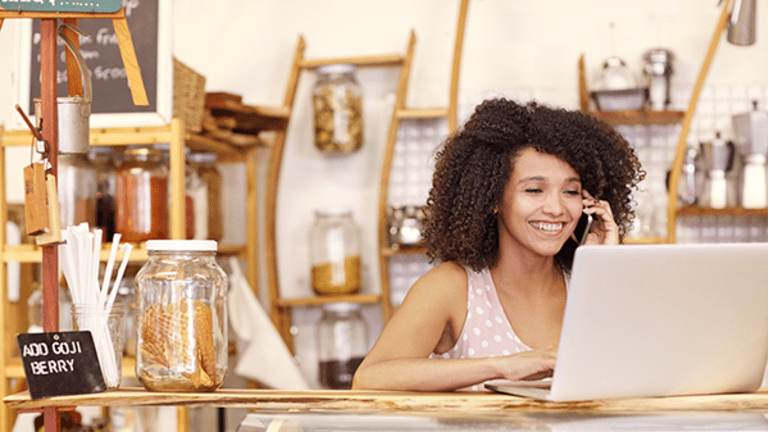 Bank of America, JPMorgan and the Battle for Small-Business Clients
What does consistent profitability growth mean for the U.S. economy if sales gains are shrinking? To keep the current expansion going, the government will need to figure out the answer.
The story Bret Michaels tells is that he was upset over a cheating girlfriend when he wrote "Every Rose Has Its Thorn," a power ballad from the glam rock group Poison that topped the charts in the late 1980s.
But the song, in which the band's lead singer gave a Reagan-era spin to Dickensian angst about the best and worst of times, captures equally well the dilemma facing small businesses three decades later, when consistent profit growth is accompanied by shrinking revenue gains as well as trouble getting loans.
While earnings growth was stable in the past two years, according to the Small Business Credit Survey released Tuesday, sales gains shrank as close to half of firms responded to financial challenges by cutting investments needed to fuel expansion.
That may be a telling indicator for future U.S. growth as the Federal Reserve attempts to bring interest rates back toward historical norms and President Donald Trump seeks Congressional support to boost the economy by cutting taxes and spending more on infrastructure such as roads and bridges. Small businesses employ 48% of the country's private-sector workforce and account for more than 99% of all employer companies.
"Despite their outsized role in the U.S. economy, many small businesses lack the financing necessary to stabilize and grow their businesses," New York Fed President William Dudley said in a statement. "Supporting access to capital and effective financial management empowers small businesses to thrive in today's evolving economy, so that they can continue driving job growth and innovation."
While a majority of the 10,303 companies who participated in the survey by the 12 regional Federal Reserve banks were optimistic about the coming year, with 61% expecting revenue would increase, the same percentage reported financial challenges in 2016 that ranged from securing money for expansion to repaying debt or covering operating costs.
In fact, the 45% of businesses that sought help from loans were more likely to have higher credit risks, such as low scores and an unprofitable company, than their peers, according to the survey, which was conducted nationwide for the first time in the last half of 2016. Findings from previous years were re-weighted to enable comparison.
The figures illustrate the economic pitfalls that Trump took advantage of in his campaign: A recovery that has lasted about eight years and driven the blue-chip Dow Jones Industrial Average to a record high above 20,000 while pulling the jobless rate down to 4.5% has yet to reach all levels of U.S. society.
Only a little more than half, or 53%, of small-business applicants won approval for the full amount of the loan they sought, and the tiniest were the most likely to obtain a smaller amount than needed or be denied altogether.
Successful applicants reported the highest satisfaction with credit unions and small banks, which earned a 75% approval rating. Only 46% were pleased with large banks and 27% with online lenders, the survey found.
Large banks are working to address those challenges, with JPMorgan Chase (JPM) - Get JPMorgan Chase & Co. (JPM) Report, the biggest U.S. lender, teaming with OnDeck (ONDK) - Get On Deck Capital, Inc. Report to provide more rapid small-business credit approvals using the online firm's application platform.
JPMorgan's small business lending more than tripled to $24 billion over the seven years through 2016, CEO Jamie Dimon noted in his annual letter to investors this month.
Wells Fargo (WFC) - Get Wells Fargo & Company Report , meanwhile, introduced small-business loans last May that can be processed online in less than a day -- almost instantaneously in some instances. Branded as FastFlex, the San Francisco-based bank's product offers customers with a business checking account a one-year loan of up to $100,000.
EXCLUSIVE LOOK INSIDE: Wells Fargo is a holding in Jim Cramer's Action Alerts PLUS charitable trust portfolio. Want to be alerted before Cramer and the AAP team buy or sell the stock? Learn more now.
The company, the largest provider of small-business loans in the U.S., also provides credit coaching for customers who were denied loans, giving them a chance to talk with a banker about why they were turned down and how they might gain approval in the future. Since the program launched in March 2015, Wells Fargo credit specialists have handled more than 17,000 calls, according to the bank's annual report.
Bank of America (BAC) - Get Bank of America Corp Report undertook an even more direct approach, assigning small business staff to shared office spaces operated by WeWork, the company started by Adam Neumann and Miguel McKelvey in New York's SoHo neighborhood in 2010.
The bank's Cross Asset Solutions Group also helped the lessor with its own financing needs as it expanded to more than 130 locations and, in 2016 alone, doubled its typical revenue.
The Charlotte, N.C.-based lender "took our business and our vision seriously, made the introductions to people across the bank that we need to flourish and helped us along our journey," Neumann said in Bank of America's annual report.
Editor's pick. This article was originally published at 5:53 p.m. on Tuesday, April 11, 2017.