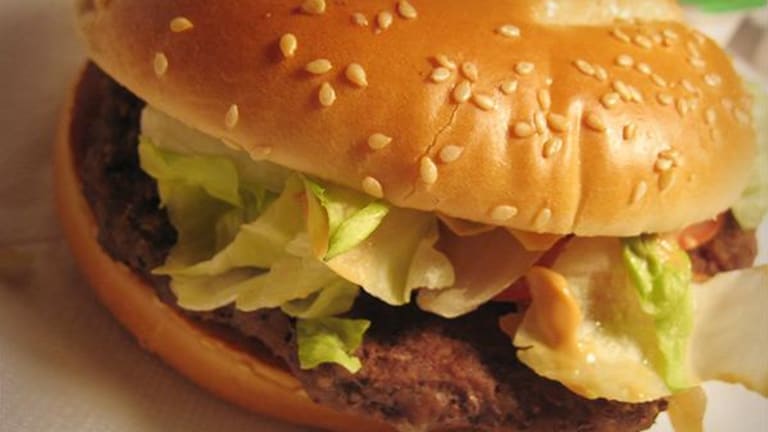 Publish date:
Eating McDonald's Stock Might Make You Sick
Apart from the big chains, very few restaurant companies have done well this year.
Apart from the big chains, very few restaurant companies have done well this year.
While the broad markets were all but flat on Wednesday, restaurant stocks overall had a solid day, with most in positive territory. The "Big Five" -- as I refer to McDonald's (MCD) - Get Report , Yum Brands (YUM) - Get Report , Darden (DRI) - Get Report , Domino's Pizza (DPZ) - Get Report , and Chipotle (CMG) - Get Report -- were up an average of 0.75%, with Darden leading the way, up 3%. Most were pulling back on Thursday morning, proving that investors in restaurant stocks need strong stomachs. 
Year to date, the Big Five are up nearly 15% on average. This is skewed by Chipotle's -17% underperformance. McDonalds is leading the way, up more than 31%. That group is also outperforming the S&P 500 by about 1.5%.
Wednesday's leading performers outside the Big Five included Chuy's Holdings (CHUY) - Get Report (+4.9%), Noodles & Company (NDLS) - Get Report (+3.2%), and Zoe's Kitchen (ZOES) (+3.5%). Biglari Holdings (BH) - Get Report , parent of Steak'n Shake and 20% owner of Cracker Barrel, was up 4%.
Is Wednesday's mini-rally may be part of a larger, sustained upside move in restaurant stocks? Frankly, the market has a mind of its own, and often does what it pleases, so the honest answer is I don't know.
However, digging a bit deeper past the Big Five reveals much more about the sector and its performance in 2017. Much of it isn't pretty.
Once you move beyond the Big Five, it has not been a great year for restaurant stocks. The list of those in negative territory is much longer than you might think (market caps over $500 million):
The list of those in positive territory is shorter, with no real standouts:
Below $500 million market cap, overall performance is even worse (and I'll save that part pf the sector for a future column), except for a handful in positive territory.
In my view, the bottom line is that restaurant stocks, despite the drubbing they've been taking in 2017, still aren't cheap. That includes the Big Five, which currently trade at an average forward price earnings ratio of 23.
With a glut of restaurants (and restaurant stocks), we'll likely see more consolidation in the coming year, perhaps a bankruptcy or two, and maybe even some private equity transactions within the higher quality smaller and mid-size names.
I'd view any broader sector moves higher with skepticism, but that does not mean it can't happen. There is money to be made, in my view, in select names of the special situation, or cheaper variety. However, these are few and far between, and require, besides a discerning eye, a strong stomach as well.
This article originally appeared at 10:00 ET on Real Money, our premium site for active traders. Click here to get great columns like this from Jim Cramer and other writers even earlier in the trading day.
More of What's Trending on TheStreet:
John McAfee and Global Bitcoin Fans Challenge Jamie Dimon's 'Fraud' Comments
At the time of publication, Jon Heller was long BH, ZOES, although positions may change at any time.