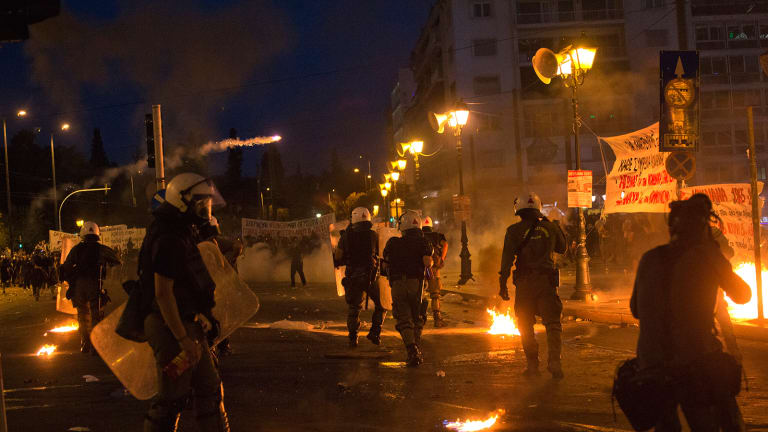 For Once, News on Greek Debt That Lifts Markets
New loans for Greece lift markets, but questions linger about restructuring and implementing the latest bailout proposal
NEW YORK (TheStreet) -- For once, news about Greece's debt crisis lifted the markets.
The European Union announced billions of euros in interim funding to keep the country afloat, simultaneously giving Greek banks the cash they need to keep operating and reassuring investors that the country would be able to pay its short-term debts, including €3.5 billion due to EU bondholders on Monday.
Under the loans announced Thursday, the European Central Bank will provide an additional €900 million in new emergency liquidity funding, while the Eurozone finance ministers agreed to a €7 billion bridge loan. Markets around the world ended the day higher on the news, and there were reports that Greek bonds had resumed trading again as yields fell.
"Clearly, Greece has capitulated," said James Angel, an associate professor at Georgetown University's McDonough School of Business. "Now, it's Europe's turn to deliver on their part of the deal."
But there were still unanswered questions, including when capital controls and other limits on the banking system would end and whether the Greek government could implement reforms in the labor market and other areas necessary for a third bailout.
"No matter whom you talk to, there are questions about the implementation will and capacity," European Central Bank President Mario Draghi told reporters in Frankfurt, adding that it's up to the Greek government to "respond in a fashion that would dispel those rumors."
Doing so may prove challenging for Prime Minister Alexis Tsipras, thanks to political turmoil in both the country and his own party. A vote on the bailout proposal he agreed to with Greece's creditors drew ire from members of his leftist Syriza party Wednesday night because of the new austerity measures involved.
While parliament eventually approved the proposal, nearly a quarter of his governing coalition voted against it. Meanwhile, Greeks took to the streets outside the parliament building to protest the deal, with many saying they wanted a new government.
Multiple times during Thursday's press conference, Draghi reminded reporters that the central bank's actions were based on the assumption that Greece would remain in the Eurozone.
But not all of the bloc's key players think that's the best plan for the country. German Finance Minister Wolfgang Schauble told a German radio station on Thursday that Greece could have more of its debt restructured only if it left the common currency. Along with German Chancellor Angela Merkel, Schauble played a key part in the bailout blueprint negotiated in Sunday's marathon 17-hour meeting.
Restructuring Greece's debt to include longer repayment periods and lower interest rates, among other things, continued to be a point of contention. The International Monetary Fund reiterated that it would not fund a third Greek bailout unless there was a plan to address those points.
The IMF may also be fed up with the "stopgap" approach Eurozone governments have taken to the Greek crisis, passing short-term measures without tackling larger debt issues, Angel said.