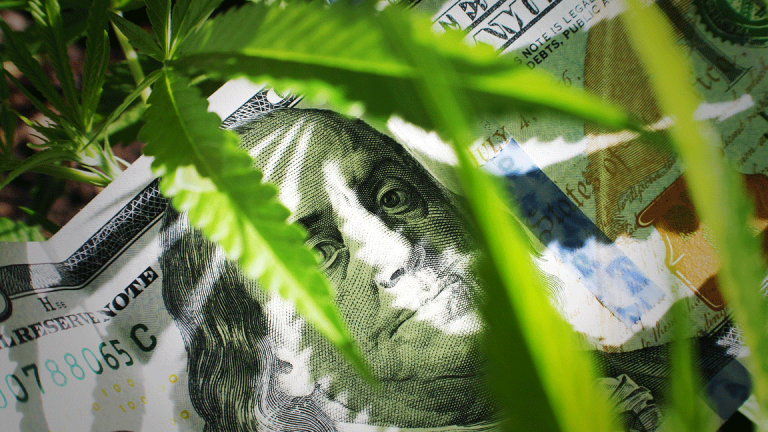 For Cannabis Companies, the Path to Traditional Markets Isn't Always Straight
From OTC to ADR to Nasdaq: This can be the zig-zagged experience of a cannabis company seeking shareholder stability.
While no initial public offering is simple by definition, opening for trade on public markets is especially convoluted for cannabis companies. Traditional Wall Street banks often still consider the industry taboo or a regulatory nightmare, eschewing the fact that legal weed sales in North America hit $10 billion in 2017.
Plus, most small-cap cannabis companies can only list on smaller ADR or OTC markets instead of larger exchanges such as the Nasdaq undefined . That can often deter investment from deep-pocketed individuals and institutions seeking increased liquidity and tighter spreads native to the Nasdaq but missing from small exchanges.
But that doesn't mean public cannabis companies lack enthusiastic shareholders.
"They're vocal, they're very passionate and, in our case, they're very loyal," said GrowLife Inc. (PHOT) Chief Executive Officer Marco Hegyi to TheStreet.
GrowLife, an indoor cannabis cultivation products, and services provider is OTC-listed. The company last month uplisted from the OTC Pink Market to the OTCQB market, a move the company called a "significant" testament to its commitment to high-level financial transparency, shareholder accountability and trading platform stability.
GrowLife has been public since 2012 when it partook in a reverse merger and began trading on the OTC market under the ticker "PHOT." While it's still a penny stock, GrowLife is among the marijuana stocks that trade at significantly high valuations. Many investors consider these stocks high-risk, high-reward, as they often price in what could be years of future growth in today's trades.
"It was good to be out early, but at the same time, it attracted regulatory attention," Hegyi said. When companies in the nascent legal cannabis market began trading at multiples far higher than everyday market players did, regulators began implementing more oversight.
That's the double-edged sword for public cannabis companies: if they grow enough, they can list publicly. But if they grow too much, they can become the target for overseers looking to crack down on what is still a complicated regulatory space.
The first marijuana stock to trade on a major U.S. exchange didn't list until Feb. 27, when shares of Canadian marijuana company Cronos Group Inc. (CRON) started selling on the Nasdaq. It was the first pot stock to pass muster with the Securities and Exchange Commission domestically. 
The experiences of PHOT or CRON aren't typical to all of legal weed, though. Green Bits, a cannabis point of sale technology platform, isn't planning on going public anytime soon, CEO Ben Curren told TheStreet.
"Our aim is to become a multi-billion-dollar business," Curren said. "We're planning on going the traditional route -- have the best investors, the best minds around the table that know how to build multi-billion-dollar companies."
In Curren's view, listing publicly could limit his company's potential for growth on its own terms. Curren said he wouldn't want to miss out on the expertise of advisers stateside by listing in Canada, and he doesn't currently need the big-time amounts of capital last-resort penny stock listing so often portend.
"To me, this is not a short-term, 'let me cash out right now.' I want to be here 10, 15, 20 years from now still doing this with Green Bits being a name people know and respect," Curren said.
"For us, it's all about stability for the shareholders," Hegyi said of listing publicly. It might not be simpler for GrowLife to trade on public markets, but it allows for increased transparency and, subsequently, better-informed investors, Hegyi said.
Despite the struggles to gain traction, listing publicly isn't all bad.
It means GrowLife has access to more liquidity than some of its privately held peers. The company's shares trade hands about 40,000 times per day, Hegyi said, which allows "shareholders to come in and out without disrupting."
But that doesn't mean GrowLife will stay OTC-listed forever. Hegyi said he and the management team are "constantly looking" for further opportunities, which could include at some point the pursuit of uplisting on an exchange as big as the Nasdaq.
But before that could happen, GrowLife is "looking for stability in the industry."
Before You Go
Get ready for the must-attend investing conference of 2018, hosted by none other than TheStreet's Jim Cramer. From an exclusive interview with PayPal (PYPL)
CEO Dan Schulman to expert panels that touch on investing in the stock market to alternative investing, you won't want to miss the event TheStreet is hosting on May 5. Details are below.
How to Diversify Your Portfolio: A Boot Camp for Investors
Date: Saturday, May 5, 2018
Location: 117 West 46th Street, New York City