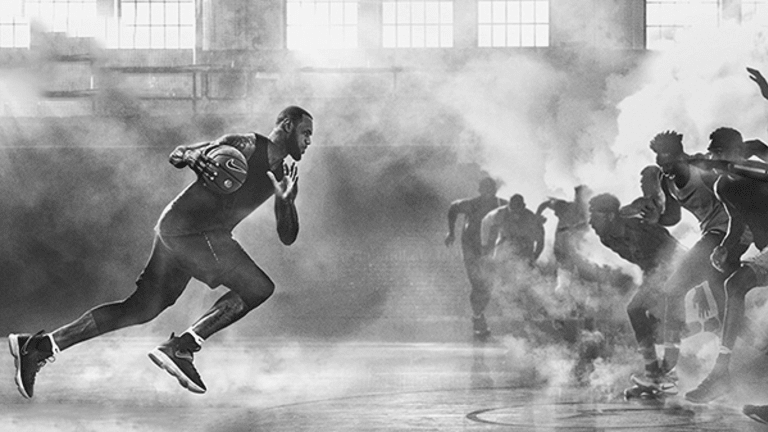 Foot Locker Chart Says Don't Hope for a Miracle
Is this going to be an exhaustion gap?
Foot Locker Inc. (FL) is trading sharply lower this Friday morning, not unlike the price shock Dick's Sporting Goods Inc. (DKS) experienced the other day. Looking for next support? Is this going to be an exhaustion gap? All good questions, so let's look at the charts and indicators to see what fits.
In this daily bar chart of FL, below, we can see that prices were already in a downtrend since May, with a big downside gap and heavy volume. The slopes of both the shorter 50-day moving average line and the slower-to-react 200-day moving average line are negative.
The daily On-Balance-Volume (OBV) line has been trending lower since December, and tells us that sellers of FL have been more aggressive, with heavier volume being traded on down days.
Heavier volume on a day when a stock closes lower is a sign that traders and investors want out, instead of trying to use a bounce to sell. In the lower panel is the momentum indicator, which shows higher lows from May to July. But this bullish divergence has not done much to firm prices.
In this weekly chart of FL, below, we needed to show more history to show the top pattern and to look for what might be next support. Prices made a very large double-top formation, with a first peak in 2015 and then another in late 2016. When price broke the 2016 low, the pattern was complete and a long-term price target of $30 was readable.
The height of the double top is projected downward from the breakdown point to yield a target or price objective. This weekly chart shows that prices are below the declining 40-week moving average line.
The weekly OBV line has turned lower and the moving average convergence divergence (MACD) oscillator is at an extreme, but not close to a cover shorts signal. Reading this chart from right to left, we can see that the next possible support area could be $40-$35, but we must remember that it was a long time ago and investors may not respond the same way.
In this Point and Figure chart of FL, below, we can see the top pattern a little differently. The chart shows both some consolidation is the low $30s and a very bearish price target around $13.
Bottom line: when FL opens for trading on Friday, the $45 to $51 area should now become resistance. Support may develop in the low $30s. Do not look for a recovery anytime soon, i.m.o.
This article originally appeared at 8:10 ET on Real Money, our premium site for active traders. Click here to get great columns like this from Jim Cramer and other writers even earlier in the trading day.
Employees of TheStreet are restricted from trading individual securities.