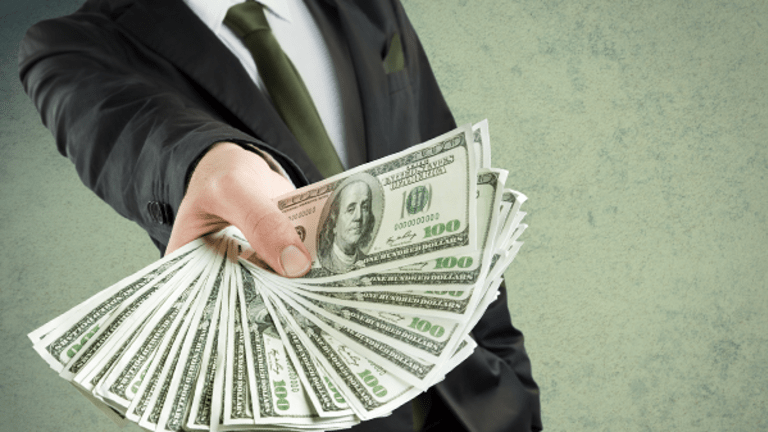 Food Stocks Go Hungry; China Pressure -- Jim Cramer's Top Thoughts
Cramer reflects on why the magic of the food portion of the consumer-products stocks seems to be gone and also explores how China could affect the North Korea situation.
Here are Jim Cramer's top thoughts on some of the biggest stories of the week.
Jim Cramer: Food Stocks Are Going Hungry

Is it higher rates? Is it an understanding that there's a new world out there dominated by Amazon (AMZN) - Get Free Report -Whole Foods (WFM) and Walmart (WMT) - Get Free Report and they are squeezing everyone?
More From Jim Cramer
Is it that miserable General Mills  (GIS) - Get Free Report quarter and a recognition that there are actually some double-digit decline categories for food like yogurt and single-digit for cereal?
Whatever it is, the magic of the food portion of the consumer-products stocks seems to be gone and the next level of these stocks seems dramatically lower.
You could say it all started with the Amazon gambit, but I wonder if it didn't start with the Kraft-Heinz  (KHC) - Get Free Report -Unilever  (UL) - Get Free Report bid, the bid too far where at last we saw there was one left to buy that was consensual and that left the companies to sink or swim on organic growth, and there isn't a lot of it out there.
Plus, with the Fed seemingly endorsing higher rates, there really isn't much to be said about a 2.7% yield other than it doesn't stop a selloff (using the generic yield out there).
This is an amazing moment because ever since the Great Recession, something always saved this group, whether it be takeovers or raw-cost declines or the ever-rising dividends.
But the streak has seemed to run out. What's the investment case for Conagra (CAG) - Get Free Report , which has restructured and restructured to no avail? Why own Hershey (HSY) - Get Free Report if it said no to Mondelez  (MDLZ) - Get Free Report , pretty much at any price? Why own Mondelez if, even after all of the restructuring, there's no love?
And why own Kraft-Heinz when there aren't that many costs left to take out and there's negative growth and no one left to buy?
You have to wonder where Procter & Gamble (PG) - Get Free Report would be without Nelson Peltz fighting the good fight?
How about lower? Maybe much lower?
This is a defining moment. Most people seem to be focused on Apple (AAPL) - Get Free Report and its derivatives being shelled.
I can only thank Matt Horween, my writing partner, for pointing out this incredible, accelerating trend. (Apple is part of TheStreet's Action Alerts PLUS portfolio.)
For the moment, I just don't see how it can be stopped.
Jim Cramer Reveals Why He Sold Western Digital for His Charitable Trust
Action Alerts PLUS, which Cramer co-manages as a charitable trust, is long AAPL.
Originally published Sept. 22 at 4:15 p.m. EDT.
Jim Cramer: European Pressure on China Could Change the North Korea Story
You put the pressure on Europe. That's how you change the dynamic in North Korea.
More From Jim Cramer
The markets are hostage to Rocket Man because of the increasingly bellicose -- increasingly crazy, bellicose -- language out of North Korea.
But I think in the last few weeks, something positive may have happened here that nobody's talking about. The Europeans, who are no longer in our camp on pretty much anything except outright terrorism since President Trump was elected, recognize the danger North Korea is now propelling the entire world toward. And the Japanese -- a nation that is far more respected in Europe than we are -- are certainly looking for help beyond our borders to protect themselves.
What could coalesce here is pressure from other countries besides us on China against North Korea. Take Europe: 25% of Chinese exports go to Europe. If the Europeans get involved enough to try to shut down Kim Jong Un, and actually make their displeasure known to the Chinese, then I think the Chinese will actually feel that they need to do something to stop this craziness.
Right now, the dialogue is always the same: "When will the Chinese help us shut down this crazy man?"
That's a ridiculously wrong read of the entire situation. The Chinese own this guy. The Chinese determine whether he lives or dies. The Chinese, in other words, can dispose of him and put someone less crazy in -- and everybody wins.
If you put enough economic pressure on China to break with Kim Jong Un and replace their puppet, they will. They are not wedded to him. And they can take him out a lot easier than we can.
The entire time I have been reading about this region, I am amazed that the press buys the line that the Chinese are our allies against him. The Chinese are our enemies with him. But enemies can disagree, and if China fears a decline in trade because of North Korea, then he will be gone.
That's becoming the endgame -- and it is a hopeful one versus the one that looks like it's about to happen: thermonuclear war.
(Read here for more of TheStreet's coverage on this topic by Sarge Guilfoyle.)
Jim Cramer Reveals Why He Sold Western Digital for His Charitable Trust
Originally published Sept. 22 at 10:41 a.m. EDT.
Jim Cramer fills his blog on
RealMoney
every day with his up-to-the-minute reactions to what's happening in the market and his legendary ahead-of-the-crowd ideas. This week he blogged on:
Click here for information on RealMoney, where you can see all the blogs, including Jim Cramer's--and reader comments--in real time.
How Hurricane Irma and Hurricane Harvey busted the algorithms.
How, under the Trump administration, some deals are probably done deals.
Action Alerts PLUS, which Jim Cramer co-manages, is long AAPL.