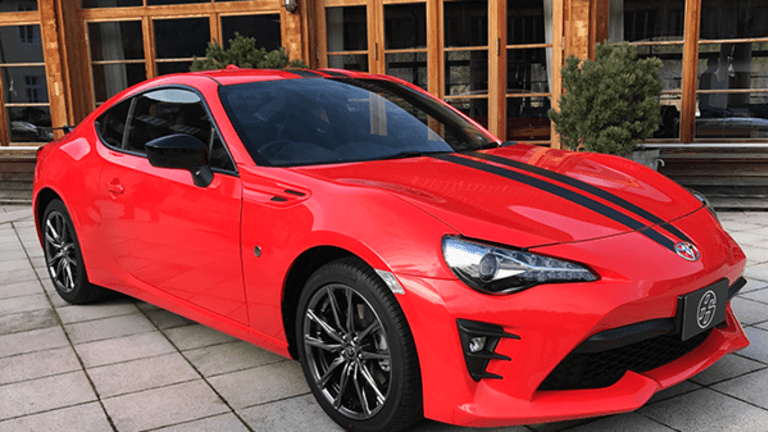 Following Its Retreat From Scion, Toyota Rechristens Affordable Sports Coupe
Toyota 86, once known as Scion FR-S, also exists as Subaru BRZ. Toyota owns a 16.5% stake of Subaru's parent, Fuji Heavy Industries.
Toyota 86, once known as Scion FR-S, also exists as Subaru BRZ. Toyota owns a 16.5% stake of Subaru's parent, Fuji Heavy Industries.
As cars evolve into highly automated, intelligent robots, there remain holdouts: guys -- and not a few girls -- who prefer to stomp on the gas, downshift manually into curves, thumb noses at traffic cops and use brakes sparingly.
For these, Toyota (TM) - Get Report and Fuji Heavy Industries Ltd. (FUJHY) - Get Report , the maker of Subaru, collaborated in 2012 to create the Toyota GT86 and the Subaru BRZ, relatively affordable ($30,000), lightweight, rear-wheel-drive, two-plus-two sports coupes. In the U.S., Toyota sold the car as the Scion FR-S.
Alas, Toyota pulled the plug on Scion last August, after 13 years of failing to ignite broad interest in its youth-oriented brand-within-a-brand. So the automaker decided to rechristen FR-S as Toyota 86, a reference to an earlier Corolla model popular among some racers, weekend track enthusiasts and "drifting" specialists.
Drifting is a form of racing -- sometimes on dirt or ice -- in which drivers intentionally oversteer, causing the rear wheels to lose traction.
After Akio Toyoda, a descendant of the automaker's founding family, took over as CEO in 2009, he promised to break with the company's penchant for producing high-quality, dependable cars that often were unexciting. Those who love to grab the steering wheel and daydream about racing are ever so grateful.
John Myers, a Toyota marketing manager, said that "86 is recognized by enthusiasts for its impressive driving performance and its value-oriented price tag."
Although it sells in relatively small numbers, Toyota's 86 competes against General Motors'  (GM) - Get Report Chevrolet Camaro, Ford's  (F) - Get Report  Mustang and Europeans such as Volkswagen's (VLKAY) Audi TT.
To turbocharge Scion FR-S's namechange for a U.S. audience, Toyota invited journalists to inspect an "860" limited edition of the 86, painted in exclusive "Supernova Orange," with black racing stripes, following the 87th Geneva International Auto Show. Toyota will build only 860 in orange and another 860 in "halo white."
Powered by a 200-horsepower, two-liter Subaru "boxer" engine, Toyota's entry in the sports car segment features 17-inch wheels, specially tuned suspension and handling, as well as racing touches such as a G-force meter and a lap clock.
Toyota, indisputably the global No. 1 automaker (with VW in diesel-fumed disgrace), owns 16.5% of Fuji Heavy, which has broad interests beyond autos. That association, ensuring much-smaller Subaru's vitality for the near future, will make it easier and more economic for Toyota to pursue projects like 86, which add sportiness to the automaker's image while resulting in relatively limited sales.
Doron Levin is the host of "In the Driver Seat," broadcast on SiriusXM Insight 121, Saturday at noon, encore Sunday at 9 a.m.
This article is commentary by an independent contributor. At the time of publication, the author held no positions in the stocks mentioned.