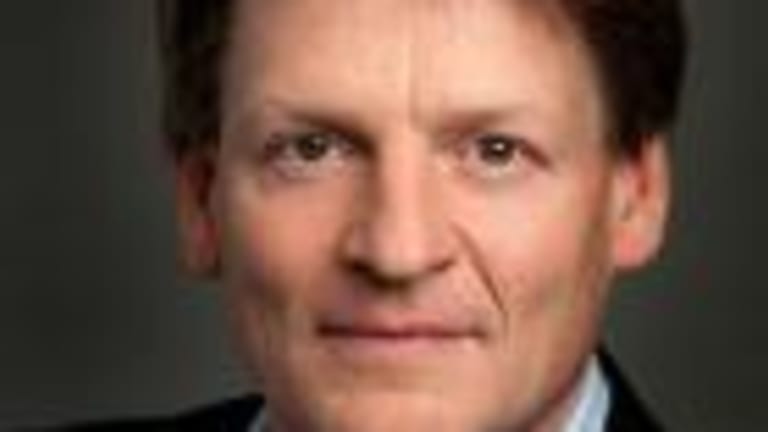 Flash Boys' Lewis Takes On Citadel Over High-Speed Traders
The best-selling author disputed comments made by Citadel founder Ken Griffin about upstart trading venue IEX, arguing that in reality the billionaire was just "talking his book"
Best-selling author Michael Lewis on Thursday disputed comments made by Citadel founder Ken Griffin about upstart trading venue IEX, arguing that in reality the billionaire was just "talking his book" and that his mega-hedge fund would be hurt by a new exchange that would limit high-frequency traders.
"He [Griffin] was just talking his book,' Lewis told a gathering of hedge fund managers at the annual Salt conference in Las Vegas. "
Lewis (pictured) wrote "Flash Boys," a book about the war against high-frequency traders which was published last year. The book put a spotlight on IEX, which is seeking approval from the Securities and Exchange Commission to become an exchange. The trading venue, which is currently a dark pool, is seeking to respond to the advent of high-speed traders who regularly jump ahead of big block purchases or large sell orders placed by activist funds or institutional investors. Seeking to respond to speed-trades, IEX introduces a 350 microsecond delay or speed limit between orders intended to discourage HFT strategies from interfering with traditional investor trades.
However, on Wednesday Citadel's Griffin told the hedge fund gathering that regulators have to "get past the marketing hype" around IEX and its anti speed-trader efforts and that the venue knowingly broadcast's stale prices in a way that "is materially detrimental to the stability to the US trading markets."
Pushing back, Lewis said Griffin's comments didn't make any sense to him. "The IEX delay of 350 millionths of a second affects no one but Ken Griffin, Citadel and a few others. He's talking his book," Lewis said. "The nature of the problem is that we know have a market where there are a handful of privileged participants who buy a privileged view of the market and they know prices before everyone else."
Lewis said he hoped the SEC would approve the IEX exchange, adding that intermediaries such as Citadel and exchanges are incentivized to create volatility. "The incentives baked into the stock markets are horrible," Lewis said. "The intermediaries have an incentive to create problems for traders. The exchanges have the incentive to cater to the high frequency traders. Nobody really has an incentive to structure the market for the benefit of the economy and long term investors."
Lewis also pressed regulators to take steps to limit the practice of co-location, where large volume high-frequency traders are permitted to place their servers in an exchange's data center so they can cut out as much time from the trading process as possible. "It is totally unnecessary for HFTs to co-locate inside the exchanges," Lewis said. It helps them but I don't know why the rest of us allow it."
He also cited a meeting he had with a large mutual fund - which trades $100 billion in U.S. stocks annually -- that conducted a study estimating that their execution costs to execute their trades off of the IEX dark pool "where their orders were vulnerable to HFTs" was 33 basis points. "Doesn't sound like a lot but 33 basis points on $100 billion is a lot of money - and that's not rich people's money that's fire fighters and pension funds," Lewis said. "It is outrageous in this era that we have baked into the market this machine for taking money from middle class and giving it to rich people."