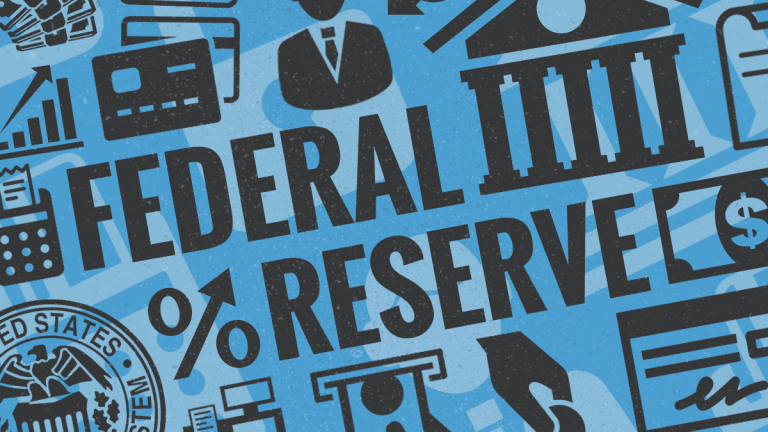 U.S. Treasury bond yields tested multi-year lows again Friday, while benchmark rates in Europe hit a new all-time trough, as fixed income investors lined up to pressure the Federal Reserve into shifting its rate stance in the face of a trade war-triggered slowdown.
President Donald Trump's decision to apply tariffs on imported goods from Mexico, the country's biggest trading partner, has opened yet another front in the myriad trade disputes Washington has navigated since the 2016 election. And with potential fights looming with Europe and Japan, alongside the current skirmishes with Mexico and China, investors are retreating to risk-free assets, driving yields lower and taking more than $4 trillion from equity market values in their wake this month alone.
"The U.S. economy is in a very good place, with the unemployment rate near a 50-year low, inflationary pressures muted, expected inflation stable, and GDP growth solid and projected to remain so," Federal Reserve Vice Chair Richard Clarida said Thursday during a speech in New York.
"However, if the incoming data were to show a persistent shortfall in inflation below our 2% objective or were it to indicate that global economic and financial developments present a material downside risk to our baseline outlook, then these are developments that the Committee would take into account in assessing the appropriate stance for monetary policy," he added.
Investors aren't waiting for the Fed to parse inflation or non-U.S. growth data, however, and are now pricing in three possible rate cuts between now and the end of the year, according to the CME Group's FedWatch tool, as global growth slows and risk sentiment abates.
Bank of America Merrill Lynch figures suggest nearly $160 billion has flowed into fixed income assets this year, dwarfing the $135 billion that's moved out of global equity markets, pushing benchmark yields in the world's biggest economies to multi-year lows.
"The US economic outlook does stand to face headwinds as the global economy suffers through the effects of US-imposed tariffs," said FXTM market analyst Han Tan. "Should downside risks become highlighted, the Fed may just have to succumb to market expectations and lower US interest rates, with the Fed funds futures currently pointing to a near-70% chance of a rate cut by September."
Benchmark 10-year U.S. Treasury bonds yields were marked at a 20-month low of 2.157% in early Friday trading, taking their month-to-date decline to around 35 basis points. At the same time, 2-year note yields traded under 2% for the first time since February 2018.
In Europe, benchmark 10-year German bund yields, a proxy for risk-free borrowing costs in the world's biggest economic bloc, matched a record low of -0.202 basis points in Friday trading, while 10-year U.K. government bonds, known as Gilts, hit an October 2016 low of just 0.863%.