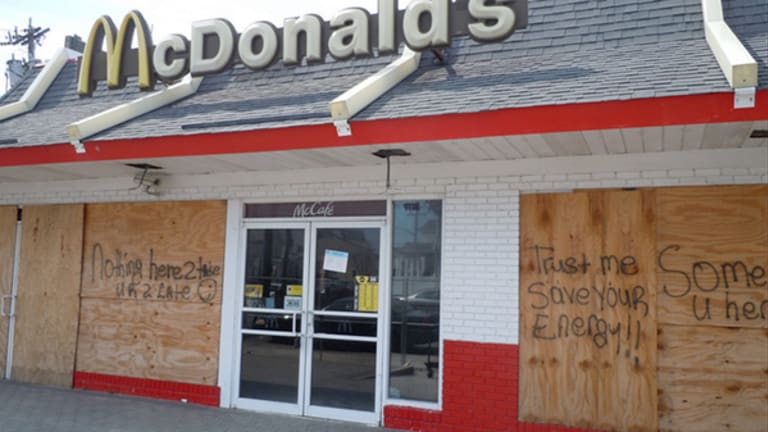 Fix My McDonald's! These Photos Show More Problems than the Menu
My search for cleanliness and care at the restaurants turned up just the opposite.
NEW YORK (Real Money) -- Would bigger burgers lure you to McDonald's (MCD) as a customer? How about as an investor? And how about if your local McDonald's cleaned up its act?
McDonald's came last in the American Customer Satisfaction Index in the limited-service restaurant category with a rating of 67. That's well off the top score of 86 for Chik-fil-A and the 83 garnered by its former business Chipotle (CMG) .
From late 2011 to the present the stock has basically gone sideways. Over the last five years MCD shares are up 37%, while CMG is up 344%, gaining loyal customers and shareholders along the way.
McDonald's recently announced plans to beef up the Quarter Pounder. But the company's problems lie much deeper than the size of a patty.
Recently, I decided to visit several McDonald's locations to see the state of the cleanliness at this American institution.
What I saw was appalling.
Do you have pictures of problem at your local McDonald's? Share them with us! E-mail or tweet us @TheStreet.
I've worked at restaurants and I know a clean one when I see it. When I was 19, I started working as a host at a local mom-and-pop restaurant/diner in my neighboring town. And all throughout college, to save and pay for tuition, I found myself working as everything from a host, a bus boy and eventually a server at that same restaurant. No matter what position I had, the emphasis on cleanliness was paramount. I was taught as an employee that the restaurant should be treated the same way as your home when company is expected. This is something that was lacking at nearly every McDonald's I visited. No one seemed to care about the hygiene or presentation.
At my first stop in Wall, N.J., I wasn't greeted with a welcome, a smile, or even a feigned curiosity about how I was doing. The cashier didn't want to be there (suddenly I didn't, either).
I ordered a small fries and looked up to see a damaged, flickering light. A man nearby finished his meal, got up, and left the place without throwing any of his leftover food and trash out.
Just because the food is delivered faster than other chains doesn't mean they have an excuse to be disrespectful. And presentation is important. As a host, I knew I was the first person who eager customers met coming through the doors. My employees and I would always wear appropriate attire, be clean-shaven and would greet customers with a smile. This was not the case at any of the McDonald's I visited. I felt like I was doing them a disservice by being there. That is unacceptable.
After sitting down at a table to eat a Snack Wrap in Matawan, New Jersey, I looked over to see a wet floor sign standing over soggy napkins that were haphazardly placed over a puddle of coke. That's all that was done to clean up the spill. Accidents happen and spills do occur, but to leave it is absolutely unsanitary. As a bus boy, mopping the floor after a spill had to happen immediately and quickly in order to ensure that no further damage was done to the customer's experience. And here I was sitting next to a puddle covered with damp paper.

Send Us Your Photos!
I remember that each morning in the summer, my coworkers and I would arrive around 6:30 a.m. and prepare for our day. We would wipe and set tables, prepare coffee, dice fruit, slice pickles, and make sure everything was perfect for every guest that would walk through our doors. After a busy day of serving dishes ranging from omelets with pancakes on the side to hamburgers with cheese fries, we were exhausted. But we would still clean the kitchen, dining room, and especially the bathrooms for an hour or two until they were spotless. Every day, we mopped floors, wiped tables down, cleaned the ovens, took out garbage, washed dishes, cleaned the toilets and swept up the remaining dust. There was an inherent understanding that if one customer thought that something was dirty, they would assume whatever coming out of the kitchen was inedible.
I walked into a McDonald's located in New Brunswick, N.J. just before breakfast transitioned into lunch. Looking around, several tables were covered with unfinished meals and napkins. There was even toilet paper on the one of the seats and finally what appeared to be half-eaten pancakes pasted to the floor underneath a booth. 

I nearly gagged before holding my breath to walk into the bathroom where it just got worse. I was greeted by wet sinks, damp toilet paper all over the ground, an overflowing trash can and a hole in the wall. I walked out of the bathroom, found my girlfriend, and told her that we had to take our food to go. As customers, we are allowed to see the dining room and the bathroom, but we aren't allowed to see the kitchen or back rooms. I can only imagine what was going on back there if this is the presentation they had for us.
On my Monday morning commute I hit the McDonald's on 35th Street and 8th Avenue in New York. While there was one person cleaning in a location that was much busier than any of the locations I previously visited, I noticed the building itself was falling apart. The furniture for paying customers was ripped with gaping holes and the bathroom mirrors had been vandalized. This is more than cosmetic. It can be a safety hazard.
A restaurant is a small machine with many different cogwheels in place. I like to think of a dirty restaurant as a machine that hasn't had an oil change and is starting to rust. Bottom line, it just won't run well. I know we're talking about fast food here, but isn't that the whole point? Why should a fast food chain, one which is in every town of America, be allowed to get away with the well-it's-just-fast-food excuse? The emphasis shouldn't just be on the quality of the food, but also on the cleanliness of the franchises. If the restaurant isn't clean, no one will care about what kind of food is made.
These are just some of my recent experiences at local McDonald's restaurants.
What are your experiences? Send us your pictures!
Maybe if customers order a fix, a fix will be served.