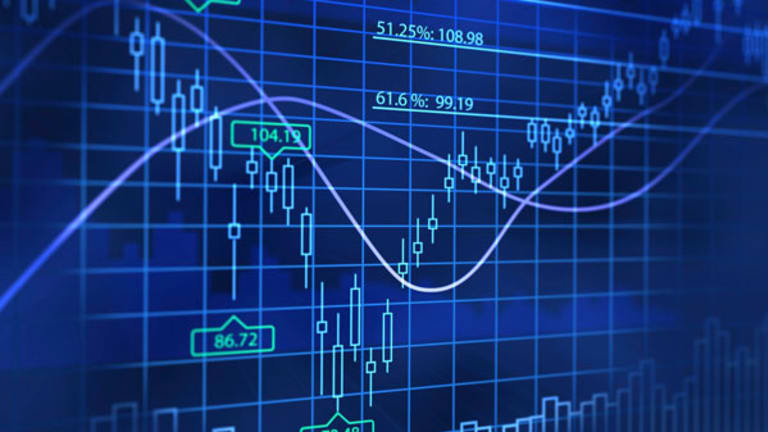 Publish date:
Five Stocks With Great Free Cash Flow Yields
Free cash flow gives a real sense of whether a company is really adding cash to its balance sheet.
Free cash flow gives a real sense of whether a company is really adding cash to its balance sheet.
NEW YORK (Stockpickr) -- Most investment professionals will tell you that a companyâ¿¿s profits are a work of fiction.
A company can calculate various expenses in countless ways to arrive at whatever figure looks best. Many focus on free cash flow, the number that you get after capital spending has been deducted from operating profit. It tends to be a more accurate number, and gives a real sense of whether a company is really adding cash to its balance sheet.
>>5 Bargain Stocks to Buy Before 2013
Free cash flow can also serve as a handy way to value a stock. You simply divide free cash flow by a companyâ¿¿s enterprise value (market value plus debt minus cash). For example, if a company has $700 million in annual free cash flow and an enterprise value of $10 billion, it has a free cash flow yield of 7%.
As a general rule of thumb, any stock with a free cash flow yield above 5% is a good value. If that figure approaches 8% or 10%, itâ¿¿s a stunning bargain.
>>5 Rocket Stocks to Buy After the Storm
Here are
five companies with very impressive free cash flow yields
. (The average free cash flow of the past five years has been divided by the current enterprise value.)
Cisco Systems
Technology giant
Cisco Systems
(CSCO) - Get Report
has generated an impressive $9.5 billion in average annual free cash flow over the past five years. In the context of Ciscoâ¿¿s $91 billion market value, that might seem impressive. Yet when you consider that Cisco has $36 billion in net cash, the enterprise value drops to just $55 billion. That translates into a free cash flow yield of 17%, which is truly eye-popping.
So what to do with the free cash flow? Well, share buybacks are one beneficiary: Ciscoâ¿¿s share count has been shrinking for nine straight years and is now 20% smaller than it was in fiscal 2004. Cisco has also been paying more attention to its dividend, which now yields 3.2%. That tremendous free cash flow tells you that Cisco could double or even triple its dividend without weakening its balance sheet.
Cisco was also highlighted in â¿¿
.⿝
Humana
Barring a change to a single-payor health care system in the U.S., which would eliminate insurance companies, our nationâ¿¿s top HMOs will continue to run quite profitability. After digesting the ramifications of the current Affordable Care Act, Wall Street analysts are forecasting that insurersâ¿¿ profit margins will stay near historical levels. In fact,
Humana
(HUM) - Get Report
was just given a set of bonus payments from Medicare for delivering healthcare outcomes that exceeded mandated standards. The firm could become one of the biggest beneficiaries of the healthcare overhaul.
Humana is already a cash cow, generating an average of $1.1 billion in free cash flow over the past five years. Trying to compare that to enterprise value leads to an absurdly high free cash flow yield, since Humana is worth less than $1 billion when net cash is excluded from the market value. With ongoing robust free cash flow, Humanaâ¿¿s net cash may soon exceed its entire market value.
NetApp
Analysts have viewed
NetApp
(NTAP) - Get Report
as one of the top-performing data storage companies in the tech field for years. Yet with growth expected to slow to just 5%, to $6.4 billion, in fiscal 2013, few continue to see this as a hot stock. If the top line doesnâ¿¿t merit much attention anymore, at least the bottom line should.
NetApp is on track to exceed $1 billion in free cash flow for the third straight year (and has averaged $900 million in free cash flow over the past five years). Meanwhile, back out the $4.2 billion net cash balance, and NetApp is valued at just $6 billion. That works out to a free cash flow yield of 15%.
Whatâ¿¿s the company doing with all that cash and free cash flow? Very little. NetApp doesnâ¿¿t pay a dividend and has had just a few small stock buybacks in recent years. This stock has fallen from $46 this past spring to a recent $28, and should management want to call attention to this lagging stock, then itâ¿¿s time to put all that cash to work in terms of a juicy dividend, a hefty buyback, or a bold acquisition.
Bed, Bath & Beyond
Looking at
Bed, Bath & Beyond's
(BBBY) - Get Report
average free cash flow over the past five years can be a bit deceiving, as free cash flow has averaged around $550 million. Yet over the past three years, its average free cash flow has been has been a more robust $830 million. That compares quite favorably to its current $12 billion market value, revealing a 7% free cash flow yield, one of the highest figures among major retailers. With shares falling nearly $20 from their late-June highs (to a recent $57), investors may give this free cash flow powerhouse a fresh look as the consumer economy improves.
Global Payments
Electronic payments processor
Global Payments
(GPN) - Get Report
got a black eye this spring when it admitted that thousands of consumer files may have been stolen. Shares took a quick hit and have remained lower, even as the negative publicity has receded without major ramifications for the company.
Investors that dumped the stock in the spring may have overlooked just how financially impressive this company is. Global Payments sports an enterprise value of around $3 billion, even though it typically generates more than $500 million in annual free cash flow. (That figure was actually negative in the most recent fiscal year due to some accounting issues.) The company is once again firmly in the black in the current fiscal year. Analysts at Citigroup predict that free cash flow will exceed $300 million in fiscal 2013 and 2014, and top $400 million by fiscal 2015. That compares quite favorably to its $3 billion market value.
RELATED LINKS:
>>5 Trades to Take as the Market Returns to Normal
>>5 Stocks Set to Soar on Bullish Earnings
>>5 Stocks Insiders Love Right Now
Follow Stockpickr on
and become a fan on
Facebook.
At the time of publication, this author had no position in the stocks mentioned. Stockpickr is a wholly owned subsidiary of TheStreet.com.