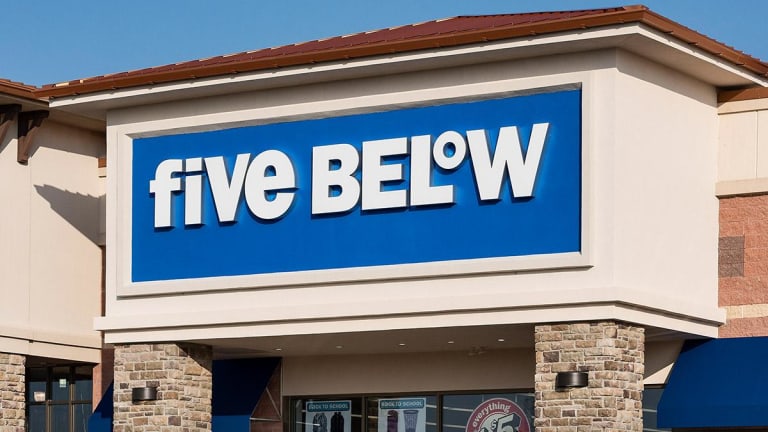 Five Below May Be Worth Adding to Your Shopping List Ahead of Earnings
Despite the hefty price tag, Five Below's earnings results on March 27 should fuel investor optimism for the year ahead.
Is there room for discount chain Five Below (FIVE) - Get Five Below Inc. Report  to move much higher?
The retailer's stock has been on a 70% run over the past 12 months, and the bar has been set higher as earnings multiples flirt with a multi-year peak. Will momentum carry forward into the new year to justify an investment in this stock at current levels? 
Answers to these questions may be just around the corner.
On March 27, the company is expected to report the results of its 2018 holiday period. This should be a great opportunity for investors to not only assess how the company has done during the important shopping season, but also to gauge what 2019 may have in store for the Philadelphia-based retailer.
On The Results Of The Quarter
Expectations for 4Q18 seem to be running high, as the consensus revenue and EPS estimates of $602 million and $1.58, respectively, currently sit above management's own guidance range for the quarter. Optimism has likely been fueled by a previously-disclosed report on holiday sales through January 5th that certainly impressed, with comps of 4.9% having landed well above the company's original full-quarter expectations of 3% to 4%.
The key factor propelling revenues higher will probably be inorganic growth. Five Below should report a store count increase of around five net new units, as it continues its expansion efforts across the country. Also likely to boost the top line are toys and games sales, the result of a void left in the segment following the demise of big box retailer Toys "R" Us. The undesirable side effect might be some margin pressure, especially as the fight for market share in the toy space dials up the competitive pressures.
Still on the profitability topic, it will be interesting to see whether procurement costs will be well managed, as they seem to have been in the pre-holiday quarter. Given the late 2018 concerns over the U.S.-China trade wars, making adjustments to the supply chain in order to mitigate margin deterioration is an important move to ensure that earnings growth does not hit a soft patch. 
Jim Cramer's Action Alerts Plus portfolio, which owns Five Below, writes that the company "is a regional to national story that we believe will sustain momentum as organic growth, thanks to management's ability to recoup its initial investment in new stores in 8 months on average, is largely based on new store openings, something fully in management's control. Additionally, we value Five Below for its entirely domestic revenue stream, which insulates it from global trade dynamics and any slowing of global growth."
2019 Outlook
Given the encouraging news on holiday sales, it's probable that Five Below's strong momentum will carry forward into the first quarter of 2019. Maintaining a revenue increase pace of 20% or more seems doable, considering that the retailer's growth opportunities still appear to be plentiful.
Five Below, founded in 2002, has been able to ramp up its physical footprint rapidly, creating a hybrid "dollar store meets off-price" retail model targeted at a younger consumer segment that seemed under-served by key peers Dollar General (DG) - Get Dollar General Corporation Report and Dollar Tree (DLTR) - Get Dollar Tree Inc. Report . Yet, Five Below's presence could still be expanded further into new markets, as reflected in the company's plans to roll out the Ten Below concept as early as 2019.
Lastly, it will be interesting to monitor margin trends throughout the year, particularly the increase in operating expenses. Personnel costs have been pressuring earnings, given the robust state of the economy and the company's reinvestment of tax benefits. In addition, Five Below's current freight contracts should expire around the second or third quarters, adding some uncertainty to margin trends heading into the end of the year.
But with Five Below reaching scale, it is possible that the negative impact of increased costs to the bottom line might be less of a concern.
Add It To The Shopping List
A reasonable, bearish argument can be made about Five Below's valuations being too rich, boosted by the stock's impressive run over the past year. Shares trade at a current-year P/E multiple of 37.1x that compares unfavorably to Dollar Tree's 19.4x or Dollar General's 18.2x.
But the high multiple seems to be justified by Five Below's strong performance as of late and growth opportunities ahead. It does not hurt that the company is debt free, and that the stock is likely to endure periods of slower economic activity better than pro-cyclical names in the retail space.
Given all the pros and despite the hefty price tag, Five Below seems to be a stock worth adding to a growth investor's shopping list ahead of earnings day.
A Special Invitation: Do you want to learn more about planning for and living retirement from the nation's top experts, including Ed Slott and Robert Powell, the editor of TheStreet's Retirement Daily? Want to learn how to create tax-efficient income in retirement and how to manage and mitigate all the risks you'll face in retirement? Then sign up to attend TheStreet's Retirement Strategies Symposium on April 6 in New York City. For a limited time, you can attend this extraordinary symposium for $149 -- a cost savings of $50 off the general admission price of $199. You can see the full day's agenda, learn about the guest speakers and sign up here for this special event.
The author has a long position in DG.