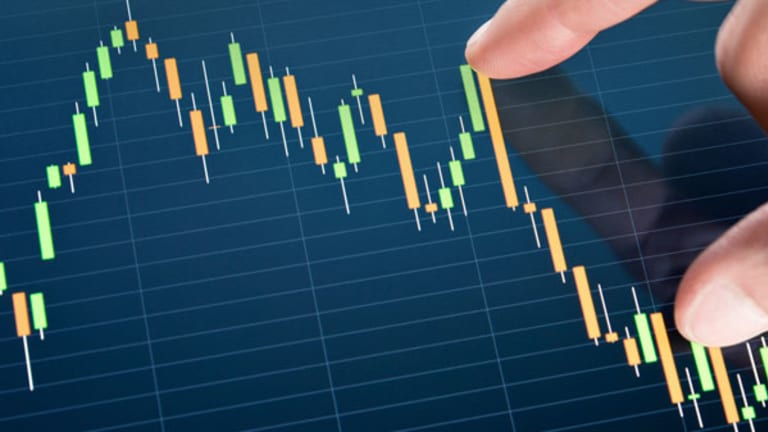 BALTIMORE (
) -- As the final trading sessions of 2012 tick away, investors are getting antsy about what trading in 2013 could bring if the Fiscal Cliff situation remains unresolved.
>>5 Huge Trades for a Volatile 2013
The president is meeting with congressional leaders today, in hopes of solving the problem before the calendar flips over to 2013. While the nasty tax effects of the fiscal cliff are the big concern that most consumers have about the cliff, that fiscal cliff is being pushed back a bit -- the IRS is asking employers to continue using 2012 withholding tables until further notice.
Of course, that won't change the impact Mr. Market could see if the politicians in Washington do decide to push Uncle Sam over the cliff.
Right now, some of the biggest stocks on Wall Street are setting up to make big moves in both directions as volatility heats up ahead of the New Year's Day market holiday. Today, we're taking a technical look at five big tradable charts that could pad your portfolio in the new year -- or spare you from losses.
If you're new to
, here's the executive summary.
Technicals are a study of the market itself. Since the market is ultimately the only mechanism that determines a stock's price, technical analysis is a valuable tool even in the roughest of trading conditions. Technical charts are used every day by proprietary trading floors, Wall Street's biggest financial firms, and individual investors to get an edge on the market. And research shows that skilled technical traders can bank gains as much as 90% of the time.
>>5 Stocks Warren Buffett Loves
Every week, I take an in-depth look at big names that are telling important technical stories. Here's this week's look at the charts of
five high-volume stocks to trade for gains
.
SPDR S&P 500 ETF
First up is a look at the broad market. The
SPDR S&P 500 ETF
(SPY) - Get SPDR S&P 500 ETF Trust Report
is an exchange-traded fund that tracks the performance of the
S&P 500
, our favorite proxy for Mr. Market. With the recent drop in the S&P (around 2.2% in the last two weeks), many investors are wondering if this is just the beginning of a bigger downside move. My short answer is no.
There's a lot of evidence that points to this recent drop in the S&P being a minor correction rather than a change in trend. While the selloff of the last couple of weeks feels a lot more potent than 2% and change, the fact is that, as far as corrections go, this one is pretty tepid. Looking at the zoomed in chart of SPY above, it's clear that this pullback isn't coming anywhere near trendline support for the index, and
shows this stock coming back to RSI support for a minor correction, not a major one. The fact that we're on our sixth down day in the last seven feels like a change in trend, but the magnitude just isn't there.
Instead, the SPY is testing support right around the $140 level. If support can hold up there, it looks likely that we'll see more buyers come out of hiding next week.
Northeast Utilities System
So, what will they be buying?
Northeast Utilities System
(NU)
looks like a good candidate. Even though this "boring" utility stock isn't most investors' idea of a hot momentum name, the technicals in this stock point to more potential upside in 2013. It's all thanks to the ascending triangle pattern that NU's been forming since the summer.
The ascending triangle is a price pattern that's formed by horizontal resistance to the upside (at $40 in NU's case), and uptrending support below shares. Essentially, as NU bounces in between those two price levels, it's getting squeezed closer and closer to a
above that resistance level. When that breakout happens, traders have a buy signal in this stock.
The
has done a decent job of mirroring uptrending support for NU since the start of the pattern. That makes it a good place to put a
.
Kimberly-Clark
We're seeing the exact same setup in shares of
Kimberly-Clark
(KMB) - Get Kimberly-Clark Corporation (KMB) Report
right now. The $33 billion paper products maker has been forming its own ascending triangle pattern since the beginning of the summer as well, with resistance at $87 and uptrending support coming in below shares.
KMB's setup isn't completely textbook -- this stock has established its pattern by rallying up to $87 and then collapsing quickly back down to support, a phenomenon that's left KMB with an unusual chart picture. Ultimately, though, that doesn't matter; with horizontal resistance and uptrending support in force here, the trading implications are exactly the same.
Whenever you're looking at technical price setups, it's important to think in terms of buyers and sellers. After all, it's not magic or geometry that's causing these patterns to be tradable -- it's supply and demand. The horizontal resistance level in KMB is a place where sellers have previously been more eager to sell and take gains than buyers have been to keep buying. But uptrending support tells us that buyers do have some control over shares at lower levels. The breakout means that buyers were able to absorb all of the excess supply of shares that was sitting above $87. That's why it's a buy signal.
Berkshire Hathaway
Not all of today's setups are bullish, however.
Berkshire Hathaway
is an example of a possible downside trade that could trigger in the new year.
Berkshire is currently forming a double top, a pattern that's formed by two swing highs that top out at approximately the same price level. They're separated by a trough, a level that marks the trigger point for this trade. For Berkshire's class B shares, that level comes in just above $84; if shares slip below that price, then this trade has triggered, and it's time to be a near-term seller (or a short it). RSI adds some extra confidence to the trade -- the momentum gauge made a lower high on Berkshire's second top, an indication that upside momentum is waning.
Take a look at BRK's chart, and you can see that there are some big similarities between it and the SPY chart we looked at first. They both have made a pair of swing highs in the last quarter, and the price action lines up pretty well between the two. That's an example of the high correlations between the S&P and its constituent stocks. SPY, however isn't an ostensibly bearish trade. The fact is that either chart becomes bearish if they break down below their corresponding swing lows from early November. That's a good example of why it's so critical to wait for the breakout to happen before buying or selling.
In the meantime, BRK has some extra bearish indications that make it worth watching as a double top...
Colgate-Palmolive
It's been a pretty decent year for shareholders of
Colgate-Palmolive
(CL) - Get Colgate-Palmolive Company Report
-- the $50 billion household goods stock has rallied around 14% since the first trading day in January, on top of a 2.4% dividend yield that the firm has paid out over the same period. But Colgate's price action suggests that those good times could be coming to an end...
That's because CL is currently forming a head and shoulders top. The head and shoulders is formed by two swing highs that top out around the same level (the shoulders), separated by a bigger peak called the head. A breakdown below the pattern's support level, called the neckline, triggers the sell signal for this stock. Just remember that until the breakdown happens, there isn't a trade to take here.
And lest you think that the head and shoulders is too well known to be worth trading, the research suggests otherwise: a recent academic study conducted by the
Federal Reserve Board of New York
found that the results of 10,000 computer-simulated head-and-shoulders trades resulted in "profits
that would have been both statistically and economically significant."
I'd recommend keeping an eye on the uptrending neckline in CL for the next week and change.
To see this week's trades in action, check out this week's
on Stockpickr.
And if you haven't already done so,
today to create your own dividend portfolio.
RELATED LINKS:
>>5 Financials Ready to Cut You a Bigger Check
>>5 Stocks Warren Buffett Loves
>>5 Toxic Stocks to Dump Before 2013
Follow Stockpickr on
and become a fan on
Facebook.
At the time of publication, author had no positions in stocks mentioned.Jonas Elmerraji, CMT, is a senior market analyst at Agora Financial in Baltimore and a contributor to
TheStreet
. Before that, he managed a portfolio of stocks for an investment advisory returned 15% in 2008. He has been featured in
Forbes
,
Investor's Business Daily
, and on
CNBC.com.
Jonas holds a degree in financial economics from UMBC and the Chartered Market Technician designation.