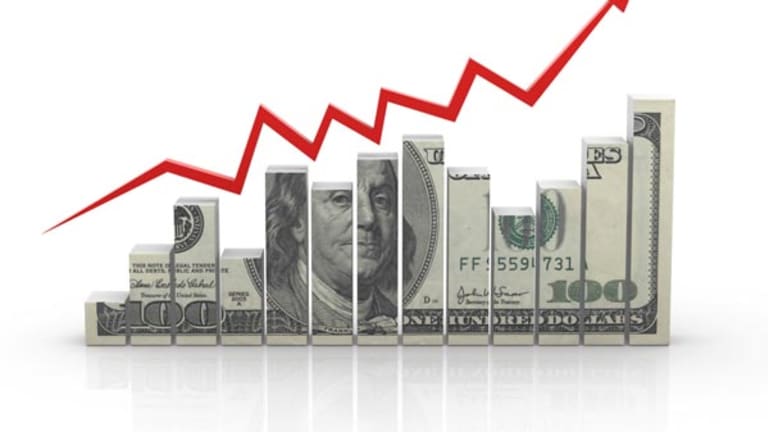 First Solar Gets Bullish Backing for 2011
Morningstar and sell-side analysts say the solar company is trading at a discount to its growth prospects.
BOSTON (TheStreet) -- First Solar (FSLR) - Get Report has wonMorningstar's coveted five-star stock rating. Morningstar bestows the score on 30 of the 1,700 stocks in its coverage universe. Growth, competitive pricing and wider market share will support First Solar's stock in 2011.
Third-quarter sales advanced 36% from a year earlier, but the gross margin, at 40%, missed Morningstar's estimate of 45%. A difficult pricing environment has weighed on performance in recent quarters. The average selling price dropped 7% sequentially for non-system modules, while the cost per watt increased to 77 cents. First Solar's adjusted earnings per share tally of $2.21, up 23% year-over-year, exceeded the Wall Street consensus by 12%. Also, revenue beat expectations by 2.8%. Despite solid numbers, the stock tumbled 9% upon the announcement.
Investors were disheartened by weaker margins and the uptick in cost per watt. Given the record of outperformance, fundamental disappointment and outlook uncertainty has jolted stock holders in recent weeks. Morningstar speculates that First Solar is trading at a discount to fair value. But it believes the company has no long-term economic moat, its perception of sustainable advantages. A $192 fair-value estimate suggests 48% of potential upside. Morningstar recommends waiting for the next sell-off to initiate a long position.
By using an unconventional semiconductor, cadmium telluride, First Solar has become the cost leader in the industry. It is the only major module-manufacturer employing this technology. Although other semiconductors have superior conversion efficiency, First Solar's economies of scale have helped it maintain a cost lead. Its cost per watt has fallen 33% over the past three years. Even as silicon prices collapsed, First Solar retained industry-leading margins. By Morningstar's estimate, it still has a 20% cost advantage over its nearest competitor.
Assuming it can decrease its cost per watt by 10% to 15%, annually, Morningstar sees little chance of business disruption. However, as is the case with any technology thesis, product obsolescence is difficult to foresee. Yet, scientifically speaking, the current efficiency of First Solar's cadmium telluride panels, at roughly 11%, is below the potential for the semiconductor. So, improving efficiency, an achievable goal, will provide the company a margin of safety.
Subsidy risks are worth noting. Solar remains expensive relative to other power sources and it is less reliable, given the variability of weather and sunlight hours. Policy changes can gravely affect demand. Spain's 2008 cap catalyzed a 90% drop in 2009 installations. Yet, China and the U.S. remain positive on the industry and it is a politically popular alternative energy, so the subsidy environment is likely to remain favorable in the coming years. Morningstar forecasts 37% annual growth over the next five years as the operating margin gradually falls to 26%.
As demand is dependent upon a favorable subsidy environment and a lack of cost-effective alternatives, such as wind or geothermal, Morningstar assigns First Solar "medium fair-value uncertainty." Bulls stress that a demand shift from high-subsidy European markets to lower-subsidy markets such as the U.S. will enforce the relevance of cost advantage and strengthen First Solar's competitive position. Furthermore, its custom-built and tightly guarded production lines provide another advantage. A record of cost per watt cuts abets the investment thesis for First Solar.
And $583 million of net liquidity (cash minus debt) represents fodder for growth. In the past few years, marked by the worst economic contraction since the Great Depression, solar has demonstrated staying power. Interestingly, many of the once-favored equities, including First Solar, experienced multiple contraction over that span. Currently, the stock trades at a forward earnings multiple of 15 and a cash flow multiple of 15, at parity with industry averages. A trailing earnings multiple of 18 represents a 14% peer discount and an absurd 81% discount to the stock's five-year average. Is the stock market now condemning First Solar or mispricing its growth prospects?
Morningstar suggests the latter.
But it's clear that investors are no longer willing to pay a significant premium for U.S. solar stocks. Like First Solar,
SunPower
( SPWRA) trades at an 85% discount to its five-year average P/E. Still, sell-side analysts echo Morningstar's optimism. Of those covering First Solar, 26, or 52%, rate its stock "buy," 18 rate it "hold" and six rate it "sell."
Piper Jaffray
offers the highest price target, at $200, suggesting the stock could rise 55% in the next 12 months.
Lazard Capital Markets
predicts an advance of 47% to $190.
-- Written by Jake Lynch in Boston.
RELATED STORIES:
Barclays' 30 Best Stock Picks for 2011
Become a fan of TheStreet on Facebook.
Disclosure: TheStreet's editorial policy prohibits staff editors, reporters and analysts from holding positions in any individual stocks.