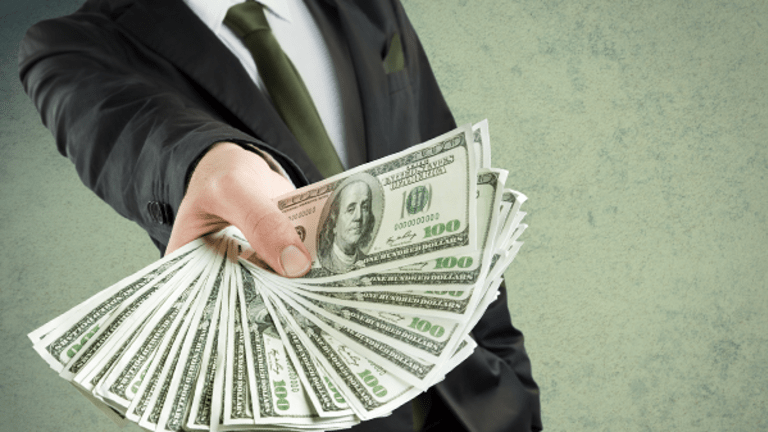 First Leg Down of United Tech; Hurricanes -- Jim Cramer's Top Thoughts
Cramer reflects on United Tech and also brings up a positive about hurricanes.
Here are Jim Cramer's top thoughts on some of the biggest stories of the week.
Jim Cramer: This First Leg Down of United Tech Should Be Bought

We only want to buy stock when there is a price break and then the price break occurs and we don't want to take the plunge.

Right now, we have a tremendous decline in the stock of United Technologies (UTX) - Get Free Report   without anything being wrong with United Tech per se. It did shell out $23 billion in cash and stock -- two thirds/one third for -- Rockwell Collins  (COL) , a $140 price tag that may be just a 17% premium from where the stock had been a month before.
It's a price that everyone and his brother seems to think is an overpay. I get that. I have loved the target company for ages, even suggested that people who were tired of Boeing (BA) - Get Free Report -- not me -- swap in COL.
Whatever.
But now, down $10 from where it was when the deal was announced, United Technologies, to me, seems like a screaming buy.
Think about it. The company told you that 2017 is a done deal. It pretty much said 2018's great, too. 2019? That's when the accretion kicks in.
Now, it would be one thing if the aerospace cycle is peaking. But with 30,000 planes on order, with the middle-classification of airline travel, with the flush nature of the business, nobody's saying that.
It would also be a big issue if Otis, the elevator company, were doing badly. Again, not the issue. It's having a comeback. Or the HVAC business? Again, very strong. Military? On fire.
What I am saying is that an issue at $119 is not an issue at $109. The punishment has been meted out. The opportunity, which I had the luxury of sitting out last week because I was on vacation, is now here.
I think the first leg should be bought here. Next would be down another four. Somehow, though, without a broader selloff, I don't think it gets there.
More of What's Trending on TheStreet:
Trump Takes Fight Over 'White Supremacist' Comment to Disney's Front Door
Action Alerts PLUS, which Cramer co-manages as a charitable trust, has no positions in the stocks mentioned.
Originally published Sept. 12 at 5:57 a.m. EDT.
Jim Cramer: Hurricanes Will Break the Decline of the Auto and Housing Industries
You can't talk about storms without mentioning the heartache of the loss and the bravery of those not afraid to lend a hand, often risking their lives doing so.
More From Jim Cramer
But you also have to think about the aftermath, at least if you are in the stock business, or, in this instance more important, the insurance business.
That's because you have to consider the insurance business, similar to the way you would consider the old U.S. government, one that would step in with billions of dollars to help you rebuild and buy a new car, or fix up your home.
Certainly, there will be state and federal help, and we will hear about that, no doubt, at the Caterpillar (CAT) - Get Free Report analyst meeting on Tuesday. CAT will have more than its fair share of the rebuild in its stellar equipment, which we know will be so needed as part of the rebuild.
But it's the interruption of the decline in some very important business cycles that has me entranced about the opportunities here.
You see, there is a confluence of financial positives that abound from the terror and horror of these natural disasters. And while money can't make up for lives lost and injuries sustained, it will create a break in the decline of the auto business, as well as the housing industry.
It's simple. When you get flooding like we had in Texas, you are going to have perhaps hundreds of thousands of people shopping for new cars, all at once.
If you get storms that destroy houses with wind and rain, as is the case in Florida, you get checks to fix them up almost instantly.
Think about all the business that goes into a car. There are the metals, the plastics, the electronics -- think semiconductors -- and then all of the people who make and sell them. It's a huge industry, one that has multiple drivers that can spur an economy already OK into actual vibrancy.
Now, the Florida storms, mercifully, don't seem to have caused as much property damage as Texas. But take the insurance money that will come to Florida to fix houses and the personal spending that Texans will have to do to fix up their homes, and all I need to tell you is, think about every aisle in Home Depot (HD) - Get Free Report and you will know the far-ranging nature of the business that will get done.
More of What's Trending on TheStreet:
The Stunning Apple iPhone X Screen Will Trigger a Global Problem in This Market
Tools, dry board, wood, screws and nails, windows, doors, roofing, you name it. Or you can just say Stanley Black & Decker (SWK) - Get Free Report , Owens Corning (OC) - Get Free Report , Beacon Roofing  (BECN) - Get Free Report , Honeywell (HON) - Get Free Report , United Technologies (UTX) - Get Free Report , and so many others.
Construction is a fleeting thing. So, you rent. That's why I like United Rentals (URI) - Get Free Report so much. You need trucks, which is why the stock of Cummins  (CMI) - Get Free Report is so high -- although China sure helps.
Next thing you know, you have companies with stocks that were heavily shorted, because of the breakdown, say, of the auto cycle, being reborn: think Action Alerts PLUS charity portfolio holding Illinois Tool Works  (ITW) - Get Free Report . You have stocks like that of Norfolk Southern  (NSC) - Get Free Report or CSX Corp. (CSX) - Get Free Report getting extra car loads no one in the investing business could see coming.
And, perhaps best of all, you have business being done without waiting for a trillion-dollar infrastructure program from Washington that's looking more and more like a pipe dream.
Maybe that's the real silver lining here. We aren't hanging on Washington's every word these days. If it takes an act of nature to make sure we don't, well, perhaps that's the one really good thing that comes in the aftermath of these godawful tragedies.
Cramer: Make Gary Cohn the Next Fed Chair
Apple iPhone X Isn't Too Expensive to Succeed: Jim Cramer
Nvidia 'Still Has Room to Run': Jim Cramer
Action Alerts PLUS, which Cramer co-manages as a charitable trust, is long ITW.
Originally published Sept. 11 at 6:15 a.m. EDT.
Click here for information on RealMoney, where you can see all the blogs, including Jim Cramer's--and reader comments--in real time.
Jim Cramer fills his blog on RealMoney every day with his up-to-the-minute reactions to what's happening in the market and his legendary ahead-of-the-crowd ideas. This week he blogged on:
How some stocks get even cheaper when they slide
How someone -- anyone -- should do something -- anything -- on tax reform
Action Alerts PLUS, which Jim Cramer co-manages, is long ITW.