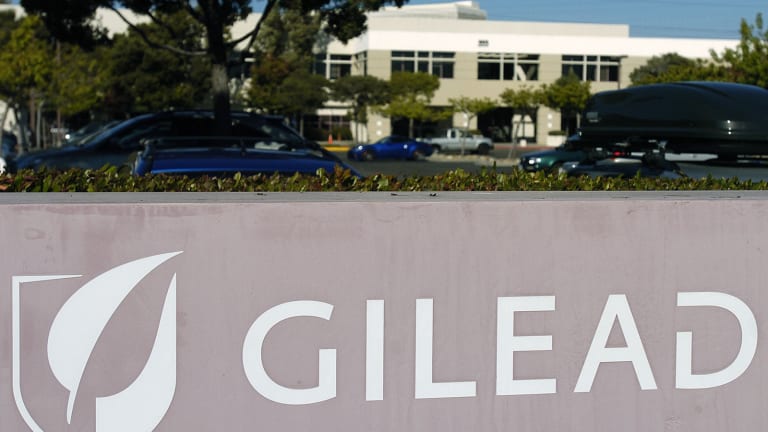 FireEye, Gilead Sciences, and Aeropostale: Doug Kass' Views
Bret Jensen, filling in for Doug Kass, shares his views on FireEye, Quest Diagnostics and Aeropostale.
NEW YORK (Real Money Pro) -- Doug Kass shares his views every day on RealMoneyPros.Click here for a real-time look at his insights and musings. Brett Jensen filled in for Kass on Friday, May 22, 2015.
Today's Movers and Something to Watch
Posted at 11:45 AM EDT on Friday May 22, 2015
By Bret Jensen
Major indices continue to show little movement as we approached the noon hour, although they have turned down in the last half hour. I can't recall such a flat week this year. Maybe everyone is already in the Hamptons and it is just the computers trading with each other.
As always, some individual movers in today's trading.
FireEye (FEYE) is having a nice little run after its CEO appeared on Mad Money last night and as Meg Whitman gives the firm a nice "shout out" on CNBC this morning as well.
Quest Diagnostics (DGX) was halted briefly, as it hit a circuit breaker after unconfirmed rumors that it has hired Goldman Sachs to explore a sale. The shares are still up but have given back a good portion of the gains before it was halted.
Aeropostale undefined is getting hammered after results came in less than expectations. I can't think of tougher space in retailing than teen apparel right now.
Definite watch item. According to the Wall Street Journal, some health insurers are requesting rate increases of up to 51% for plans sold under the Affordable Care Act. This should spur some good debate as we rev up for the 2016 election. It will be interesting to see what impact this has on the stocks in this sector.
Must Read:Expect September Fed Rate Hike, U.S. Economic Slowdown Is Over
Market's Flat but Some Stocks Are Moving
Posted at 10:21 AM EDT on Friday May 22, 2015
By Bret Jensen
And we're off! Not surprisingly given the (lack of) action in the market this week, the main indices are roughly flat across the board in early going. Biotech seems to be showing some strength.
Gilead Sciences (GILD) continues its recent well-deserved winning streak, with its shares at their highest 2015 levels. Even with this rally, the stock goes for just over 10x this year's projected earnings -- and the consensus earnings estimates continue to go up.
Synergy Pharmaceuticals undefined is also making a good move this morning to around $4.50 a share. Canaccord Genuity just initiated it as a buy with an $11-a-share price target. Cantor Fitzgerald reiterated its buy rating last week with an $8.50 target. A couple of directors have made a few small purchases of new shares over the past month as well. You might want to put SGYP on your watch list.
Elsewhere, airline stocks continue to be under pressure due to the rise in oil prices since the first quarter's end, as well as over concerns about whether discipline around pricing and capacity will remain in place. April fares fell just over 1% month over month, according to the Bureau of Labor Statistics.
As I explain in a column this morning, I'm taking a flyer on Delta Airlines (DAL) using the bull call spread strategy. I bought the September 2015 $50/$60 for a $1, or $100 a contract. The stock sells for just under $44 a share currently. If pessimism is unwarranted on capacity and/or oil comes down significantly heading into summer, my strategy seems like a good asymmetrical risk/reward play.
This article is commentary by an independent contributor. At the time of publication, the author held positions in the stocks mentioned.