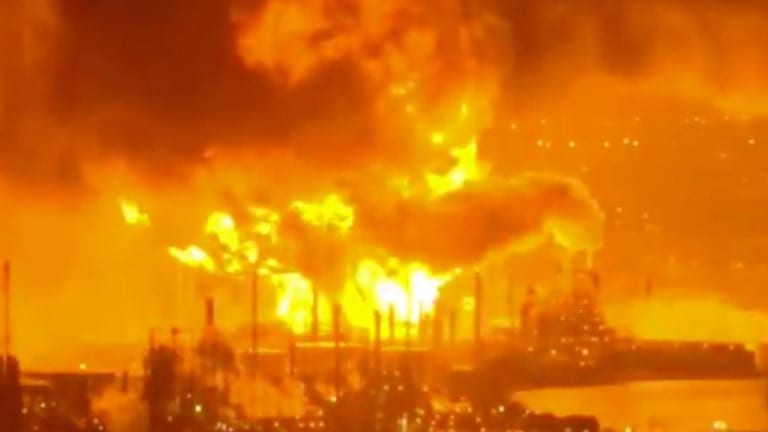 Fire Rips Through South Philadelphia Refinery Complex
An explosion tears through a South Philadelphia refinery complex early Friday. Gasoline futures were rising.
An explosion tore through a South Philadelphia refinery complex Friday, fire officials said.
The explosion and fire came from a vat of butane at the Philadelphia Energy Solutions Refining Complex, starting around 4 a.m., city Deputy Fire Commissioner Craig Murphy said, according to CNN.
The 150-year-old refinery is the largest on the East Coast and is owned by Philadelphia Energy Solutions, a partnership including Sunoco (SUN) - Get Free Report , according to CNBC. The facility produces 335,000 barrels of crude oil daily.
"Philadelphia Energy Solutions reports a vat of butane exploded and was burning," the Philadelphia Fire Department said on Twitter. "They report no detectable inhalants. PES will monitor air quality."
City fire officials said one employee complained of chest pains. PES said that four other individuals were treated by their on-site medical clinic, according to Philadelphia Fire Commissioner Adam Thiel.
"The Fire Marshal's Office will investigate the cause and origin of the fire once the incident is over and the scene is safe to enter," Thiel said in a statement. "But the investigation will take time. For now, this remains a dynamic situation."
Residents reported several explosions that were felt in South Jersey and Delaware County, Pennsylvania.
"Air Management Services was on-scene immediately and took air samples," the fire department tweeted. "Preliminary testing at the refinery, and in the community around, found no ambient carbon monoxide, hydrocarbons (combustibles), or hydrogen sulfides."
Emergency management officials initially asked people east of the fire to shelter in place, but the fire department said the order was lifted.
Philadelphia Energy Solutions said there were three separate explosions in one of their alkylation units.
The blaze went to three alarms. The city fire department has about 50 apparatus and 120 personnel on site supporting the PES firefighters.
The fire was the second blaze at the refinery this month, following a June 10 fire in which no injuries were reported, according to CBS News. Philadelphia Mayor Jim Kenney said the two incidents are unrelated. 
"As dramatic as it looks, it seems to be confined," said Phil Flynn, an analyst at Price Futures Group in Chicago. "We don't think it will have a long-term impact on prices. I think there's enough supply to pick up the slack. If you're in that general area, you're probably going to see a price hike of a nickel or so at the gas pump for a day or two, but more likely, it will level off. News can change, but that's our impression right now."
Philadelphia Energy Solutions did not immediately responded to a request for comment.
Sunoco shares were up slightly to $30.97. Gasoline futures jumped about 4.1%.