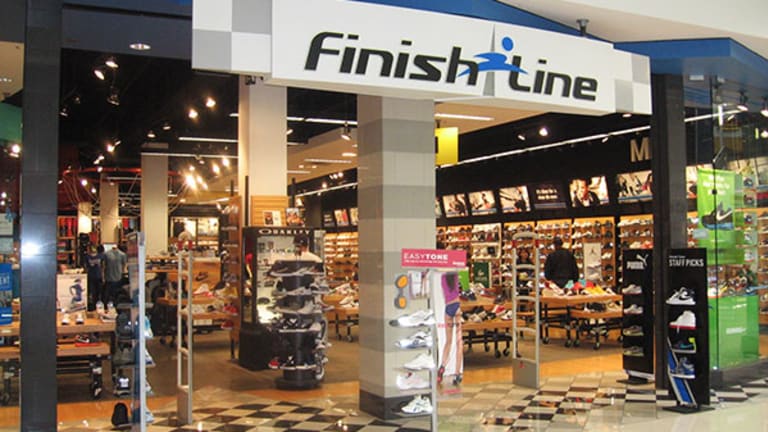 Finish Line Shares Plummet, CEO Concedes 'Right Now, It's Put Up or Shut Up'
Finish Line shares were sent sharply lower in response to its latest earnings. The company's CEO admits that it's now time to deliver.
NEW YORK ( TheStreet) -- In the wake of a sluggish quarter that sent its stock sharply lower, Finish Line's (FINL) CEO recognizes it's crunch time this holiday season.
Finish Line shares spiraled lower by 13% on Friday as investors voiced concern about slowing momentum in a business that was seen turning around earlier in the year.
"I don't think the Street is missing anything, the Street is saying to us show me," said Finish Line CEO Glenn Lyon when asked what Wall Street may be overlooking about Finish Line's potential this holiday season. Lyon continued, "I have always asserted that I will not sell out the future for the present, I will not forego investments that are necessary -- but right now, it's put up or shut up."
The footwear retailer reported earnings of 57 cents a share, in line with Wall Street forecasts, but net sales fell short of analyst expectations. The top line sluggishness stemmed from a modest 1.5% same-store sales increase on declining sales of men's footwear. On a call with analysts, Finish Line execs blamed continued tepid demand for men's performance running products. Sales of men's products represent about 60% of Finish Line's business. 
According to Lyon, Finish Line has done a fair amount of work behind the scenes with respect to bringing new footwear styles to market quicker and improving customer service in stores.  But, Lyon conceded, "we are not bringing it to the bottom line, and in the world we live in, we must produce." 
The market also seemed to be concerned with Finish Line's sales trends thus far in September. Same-store sales in September are tracking toward the low end of Finish Line's low single digit percentage same-store sales guidance for 2015. For the year, Finish Line reiterated its earnings guidance of $1.67 a share.

But Finish Line did have several successes. Sales of women's footwear rose by a mid-single digit percentage, supported by interest in new running sneakers from New Balance and the redesigned Chuck Taylors from Converse (a division of Nike (NKE) - Get Report ). The basketball category delivered a low-single digit percentage sales gain as consumers snapped up the Under Armour's (UA) - Get Report Curry line and Nike's Jordan brand, especially those marketed by Cleveland Cavaliers star Kyrie Irving.  
Finish Line is preparing to take full advantage of the popular Stephen Curry during the holidays. The Curry 2 will launch on Oct. 24 priced at $130, a product that Lyon says is anticipated to be met with strong demand by consumers.  Further, Finish Line will have several exclusive Under Armour running styles in stores.  
The strength that Finish Line saw in its women's business and the Jordan category was on display in Nike's quarter as well.
"The success we're seeing in women's is truly comprehensive, as all facets of the business continued to excel," boasted Nike brand president Trevor Edwards on a call with analysts Thursday evening. Sales of women's footwear and sportswear rose by a double-digit percentage, Nike said.
As for basketball, Nike highlighted the Jordan brand as a key driver of its better than expected first quarter earnings. Given the continued success in Jordan, Nike may be poised to leverage the brand into product categories outside of basketball in 2016.
"We see tremendous opportunity for the Jordan brand to transcend its core basketball positioning into new areas of growth," said Edwards, who mentioned training shoes as an opportunity that could go on to take aim at Reebok's dominance in the Crossfit category and V.F. Corp's (VFC) - Get Report strong position in training sneakers.
Said Finish Line's Lyon on the topic of expanding the Jordan line, "it's a great opportunity, as they go forward with initiatives it's important that we participate and we take strong positions with them as they lay out the marketplace."