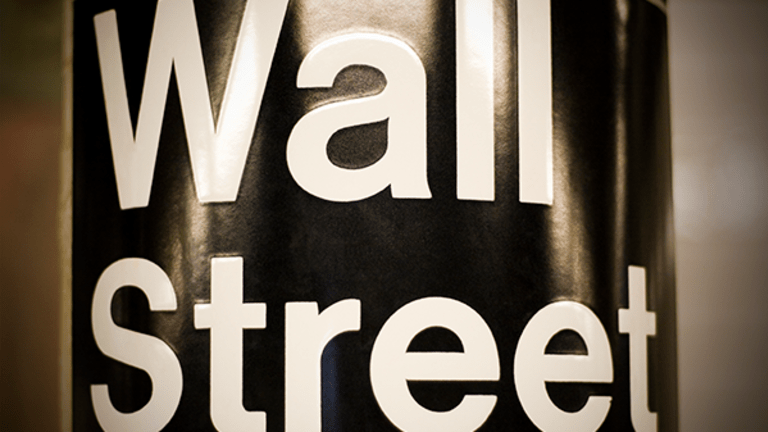 Publish date:
Financials Are Starting to Look Unbankable
People are finally getting concerned about the group.
People are finally getting concerned about the group.
This column originally appeared at 6 ET on Real Money, our premium site for active traders. Click here to get great columns like this from Jim Cramer and other writers even earlier in the trading day.
The oil stocks got folks upset last week, when on Tuesday they finally noticed the oils and high-yield were acting poorly. Monday, they noticed the beloved financials were no longer partying like they thought they should.
I am no fan of the financials and haven't been for a while. Mostly it's because there has been far too much love heaped on them with far too little price movement to the upside. I recall a few months ago when I saw a guy who always trades technology stocks say he loved the financials. I mean, that would be like me deciding to become a momentum trader, wouldn't it? You'd scoff for sure.
In any event, the Bank Index is nearing some support, as you can see on the chart, and it is down 6% from that March 1 high. I wouldn't be surprised if it bounced a little bit later this week, but it won't change my mind on the group: I am still not a fan.
In fact, let's take a look at the Bank Index relative to the S&P, and the first thing we see is that since the peak in early December, the banks haven't done much and have basically underperformed the S&P. Is it any wonder folks are getting concerned about this group?
Perhaps it shows how over-owned and over-loved the financials are, but I don't see anyone crying over the transports, which are now down 5% since early March and sitting on an important trend line as well. If the transports break, I expect they will find support at 9000, but breaking that line is not a sign of strength.
And yet to go back to the chart of the S&P that we looked at yesterday. It continues to hold that uptrend line. I even heard more than one guy on television say they would not turn bearish until we broke under 2350. Y'see? I knew it! I still think a move under 2350 is what it would take to get the VIX moving.
But the deterioration continues underneath. After all, the oversold condition has produced a giant sideways move. As noted, in the past this sort of deep oversold would have led us to a rally in the overall market of a few percentage points. Now, we rallied one day and gave it all back.
There are still a few more days left for this Overbought/Oversold Oscillator to move up with more vitality than it has, but here we are more than a week into the oversold condition and we haven't even crossed the zero line. I call that weak. I have noted that it looks similar to the rally we saw in mid-October or even the rally from mid-December 2015, both were similarly oversold and both saw lethargic rallies that came back down.
There is one piece of good news filtering through, though. The put/call ratio pushed up to 106%, which shows that the deterioration in the market is eating away at the complacency that has been so prevalent.
For more market analysis from Helene Meisler, sign up for Top Stocks, published five times a week.
At the time of publication, Meisler had no positions in the stocks mentioned.