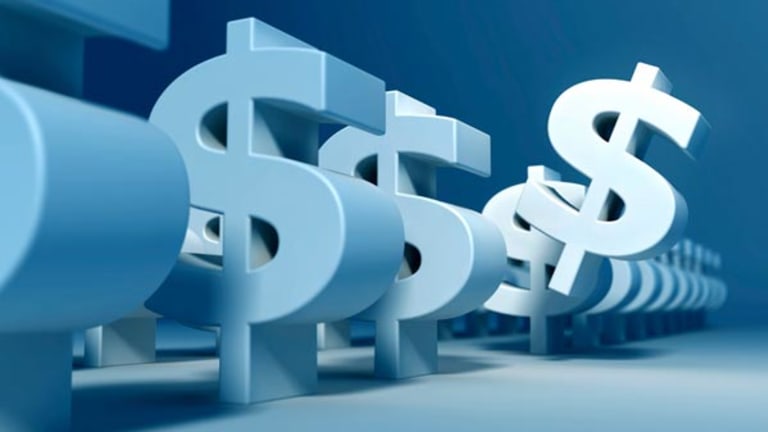 Financial Winners & Losers: JPMorgan
The bank's shares were slipping Thursday after saying it would close down a business structuring interest rate swaps for municipalities.
Financial stocks tumbled harder than
the broader market
Thursday amid reports that several firms are facing new trouble with mortgage-related assets and challenging credit markets.
The NYSE Financial Sector Index dropped more than 3% as the
Dow Jones Industrial Average
fell almost 2% on weak economic data.
JPMorgan Chase
(JPM) - Get Free Report
fell 2.2% to $38.81 as the bank said it will close down a business that structured interest-rate swaps for municipalities, as the bank faces further issues with its sales of credit default swaps and derivatives to local governments.
On top of a lawsuit filed late last month by a Pennsylvania school district, JPMorgan is facing investigations by the Justice Department and
Securities and Exchange Commission
, which could result in penalties, according to a
Bloomberg
report. Municipalities are accusing JPMorgan and other firms of charging high fees and selling complicated debt instruments whose costs and risks were not fully explained.
There were also indications on Wednesday that deals with Korean investors -- viewed as saviors for some firms grappling with housing- and credit-related losses -- are not panning out smoothly.
Merrill Lynch
( MER) and Korea Asset Management Corp. have so far failed to agree on pricing terms for a deal to sell a big chunk of Merrill's troubled loans, according to
Bloomberg
. The
Wall Street Journal
also reports that Korea Development Bank is facing significant hurdles in its bid to acquire a joint stake in
Lehman Brothers
( LEH).
Word that Japan's Tokyo Mitsubishi UFJ might also be
failed to prop its share price, which dropped around 7% to $15.73 in recent trading. Merrill was down more than 5% at $26.85.
Shares of
AIG
(AIG) - Get Free Report
dropped more than 5% to $21.42 as the
New York Post
, citing unnamed sources, reported that the insurance giant might form a separate company to hold its large portfolio of bad assets. The move could be similar to the plan
UBS
(UBS) - Get Free Report
is pursuing to detach bad housing debt from the rest of its business.
Legg Mason
(LM) - Get Free Report
also dropped 9.4% to $42.93 after a Credit Suisse analyst downgraded the investment-management company, citing overvalued shares and the potential for more writedowns and weaker margins.
Some regional banks also suffered on predictions that housing woes, bad loans and declining asset values will likely hurt results going forward. S&P downgraded credit ratings on
National City
( NCC) and
First Horizon
(FHN) - Get Free Report
on Wednesday, and said 37% of all regional banks are candidates for future downgrades. A KBW analyst on Thursday also predicted that the second half of 2008 could show a jump in bad assets for regional banks.
National City shares recently declined 3.9% to $4.88 and First Horizon dropped 3.6% to $11.32.