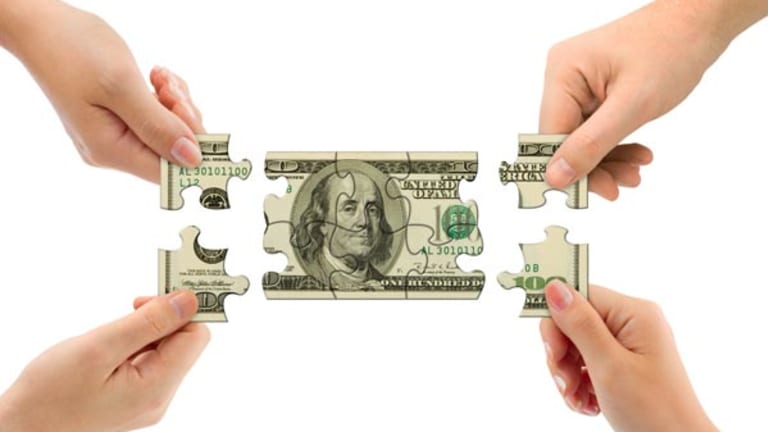 Financial Winners & Losers: ING
Citigroup eases 0.2%, while JPMorgan Chase is up 1.4%.
Financial stocks were mostly stronger Monday as traders reacted positively to word that the U.S. government might not be finished with its efforts to steer the economy back to health.
The KBW Bank index was down slightly, but the Amex Securities Broker/Dealer index was up 1.4%. The NYSE Financial Sector index was rising 3.5%.
Helping the group were comments from
Federal Reserve
Chairman
, who suggested that a new
package would be worth considering. Another boost came from President Bush, who wants to join with other world leaders to discuss additional ways to support the financial markets.
As for stocks,
ING
(ING) - Get Report
jumped 23% on word that the Dutch government plans to purchase a $13.4 billion stake in the financial-services company.
Elsewhere,
Merrill Lynch
( MER) CEO John Thain said thousands of jobs at the brokerage firm could be lost after the company is acquired by
Bank of America
(BAC) - Get Report
. Shares of both companies gained more than 3%.
Turning to big banks,
Citigroup
(C) - Get Report
eased 0.2%, while
JPMorgan Chase
(JPM) - Get Report
was up 1.4%.
Wells Fargo
(WFC) - Get Report
slipped 1.2%, and
UBS
(UBS) - Get Report
advanced 1.6%.
Nobody ever made a dime by panicking, says Jim Cramer. Moneymaking opportunities exist despite the market turmoil. So where's a market master like Cramer putting his money these days? Check out his personal portfolio at Action Alerts PLUS. Take a free trial now
.
This article was written by a staff member of TheStreet.com.