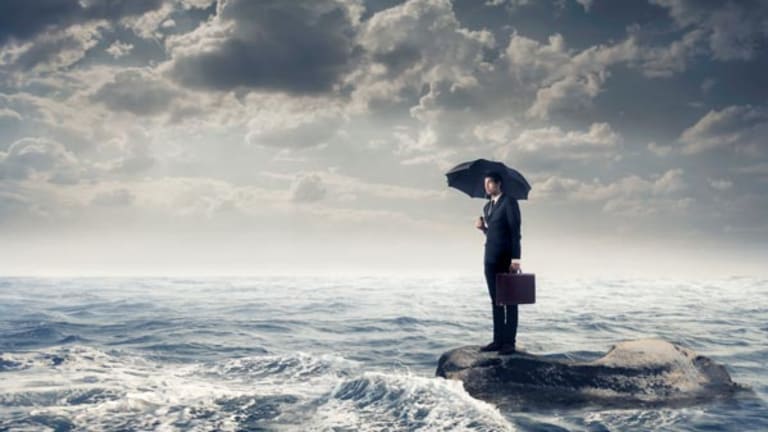 Publish date:
Financial Winners & Losers: Citi, Wells Fargo
Financial shares are mixed Wednesday as Citigroup and Wells Fargo continue in their attempts to leave TARP.
Financial shares are mixed Wednesday as Citigroup and Wells Fargo continue in their attempts to leave TARP.
Updated for stock-price movements and to include details on Bank of America's TARP payment.
NEW YORK (
) -- Financial shares ended Wednesday's session mixed, with
Bank of America
(BAC) - Get Report
announcing about an hour before the market closed that it had
the government for the $45 billion in aid it had received amid its shot-gun merger with Merrill Lynch at the height of the financial crisis last year.
Shares of the Charlotte, N.C. megabank, which convened a board meeting Tuesday ostensibly to discuss its ongoing CEO search, closed Wednesday at $15.39, down two cents, after trading for much of the session in plus territory.
Meanwhile,
Citigroup
(C) - Get Report
and
Wells Fargo
(WFC) - Get Report
continued to measure, behind the scenes, just how to follow Bank of America's lead and remove themselves from the government's TARP dole.
U.S. equities ended Wednesday moderately higher. The
Dow Jones Industrial Average
gained ground late in the session, ending the day up 51 points, while the
S&P 500
added 4 points.
TARP headlines continued to scroll along the financial-news crawlers Tuesday.
Citigroup has apparently faced a harsher taskmaster
in the
Federal Reserve
and the FDIC, which, unlike the
Treasury
Department, have been pushing Citigroup to raise as much as $20 billion in capital -- the same amount it took in bailout aid -- before it can begin to pay back its TARP funds.
Citigroup shares closed Wednesday at $3.86, down 1.3%.
Shares of
Wells Fargo
(WFC) - Get Report
, meanwhile, slipped 7 cents to $25.96. Like Citigroup, the bank is negotiating with the government over the best way to
, though its CEO remained quiet on the matter Tuesday while in New York to give a speech at an investor conference.
Among the other megabank names Wednesday, shares of
JPMorgan
(JPM) - Get Report
ended the session at $41.19, down 2 cents.
On Tuesday, JPMorgan chief Jamie Dimon detailed the extent of the firm's projected
, among other matters, during a presentation at the same conference where Wells' CEO appeared.
On Wednesday, the Obama administration decided to
of the Troubled Asset Relief Program until next October. It had been set to expire at the end of this year. Treasury Secretary Timothy Geithner told certain Congressional leaders in a letter that the government may cap the amount taken from TARP at $550 billion of the original $700 billion allocated to the program.
Geithner also referenced the Treasury report -- leaked to the press earlier this week -- indicating that the funds pumped into troubled financial institutions under TARP will amount to $200 billion less than originally expected, at least according to Treasury's newest calculations. President Obama has been looking to use the leftover sum to fund another stimulus package, detailed by the president in an economic policy speech Tuesday.
It was a harrowing day for high-paid bankers in Britain. The country's chancellor of the Exchequer declared Wednesday a one-time tax on the bonuses paid to banking executives -- no matter if their firms took government bailout money. The tax would affect the U.K.-based divisions of foreign banks.
Robert Diamond, chief of
Barclay's
(BCS) - Get Report
investment bank, made the obvious bankers' riposte to the Exchequer news: A bonus tax may spook financial pros into packing their bags and leaving the City for good, impairing London's vaunted financial-hub reputation.
Barclay's New York-listed American depositary receipts closed at $18.31, down 1.4%. ADRs of other European banks ended the session slightly lower as well, with
UBS
(UBS) - Get Report
,
Credit Suisse
(CS) - Get Report
and
Deutsche Bank
(DB) - Get Report
all declining by about 1%.
Back in the states, banker pay was also a hot topic. Wednesday morning, a
Goldman Sachs
(GS) - Get Report
director told
Bloomberg
TV that the board's compensation committee would "take a very hard look" at the firm's executive bonus practices.
The director, William George, said in the on-air interview, "There is so much anger out there and I'm not quite sure how to ameliorate that, other than to moderate things and to recognize that Goldman and every other firm benefited from the actions of the Federal Reserve Board and the Treasury Department."
Goldman was among the few financial names in the green Wednesday, with its shares gaining 2.8% to $166.44. Shares of rival
Morgan Stanley
(MS) - Get Report
, which announced a
on Tuesday, added 0.7% to $30.35.
-- Written by Scott Eden in New York
Follow TheStreet.com on
and become a fan on
Scott Eden has covered business -- both large and small -- for more than a decade. Prior to joining TheStreet.com, he worked as a features reporter for Dealmaker and Trader Monthly magazines. Before that, he wrote for the Chicago Reader, that city's weekly paper. Early in his career, he was a staff reporter at the Dow Jones News Service. His reporting has appeared in The Wall Street Journal, Men's Journal, the St. Petersburg (Fla.) Times, and the Believer magazine, among other publications. He's also the author of Touchdown Jesus (Simon & Schuster, 2005), a nonfiction book about Notre Dame football fans and the business and politics of big-time college sports. He has degrees from Notre Dame and Washington University in St. Louis.