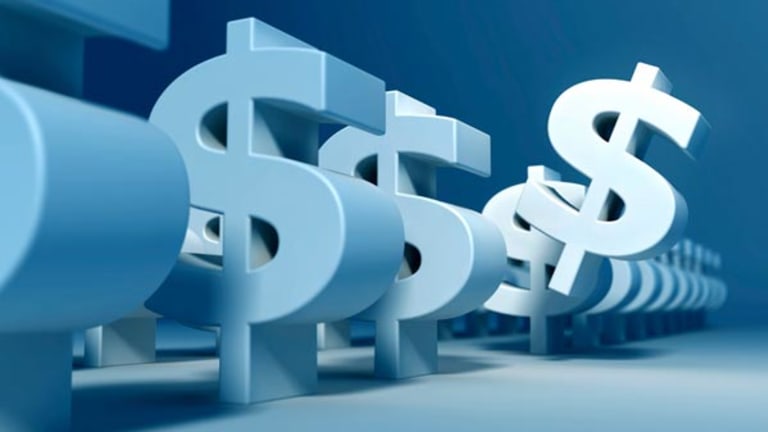 Financial Winners, Losers: Bank of America
Bank of America and AIG are among the winners in the financial sector on Monday, though its the regional banks as a group that outperform.
(Financial winners and losers story updated for market close)
NEW YORK (
) --
Bank of America
(BAC) - Get Free Report
may not have a friend in U.S. District judge Jed Rakoff. Still, in accepting a $150 million settlement between the U.S. banking giant and the Securities and Exchange Commission on Monday morning, an exasperated judge Rakoff helped Bank of America shares move higher.
Bank of America shares were up more than 2% on Monday, or 33 cents, to $16.21. This Bank of America share price gain wasn't the largest in percentage terms on Monday among financial stocks, but the court decision was the most provocative piece of financial news on the day.
Judge Rakoff had previously rejected a $33 million settlement offer in the case that pitted the Securities and Exchange Commission against the largest bank in the U.S., a case alleging that Bank of America misled investors in its acquisition of
Merrill Lynch
. Rakoff said if it were a matter of deciding if the settlement was fair and adequate, he would have rejected the $150 million offer.
The judge's comments amounted to a lambasting of both the bank and the SEC, and showed a very frustrated judge's throwing of his hands up into the air and hoping, quite possibly, that other courts will punish Bank of America as far as it is within their reach. It wasn't within Rakoff's reach to go any further than agreeing to the settlement, the judge noted in his court ruling: "As both parties never hesitate to remind the court, the law requires the court to give substantial deference to the SEC as the regulatory body having primary responsibility for policing the securities markets."
While Bank of America looks to have that large legal target removed from its head -- a trial would have begun in March had the settlement not been accepted -- in terms of share price gains, no financial stock could touch the formerly radioactive
AIG
(AIG) - Get Free Report
.
AIG was up more than 7% on Monday for a gain of $1.90, to $28.43. A whopping 24 million shares of AIG were traded on Monday, versus an average daily volume of 9.5 million.
The market seemed to be of the opinion that AIG's business was finally getting back to normal.
Indeed, an analyst with A.M. Best said it expects AIG to report more normalized earnings next week. What's more, AIG said on Monday morning that it expects to retire 85% of the much-maligned derivative trades from its Financial Products affiliate by year-end, and the unit which was at the heart of the financial meltdown in the U.S., will be shut down for good, and good riddance, it seemed investors were saying on Monday morning.
The U.S. regional banks, including
PNC Financial
(PNC) - Get Free Report
and
Fifth Third Bancorp
(FITB) - Get Free Report
were also relative winners on Monday in the U.S. financial sector.
Bernstein Research upgraded PNC Financial to outperform, and the Pittsburgh-based bank gained 2.8% on Monday, or $1.45, to a closing price of $53.15.
Fifth Third Bancorp ended Monday up 2.6%, or a gain of 32 cents to $12.55.
A ratings upgrade to buy after the market close on Friday -- from Rochdale Securities -- helped U.S. Bancorp to gain close to 2%, or 46 cents on Monday, to a share price of $24.60.
The biggest gainer overall among international financial stocks on Monday was
Royal Bank of Scotland
(RBS) - Get Free Report
.
A decision by RBS to not place a large percentage of loans from an Irish subsidiary in a protective insurance scheme managed by the Irish government was seen by investors as a sign that the bank was more stable than previously thought. Royal Bank of Scotland surged at the open and its shares gained 4%, or 43 cents, to $11.16 on Monday.
JPMorgan Chase
(JPM) - Get Free Report
ended Monday up 2%, or 82 cents, to $40.85. JPMorgan also received an upgrade on Monday from Barclays Capital, which raised its price target on the bank to $55.
Warren Buffett favorite banking stock
Wells Fargo
(WFC) - Get Free Report
was in the same territory as Bank of America and J.P. Morgan on Monday, with a gain just short of 2%, or 50 cents, to $27.87.
Citigroup -- which
received big endorsements from hedge fund managers John Paulson and George Soros last week -- had run out of a little steam on Monday, up only 0.5%, or a mere two cents, to $3.44.
The financial sector was up 0.7% on Monday.
Morgan Stanley
(MS) - Get Free Report
which reportedly was nearing a deal to sell its stake in
China International Capital
to
Kohlberg Kravis Roberts
and
TPG Capital
was up more than 1% at the close on Monday, or 30 cents to $27.71.
Reuters
reported the sales price at $1 billion.
Goldman Sachs
(GS) - Get Free Report
was taking a lot of flack to start another week, again about its role in hiding Greece's massive debt -- God's personal banker Lloyd Blankfein was apparently Zeus' banker too.
The first Goldman banker to speak publicly on the Greek debacle, Gerald Corrigan, did so on Monday, and said Goldman's dealings were insignificant in the Greece deficit puzzle, and that the bank had followed the letter of the law.
The markets seemed to take the bad Goldman Sachs public relations in stride, too. At some point, bad public relations for Goldman might just become synonymous with indications that it is maximizing profits for investors, if that isn't already the case.
Goldman's share price was little changed on Monday, up 0.3%, or 53 cents, to $156.71.
-- Reported by Eric Rosenbaum in New York.
RELATED STORIES:
>>Citigroup is a Strong Buy: Poll
>>Bank of America Rehires Merrill Execs
>>Judge Approves Bank of America Settlement, Grudingly
>>See our new stock quote page.
Follow TheStreet.com on
and become a fan on
Copyright 2009 TheStreet.com Inc. All rights reserved. This material may not be published, broadcast, rewritten, or redistributed.