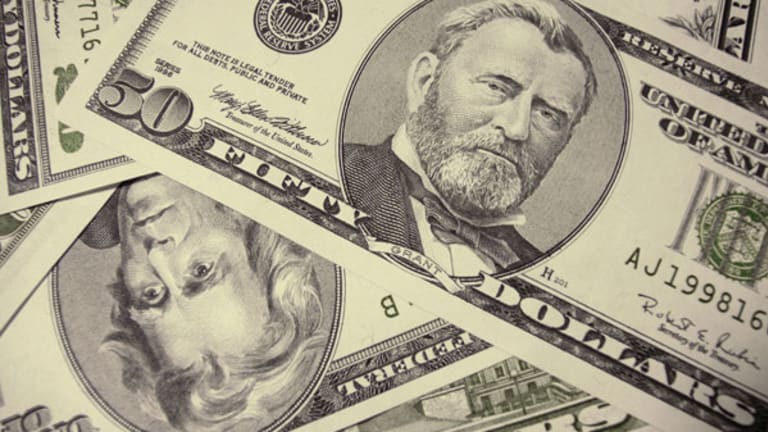 Financial Winners & Losers: AIG
AIG leads financials downward on its second quarter losses.
Credit default swaps continue to slay companies like
American International Group
(AIG) - Get American International Group, Inc. Report
and pummel the financial sector.
AIG delivered a stinging loss of $5.36 billion in the second quarter as CDS caused the company to lose $3.62 billion after taxes. Over the past three quarters, AIG has lost more than $25 billion, pretax, in CDS and other investments. The instruments were backed by mortgages that subsequently lost value causing the credit default swaps to plunge in value as well. Investors were stunned at the amount since the market was hoping that AIG's problems would start to level off. The share price was slammed by 16.9% to trade at $24.18.
Also getting hammered for its losses were
PMI Group
( PMI), whose shares tumbled 20% to $2.80. The mortgage insurer reported a $246.3 million loss in its second quarter and announced it was closing its Canadian operations. The quarter was killed by a $225.9 million loss due to increases in paid claims, loss adjustment expenses and loss reserve additions. The stock has lost 89% of its value over the last 12 months as the mortgage market meltdown showed no signs of letting up.
Citigroup
(C) - Get Citigroup Inc. Report
took a dive after saying it would buy back roughly $7 billion in ARS. The banking giant agreed to pay $100 million in fines as part of a settlement with federal and state regulators. Citi will also pay a $50 million civil penalty to New York State and a $50 million penalty to the North American Securities Administrators Association. The stock dropped 3.7% to $18.97.
Losses on investments also hit Netherlands-based insurance company
Aegon
causing it to report a 58% drop in profits for the second quarter. Investments in the U.S. credit markets and mortgage products were to blame as the stock fell 8.4% to $11.74.
The news of AIG's losses fueled concerns once again for
Lehman Brothers'
( LEH) investors causing the investment bank to slide 8% to $18.66. Worried shareholders sold off the stock as companies continue to report huge write downs with little positive news in the credit markets to deliver.
American Express
(AXP) - Get American Express Company Report
shares fell nearly 3.1% to $36.80 after Moody's Investor Services placed its long-term ratings on review for a downgrade. Moody's is concerned about the card and travel services company's asset quality and lending exposures -- particularly in areas of the U.S., where home prices have dropped significantly. It also is concerned about the company's growth in card member spending, given the economic weakness in the U.S. The long term ratings of American Express are currently rated at A1 for the holding company and Aa3 for its operating subsidiaries. If the ratings of American Express were to be lowered, they would most likely be lowered by one notch, Moody's said.
Overall the
NYSE Financial Sector
index declined 164 to 6,456.98.
But it wasn't all bad news, there were some winners on Thursday.
MF Global
( MF) jumped 15% in early trading after its net income came in better-than-expected. Even though the fiscal first quarter earnings dropped 80% from the previous year, the adjusted net income came in ahead of estimates. Lately, the stock was gaining 5.6% to $6.77.
And finally, the big winner for the day was
Nationwide Financial Services
( NFS)which shot up 10% to $51.08. The insurance and annuity product company agreed to a $2.4 billion buyout by its parent company Nationwide Mutual Insurance. The bid was initially valued at $2.2 billion.