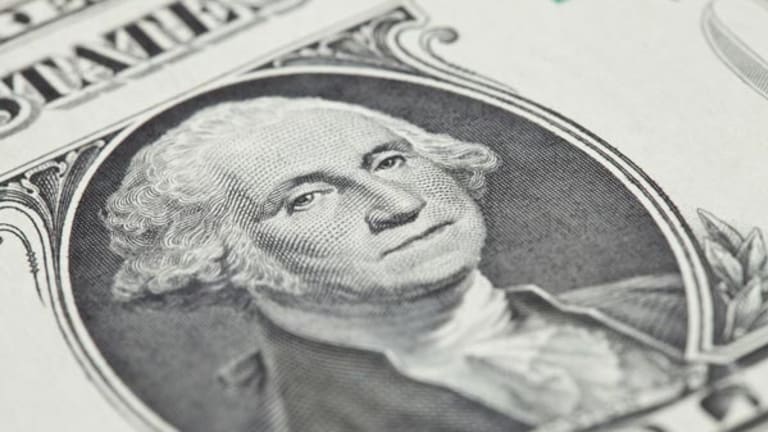 Financial Winners and Losers: JPMorgan
Several bank stocks gave back early gains and finished lower Monday after JPMorgan Chase outlined plans for a $5 billion stock offering.
Several bank stocks gave back early gains and finished lower Monday after JPMorgan Chase outlined plans for a $5 billion stock offering.
Updated from 2:29 p.m. EDT
Several bank stocks gave back early gains and finished lower Monday after
JPMorgan Chase
(JPM) - Get Report
outlined plans for a $5 billion stock offering.
JPMorgan said it intends to raise $5 billion in common equity in order to repay $25 billion borrowed through the Troubled Asset Relief Program, or TARP, last year. The bank said it was offering stock in order to satisfy a supervisory condition that the largest bank holding companies redeeming TARP preferred capital demonstrate access to the equity capital markets.
While approval has not been granted, JPMorgan said it believes that upon completion of this capital raise it will have satisfied the criteria for fully redeeming the TARP preferred capital and expects to do so before the end of June.
JPMorgan shares gave back early gains and finished down 2.1% at $36.11. Among other bank stocks,
Citigroup
(C) - Get Report
lost 0.8%,
Bank of America
(BAC) - Get Report
fell 0.5%, and
Wells Fargo
(WFC) - Get Report
dipped 0.3%.
Citigroup's loss may also be attributed to its announced removal from the
Dow Jones Industrial Average
. Before the start of trading on June 8,
Travelers Companies
(TRV) - Get Report
will replace Citigroup as a component of the Dow.
Citigroup was added to the Dow on March 17, 1997, as Citicorp. Ironically, Travelers merged with Citicorp in 1998 and was later spun off in 2002. Travelers shares climbed 3.1% to $41.91.
In addition to JPMorgan, several other companies announced capital raising plans.
Prudential Financial
(PRU) - Get Report
shares slid after the company said
it will not take bailout funds
and instead plans to raise $1.25 billion on its own through the sale of common stock.
Prudential said it will use the new cash for general corporate purposes, which could include adding capital to its insurance subsidiaries and for the repayment of short-term debt. Prudential shares finished lower by 1% to $39.52.
SunTrust
(STI) - Get Report
said it would accelerate its own stock offering Monday, saying it will offer $1.4 billion in common shares and start a $1 billion buyback of preferred shares and hybrid securities. Proceeds from the transactions will be applied to the firm's Tier 1 capital, the regional bank said.
Last month, SunTrust said it would issue common stock worth $1.25 billion through an "at-the-market" offering. The move, in addition to other capital initiatives, are part of SunTrust's plan to meet a $2.2 billion Tier 1 capital hole identified by the stress tests completed by the federal government. SunTrust shares rose 4.8% to $13.80.
Meanwhile, shares of
Zions Bancorp
(ZION) - Get Report
rose after the bank said it is launching a $250 million stock offer and plans to repurchase and exchange some outstanding debt.
In a filing with the
Securities and Exchange Commission
, Zions said a portion of the money raised from the stock sale will be used to repurchase up to 4 million depository shares in a Dutch auction, which represent a fractional ownership stake in preferred stock. The stock closed up 3.9% to $14.21.
Credit card issuers were among the best performers of Monday's session despite a downgrade of
Discover Financial
(DFS) - Get Report
.
Moody's Investors Service cut Discover's senior unsecured debt rating to Ba1, the firm's highest speculative grade, or "junk" level, citing risks the credit card company faces from the prolonged credit crunch and recession.
On Thursday, FBR Capital Markets upped its rating for Discover to outperform, assigning a stock price target of $11. The FBR analyst said Discover's capital cushion is one of the strongest in the industry, although credit losses could put pressure on future earnings, with operating losses likely over the next two fiscal years.
Discover shares climbed 5.5% to $10.09,
American Express
(AXP) - Get Report
was up 4.6%, and
Capital One Financial
(COF) - Get Report
closed up 1.6%.
Elsewhere,
Goldman Sachs
(GS) - Get Report
is selling 3.03 billion shares in
Industrial & Commercial Bank of China
, worth $1.9 billion, The shares represent nearly 20% of Goldman's stake in the Chinese bank, which is the world's biggest lender by market value, according to
Reuters
. Goldman shares dipped 0.2% to close at $144.33.