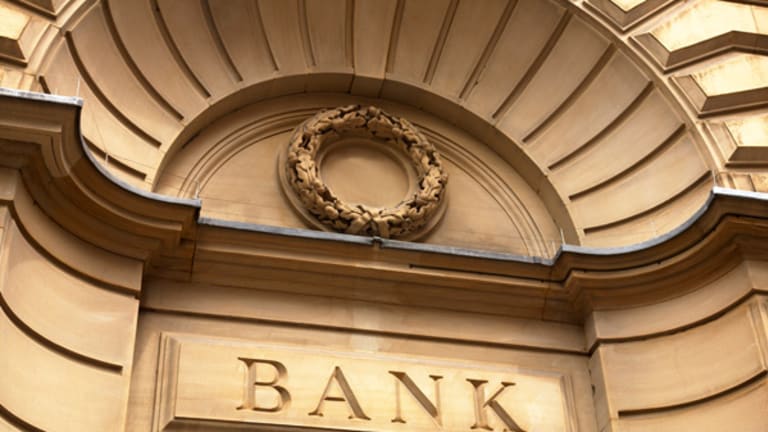 Financial Winners and Losers: BofA
Financial stocks were mixed Thursday, hours before the government releases the results of its stress tests of banks, following comments from the Federal Reserve on increased regulation.
Financial stocks ended Thursday's session mostly lower, one hour before the government releases the results of its stress tests of banks, as investors took profits following a call for increased regulation a
Federal Reserve
official.
During a speech at the Chicago Federal Reserve Bank, Fed Chairman Ben Bernanke said the financial crisis has revealed weaknesses in both private-sector risk management and in the public sector's oversight of the financial system.
"It is imperative that we apply the lessons of this experience to strengthen our regulatory system, both at the level of its overall architecture and in its daily execution," Bernanke said. "Indeed, although reform of the current system is necessary, much can be done within the current framework."
Bernanke's remarks come one day after Federal Deposit Insurance Corp. Chairman Sheila Bair told the Senate Banking Committee she would like to see a systemic-risk council to prevent banks from becoming "too big to fail" and from posing a threat to the entire financial system.
Meanwhile, a report in
The Wall Street Journal
said that
Bank of America
(BAC) - Get Bank of America Corp Report
,
Citigroup
(C) - Get Citigroup Inc. Report
,
Morgan Stanley
(MS) - Get Morgan Stanley Report
,
Regions Financial
(RF) - Get Regions Financial Corporation Report
,
State Street
(STT) - Get State Street Corporation Report
,
Wells Fargo
(WFC) - Get Wells Fargo & Company Report
and
GMAC
, the financing arm of
General Motors
(GM) - Get General Motors Company Report
, will be directed by the government to
by a combined $65 billion.
Any bank needing more capital will have until June 8 to develop a plan and must implement it by Nov. 9, the
Journal
reported.
Meanwhile, the report said
JPMorgan Chase
(JPM) - Get JPMorgan Chase & Co. Report
,
Goldman Sachs
(GS) - Get Goldman Sachs Group, Inc. Report
,
MetLife
(MET) - Get MetLife, Inc. Report
,
American Express
(AXP) - Get American Express Company Report
,
Bank of New York Mellon
(BK) - Get Bank of New York Mellon Corporation Report
and
Capital One Financial
(COF) - Get Capital One Financial Corporation Report
won't be told to raise additional capital.
Among those reported to need new capital, only Bank of America finished higher, rising 6.5% to close at $13.51. On the other hand, Regions Financial dropped 10.3% to $5.23, Wells Fargo slid 7.8% to end the day at $24.76, Morgan Stanley lost 4.8% to finish at $27.14, State Street slipped 3.3% to $37.83, and Citigroup shed 1.3% to $3.81.
Among the banks the
Journal
reported to not need new capital, Capital One surged 18.4% to close at $26.45. Meanwhile, JPMorgan was down 5.3% to $35.24, American Express finished down 4.3% at $25.97, Goldman Sachs slumped 3.9% to $133.73, Bank of New York Mellon gave back 3.1% to $29.51, and MetLife declined 1.9% to $31.75
Results of the stress tests of all 19 major U.S. banks are expected at 5 p.m. EDT.